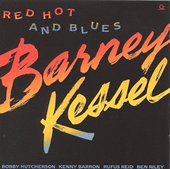 Barney Kessel: Red Hot and Blues

CD: Contemporary 14044

Tracks & Composers
1 It's You or No One (Cahn, Stein)
2 Barniana (Almeida)
3 You've Changed (Carrey, Fisher)
4 Blues for Bird (Kessel)
5 Rio (Kessel)
6 Messin' With the Blues (Kessel)
7 I'm Glad There Is You (Dorsey, Mertz)
8 By Myself (Dietz, Schwartz)
9 Blues Echoes (Kessel)


Personnel
Barney Kessel (g); Bobby Hutcherson (vib); Kenny Barron (p); Rufus Reid (b); Ben Riley (d)

Recording Date & Location
15-17 March 1988, Berkeley, CA

Commentary
Red Hot and Blues is guitarist Barney Kessel's second collaboration with Hutcherson. It's a pleasantly swinging record that sounds as if everyone is having a great time. It doesn't quite reach the stratospheric heights of Feeling Free, but few records do. My favorite cuts are "Messin' With the Blues" and "I'm Glad There is You." On the former track, Kessel and Hutch turn in great solos, but Kenny Barron steals the show. His solo swings like mad. Hutcherson's best work is on the latter song, an evocative, gentle ballad. This band of experienced veterans has nothing to prove, and it shows. The music has a sort of beautiful effortlessness. This is great jazz!