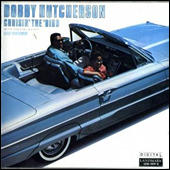 Bobby Hutcherson: Cruisin' the Bird

LP: Landmark LLP-1517
CD: Landmark LCD-1517-2

Tracks & Composers
1 All or Nothing at All (Altman, Lawrence)
2 Cruisin' the 'Bird (Hutcherson)
3 Sierra (Hutcherson)
4 If You Do (Hutcherson) [CD Bonus Track]
5 Imminent Treasures (Hutcherson)
6 Chelsea Bridge (Strayhorn)
7 Come Rain or Come Shine (Arlen, Mercer)
8 On the Delta (Hutcherson)


Personnel
Bobby Hutcherson (vib, mar); Ralph Moore (ts, ss); Buddy Montgomery (p); Rufus Reid (b); Victor Lewis (d)

Recording Date & Location
15-16 Apr 1988, Berkeley, CA

Notes
"Sierra" is the same tune as "Montara," which originally appeared on the album Montara.

Commentary
Cruisin' the Bird is a strong effort, one of Hutcherson's finest Landmark recordings. Most of Hutcherson's recordings originally issued on the Landmark label were subsequently reissued by the 32 Jazz label (before it also went out of business). But Cruisin' the Bird was not. It may not be readily available, but it's well worth tracking down.