All photographs and art work © The Hoffnung Partnership. Please respect this copyright.






In 1960, Humphrey Burton of BBC Television used the drawings to make a short black and white film for the arts programme Monitor. This was narrated by John Amis. Then, in 1964 Halas and Bachelor, cartoon makers, in collaboration with BBC Television produced six short animated films based on the Hoffnungs's musical cartoons. A seventh, narrated by Peter Sellers was based on the book, Birds, Bees and Storks.
It might be assumed from Hoffnung's prolific output that he spent every minute of his short life at his drawing board, yet this was by no means the case. There is no doubt that during fifties, he produced most of the cartoons for which he had become so renowned. During those years, too, he fulfilled a life-long ambition to own a tuba, quickly learning to play the instrument with a skill that enabled him to perform Vaughan William's tuba concerto at the Royal Festival Hall a few years later.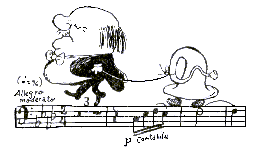 At the same time he was achieving fame as a broadcaster and raconteur, his kindly, non-aggressive humour endearing himself to millions of listeners and turning him into a radio personality. Amidst these activities his concerts at the Royal Festival Hall, displaying his own particular brand of symphonic caricature, burst on to the musical scene. They are still performed around the world today. He appeared on television programmes, became a much sought after speaker at the Oxford and Cambridge Unions. In addition, throughout the last seven years of his life Hoffnung enjoyed a very happy family life with his wife and two children. He entertained a wide circle of friends and was an avid concert and cinema goer.
As well as the qualities and talents that made him a public figure, Hoffnung had others that were not so widely known. A man of deep conviction and immense warmth and humanity, he was very alive to social problems of his time, whether racial prejudice, nuclear disarmament, the abolition of the death penalty, injustice anywhere and he approached all with incredible clarity of vision, and dedication of purpose. He was for some years a regular prison visitor at Pentonville Prison. In 1955 he joined the Society of Friends (The Quakers) who shared his deep concern for the abolition of the death penalty and his positive views on pacifism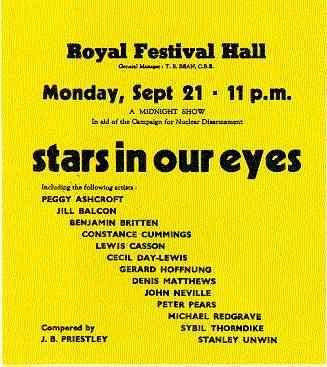 Royal Festival Hall Leaflet
It was in 1953 that Hoffnung was first invited to speak in a Debate at the Oxford Union. Alistair Sampson, then President of the Union later wrote of this visit:
'Gerard came and gave one of the most superb comic oratoric performances that the Union can ever have heard. Devoid of cruelty' and vulgarity', it was a superb example of pure humour. He was enchanting, fascinating and tumultuous. One moment he was offering snuff to his undergraduate audience, the next he was touching the microphone and leaping back as though electrocuted ........So it is that others may remember him as musician, conversationalist or cartoonist, but I think of him as a speaker. He had all the graces for which those who analyse good speaking look - sympathy, observation, style and masses of audibility. He felt very deeply about manv aspects of social and political life, but always at the back of his mind was the desire to keep the world sane with laughter.'
The local newspaper said of another visit, "He was funnier than anyone has been at the Union before." Unfortunately none of the visits made to the Cambridge Union was recorded, but in 1958 he spoke in a Debate at the Oxford Union which was, by great good fortune, recorded by the BBC . His speech was subsequently issued on disc in 1960 and continues on sale to this day [available on CD]. In it he relates the famous story of the Bricklayer which remains a classic.
Hoffnung was already twenty five when he succumbed to his passion for the brass instruments of the orchestra by taking up the tuba. In a surprisingly short space of time became the regular tuba player, vice-president and court jester of Morley College Orchestra, a fine amateur orchestra in London, then under its conductor, Lawrence Leonard. There, at close quarters, he observed his fellow performers with a certain amount of critical amusement, a habit that was to provide him with a treasure-trove of ideas for his musical cartoons. With many friends in the world of music and having found in art his own particular niche, he was suddenly, in 1956, struck by a new idea. Why not try to express some of the ideas in his drawings on the concert platform? It would be be a concert, he insisted, to end all concerts and consist of a combination of entirely new music (especially composed for the occasion) and of superb clowning. The cream of the music profession would take part and the concert must, he emphasized, take place at the Royal Festival Hall.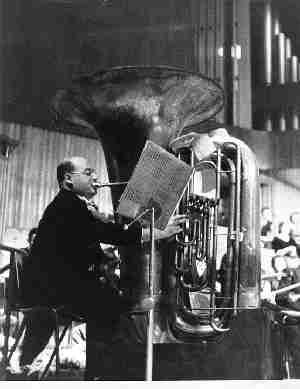 ---
| | |
| --- | --- |
| | |
---
Return to MusicWeb International
---