All photographs and art work © The Hoffnung Partnership. Please respect this copyright.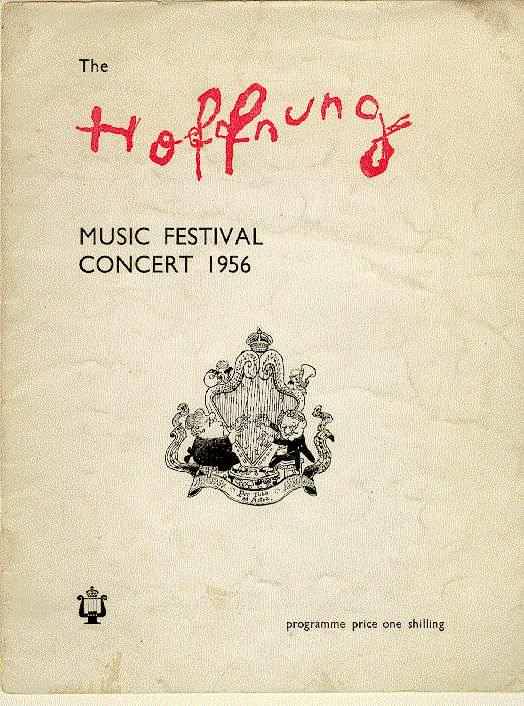 It was April then and the concert was scheduled for November. Ideas sprang up all over the place and innumerable details were discussed. Hoffnung's knack for triggering off the creative abilities of conductors, composers, soloists and artists and his insight for choosing the right man for the job, stood him in good stead. In due course works for these concerts were commissioned from such composers as Malcolm Arnold, Francis Chagrin, Joseph Horovitz, Gordon Jacob, Franz Reizenstein, Humphrey Searle, Matyas Seiber and Donald Swann, while John Amis, Dennis Brain, Aaron Copland, Dame Edith Evans, Ian Wallace and Sir William Walton, not to mention a glittering array of operatic stars, were among other distinguished participants in those early concerts. All, without exception, submitted eagerly and with good heart to the unaccustomed and unusual demands made upon them. On the night, after a dress-rehearsal noted for its confusion and quiet hysteria, the Royal Festival Hall exploded with mirth as the audience delighted in this evening of visual and aural caricature.[The three Hoffnung concerts are available on CD]
A classic Hoffnung work written for that occasion is the brilliant and ridiculous Concerto Popolare, the piano concerto to end all piano concertos, composed with glee by Franz Reizenstein. It is a truism that all concertos are battles between soloist, conductor and orchestra, but so much conflict has rarely been expressed with such clarity on the concert platform as in this work. Trouble looms from the start when the orchestra playing the opening bars of Tchaikowsky's Piano Concerto No 1 is confronted by the pianist determinedly entering with Grieg's Piano Concerto. Battle wages until the bitter end, when pianist and orchestra vie for the final chord.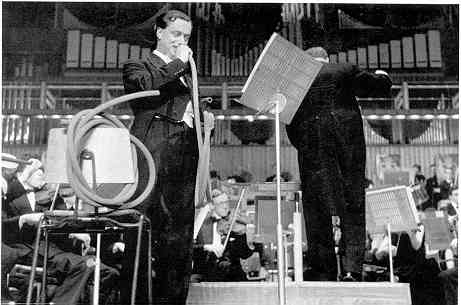 In its original performance Dennis Brain was soloist in Norman Del Mar's arrangement for garden hose-pipe of the Presto from Leopold Mozart's Concerto for Alpenhorn.




Horn Making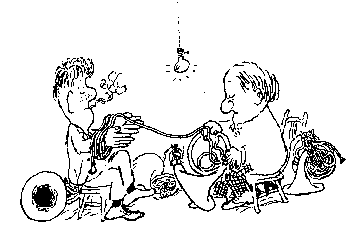 Donald Swann was aware that Haydn had written the fortissimo tutti chord into his Surprise Symphony to awaken somnolent audiences suffering dreadfully from over-eating at those gourmet banquets held at the Esterhazy Court. Donald Swann also knew that having been awakened, the audience immediately fell fast asleep again. With this in mind, he inserted a series of additional surprises into this work, guaranteed to keep an audience awake throughout. Another highlight of the repertoire is the opera, again by Reizenstein, with libretto by William Mann. Entitled Let's Fake an Opera and subtitled Tales of Hoffnung, it incorporates spectacular opera singers and juxtaposes dozens of familiar operas with ridiculous incongruity. The opening with Beckmessser wooing a very sexy Azucena outside a cigarette factory in old Nurenberg sets the scene.

---
---
Return to MusicWeb International
---