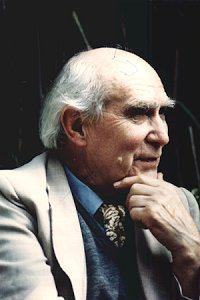 Inglis at 80
Two musical friends remembered my 80th Birthday:- Robert Tucker, the Librarian at the Barbican, who gave a special Exhibition of my Life and Works in his Library which was visited by a number of my friends and relatives, and William Lewarne Harris (known familiarly as Bill Harris) who gave the first performance of my eleventh opera A Will of Her Own at Essex Hall, 112, Palace Gardens Terrace W8 in 1985. Robert Tucker also gave the very successful first performance of my Overture The Logan Rock at one of his concerts at Eton College Hall on September 16th 1995.
My eleventh opera had been in existence for some time. It had been written with Arts Council support at the request of a friend who was hoping to form a small operatic group that could give performances in the Lake district. She formed an operatic group called "Opera Piccina" but it came to nothing so my opera would never have probably been performed if my friend Bill Harris had not taken pity on it.
I had found my story in a book of local legends about a Lady Heskett who had a quiet place at the end of one of the lakes until a rather ruthless kind of man called Baron Ewan Cesario came and planted himself at the other end of the Lake and began advancing towards the quiet end of the Lake, as if wishing to take possession by offering marriage to the quiet Lady Heskett.
In those days King Arthur was the only resort for the oppressed, and King Arthur was as well known as a champion of the oppressed in Cumberland as I had always connected him with Tintagel in Cornwall. At any rate I found my Lady Heskett seeking and expecting the championship of King Arthur in the Lake District as much as in Cornwall. (The latest idea of King Arthur is that he was a champion of the Britons in their struggle against the invading Saxons who had taken possession of East Britain).
I imagined my King Arthur as an old-fashioned Victorian champion of the weak, a man who readily came to the support of a woman in distress, hoping to find that his adversary would play the game and respond to the challenge of one who was purporting to champion a lady in distress. But when King Arthur at last meets Ewan Cesario he finds that the tussle between them is not at all of the old-fashioned romantic kind but poses a riddle: "Answer me this one. What does Woman love best? Answer me that one," shouts Ewan Cesario, casting a kind of spell of impotence upon his adversary which can be raised only when the riddle can be answered. He walks away laughing, leaving his adversary under a spell of impotence until he can solve the riddle.
In the next scene we find King Arthur alone and in great distress. There follows a "scena" of which I feel particularly proud. It starts with a recitative accompanied by a mournful cor anglais:
"A lifeless dejection has come over me
I can no longer lift an arm
to take part in sport or combat.
My life as a King, as a champion
is shattered

What will become of her
so fair, so beautiful?
Can I have lost all power to aid her
through one small encounter
with a fiend that had designs on her?

How can I find the answer
to this ridiculous riddle?"
He then subsides into the reflective aria which follows:
"Days o' lang syne ah! those were the days,
beyond all comparison with these fretful ways,
whentimes are out of joint and things are out of phase
and there's no renown of men that's worthy of the old singer's praise.
Days o' lang syne - ah! Those were the days."
I imagined this King Arthur, who had settled in Cumberland, as the same man who had also lived at Tintagel in his younger days. (The real King Arthur is now believed to have been not only the champion of the oppressed but the leader of the British in their struggle against the Saxon invaders who had already got a hold of Eastern England). So I could easily take this King Arthur back to the old days in Cornwall. He indulges in a reminiscence of the old days, which I got from Cornish tradition. It is a very quick passage, contrasting with the dreamy aria:
"That night in Cornwall.
When dining at Tintagel,
and news came by beacon blaze
as always happened in those days.
We set forth on foot with zest!
towards the glow on Rowtor,
Cadbarrow, Bellarmine's Tor,
and so by a chain of lights,
tramping through the livelong night,
Till riders came at last to greet
us with the news the Danes
had landed at Gwinver,
were ravaging the lanes
from there to Vellandrucher.

'Twas there we came to the slaughter
It was a grand, a glorious fight
The mill ran red with blood that night."
I set this as a very quick passage which relapses into the sentimental aria:
"Days o' lang syne -
ah' Those were the days,
Beyond all comparison
with these fretful ways,
when times are out of joint
and things are out of phase
and there's no renown
of men that's worthy
of the old singer's praise.
Days ol lang syne -
ah! those were the days."
It is a grand piece that might become successful at the Proms. But of course my name is not big enough for this!
The women arrive, introduced by Gawain (King Arthur's nephew). They have been sought to help find the answer to the Riddle: What does Woman love best? They answer all manner of things but none is convincing, so that King Arthur and Gawain decide to abandon them and visit Lady Heskett herself who perhaps may be able to give some kind of answer to the problem. She suggests A Will of Her Own.
On their way to seek her they come across an Old Woman wandering beside the lake and decide to ask her advice, for she looks like someone who may know the answer to the Riddle. Gawain recognises her as Lady Heskett herself and makes no delay in pressing his advances while the King turns to the Baron's Castle with the answer that the supposed old lady has provided: "A Will of Her Own". The King is delighted to find that he is suddenly freed from his misfortunes but when he turns back hoping for the congratulations of his nephew he is disappointed to find the Lady Heskett, whom he had been seeking for himself, in the arms of his nephew, "Gawain!" he exclaims in disappointment.
However the comedy ends as it should, with all rejoicing. The King has recovered his lost powers and Lady Heskett has found a new protector in Gawain. Only the wicked Baron Ewan Cesario, is the loser.
Performance photographs here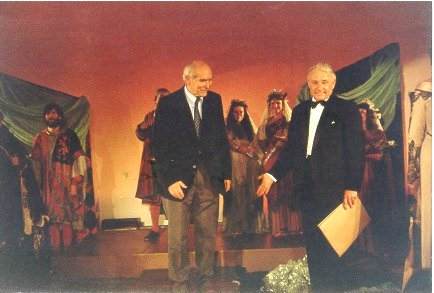 A Will of Her Own
Conductor William Lewarne Harris with Inglis