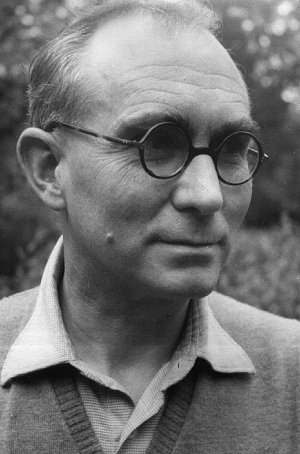 After the Tinners I felt I had to write a real Comic Opera based on a real Cornish legend. I had seen Rimsky-Korsakov's Coq d'Or at Covent Garden it had ended with a wonderful "comedy flow", which I wanted to achieve.
Years ago, at Sadler's Wells, I had seen some performances of Rimsky-Korsakov's Tsar Saltan, conducted by Albert Coates, which achieved this wonderful "comedy flow" from beginning to end. I think I went to every performance. It was quite wonderful, even the arrival of the hero and his mother inside a barrel was quite credible. I could hardly wait for the arrival of the Magic Squirrel and his music (which runs through my mind as I write) and when armed men walked out of the sea, it seemed as natural as sunrise. Whether it was Rimsky's genius in drawing this magic out of the theatre, or genius of Albert Coates or both I do not know, but I knew that Harry Powell Lloyd, being an Irish Welshman was quite capable of doing this sort of thing, if only I could give him the opportunity.
Exactly how I came to meet Miss D.M.R. Cade, the owner and builder of the Minack Theatre I do not remember. I am a shy sort of bloke, but I can have the cheek of the devil, if it is the only way of going ahead.
All I can remember is sitting quietly in the theatre with Miss Cade next to me and an elderly lady beyond who kept on calling her "Dofferty". It was obvious that "Dofferty" was a childish version of "Dorothy" and that this lady, whom I was never to meet again, was an old family friend, but when I ventured to call Miss Cade "Dofferty" I was firmly rebuked and told that her name was "Rowena". A pity! Because "Dofferty" suited her down to the ground.
When. after her death, "The Theatre under the Stars", a broadcast on South West Television, tried to find someone with a voice like hers, they utterly failed. Her whole personality was unique and could not be imitated.
I only saw her once in female costume, when she came to see my opera at The Guildhall, St. Ives, where it was conducted by Stuart Collins and produced by E.A. Abraham. As I remember her, she was always dressed in breeches. She looked like an overgrown cabin boy - a marvellous character of which the only feminine touch was her hair which by the time I knew her was grey.
When I was asked to take part in the broadcast "Theatre Under the Stars" produced by John Bartlett, I had to stand in Rowena's garden, above the theatre while I was interviewed by the man who was then the Manager of the theatre about my friendship with Rowena and the production of my opera. It was about the most gruelling thing that has ever happened to me. Whenever I spoke, great camera men knelt before me - enough to make me dry up, falter in my speech. When I saw the broadcast, the interviewer had completely disappeared. There I was alone, stammering as best I could. I had given lectures all over the country, and had taken part in Malta Convoys, but this was the most unnerving experience I had ever had in my life. However, I did manage to tell them something about Rowena and how I had managed to take a small part in the building of the theatre by bringing up sand from the beach whenever I could, though this was hardly enough to justify the beautiful seat she built for me, labelled The Logan Rock next door to Julius Caesar!
She told me that Billy Rawlings who helped build the theatre could cut up granite as if were butter. She and I became real friends. She disliked opera, but put up with the idea of having one in her theatre because she liked me. She was one of the old school who thought of opera as a mixture between music and the play, which she revered, not realising that the earliest European dramas were musical.
She was very religious and the secret of our friendship was that we both went to the 8 o'clock Sunday Service, either at St. Buryan or at St. Levan.
As I sat in the Minack Theatre painting my pastel of that wonderful view, I suddenly remembered Bottrell's story of Uncle Dan, the "Practical giant" who once inhabited Treen Castle, a headland jutting out about a mile to the east, which I could see yonder and was just putting into my picture, where the Logan Rock was situated. North and South Minack was Rowena Cade's family home coming from Derbyshire in the nineteen twenties. She built this theatre, carrying sand up from Porthcurno beach and mixing cement herself, with help from her friend and gardener Billy Rawlings and others. The cliffs slope down towards the sea and it is a magnificent and unique setting. Uncle Dan had a shrewish wife called An Venna and the citizens of Treen, the neighbouring village, were worried because they had no child to take Dan's place when he grew too old to defend them. It must be remembered that in those days, when there were no police, every locality had to have its strong man whom it could rely on to defend it against neighbouring marauders and it was this strong man whom they called their "giant" though he was perhaps only of average height. They probably fed him and looked after him in return for his help as their champion.
The villagers of Treen also thought that if he only had a child to look after An Venna would become a more normal wife. It was at this point that I invented a character that I saw was necessary to complete the story. This was An Maggy, the local White witch, who is always coming to their rescue in times of emergency. It is she who suggests kidnapping one of the sons of the neighbouring Giant of Maen or Land's End. "He has plenty and would not notice the loss of one". When everybody agrees to this idea, An Maggy goes further and offers to do the kidnapping. It was at this point that I think I achieved my first "comedy flow". Recently I heard the Dancers from Auvergne at the Albert Hall and they had used a fascinating rhythm called the Bourrée d'Auvergne. This seemed to me to be exactly the right rhythm for the send-off of An Maggy at the end of Act I of my new opera, and everybody was delighted with this finale.
The Minack Theatre gives great opportunities for bringing the actors up on the hill among the audience and Act II starts with one of these. An Maggy has already kidnapped the boy Meppyk Mere and is bringing him to his new home. What is your name, my little man? Asks An Venna.
This, of course. Gave me the opportunity to parody a famous song of Puccini's. (Incidentally Meppyk Mere is a character tenor) "They call me Meppyk Mere. Big Little Boy, they say., but my real name is….is…" "Billy?" suggests Dan. "Bernard?" suggests An Venna. At last Meppyk Mere comes out with it. "Bellerophon" "Bellerophon, Ugh" exclaims Dan in disgust, but Venna is ecstatic. "Bellerophon! How beautiful a name!"
It soon becomes plain that far from easing the situation, the arrival of Meppyk Mere has made things worse. Uncle Dan wants to show the boy the beautiful coast line he has inherited, while An Venna wants to give him his supper. The Chorus become quite anxious again, for they soon perceive that there is going to develop a rivalry for the affections of the boy.
By the beginning of the last Act things have come to such a state that Uncle Dan calls for the advice of the villagers to suggest what he should do, in view of a situation in which he is becoming completely neglected by his wife while she dotes on the "poor fool of the boy" to the complete neglect of her husband.
They advise that he should tell them that he is going to collect provisions from the village. But that he will be expecting them to come and help him bring the load back in a short while.
This he does and while he is gone An Venna and Meppyk Mere occupy the stage in a kind of love duet based on a tango rhythm.
When Dan returns over laden with provisions and chides them for not coming to help him An Venna resorts to her old dodge of throwing a stone at him, but laden as he is this gives him a fall and rouses the wrath of the local Spriggans who turn them all into stone. The Spriggans or Cornish Elf people, were children of the singers and Sue and Peggy took care of them further down the cliff.
The Chorus are dismayed when they arrive to see what has happened.
"This was to be a jolly comedy,
but…the resourceful An Maggy is heard in the distance
"Insure with An Maggy!"
"An Maggy!", they call for her help.
It is then that my second "comedy flow" occurs.
An Maggy is shocked to see what has happened. If they had only taken out her Comprehensive Policy, none of these things would have happened. However, she is quite willing to clear up the mess. She immediately sets everyone doing something. Some are to log the Logan Rock up and down, while others chant the appropriate music. "If I can catch the moment when the slack waters change from ebb to flow…" She then picks out her bottle of elicampane - the traditional remedy that was used for centuries to bring fallen giants to life again. Armed with this she goes to the three giants and brings them to life again with a good dose of elicampane
I have given my delightful An Maggy, a song that leads to the final chorus:-
"In the white heat of white magic
there lies a charm for all.
Sad it is - indeed tragic
how we fail to perceive magic.

You need only look and see
the sun-glint on a wave or flower
to know that there is wizardry.

To those who love, to those who are free
there's magic in the darkest Hour.
In the white heat of white magic
there lies a charm for one and all."
This led straight to the torch-light procession and the final chorus:
"Oh may the Giants of Cornwall
Never die out from the land that we love and we honour
may they spring from the soil as they did of old,"
Performance photographs here
See also the Minack Theatre at Porthcurno in Cornwall
Such was my opera written for the Minack Theatre. I had converted Rowena, for though she disliked opera generally, she was apparently prepared to put up with this one because she liked me personally. She even offered to let her family home, South Minack to me at very reasonable terms. I am not sure that I paid any rent for the theatre for those two weeks, for she took pity on me when the weather turned out to be disastrous. In those days she had retired entirely from South Minack, which was handed over to her niece. I think she retained North Minack, which consisted of a northerly wing of South Minack, but when I knew her, she had retired even from this into a kind of outer wing where she lived in a kind of one-roomed cabin.
I had hoped to hire North Minack as well as South Minack, which might have kept all our cast together, but unfortunately she had already let North Minack for those two weeks in August, so I had to find another house as South Minack was not large enough for everybody, including under-studies, or a double cast.
The orchestra had to find accommodation for themselves, coming over in cars for the performance. In those days I was a bachelor and it was amazing that anyone trusted me to make all these arrangements. My sister refused to have anything to do with such a mad scheme. Our father would certainly not have approved of it, and so she thought it was quite mad. Perhaps it was, but it was obvious that we needed another house as well as South Minack to accommodate the double cast, the producer, Harry Powell Lloyd, the conductor, Marcus Dods and the Box Office Controller, Peter Corbett. My friend Geoffrey Corbett, who would have been the conductor was unfortunately conducting abroad, otherwise he would certainly have been roped in.
There was another house called Carn Valister situated some way away, but near enough to accommodate the overflow from South Minack. I called on the lady who owned this house and had seen my Tinners. I had become quite friendly with her. Everything seemed all right, so I booked it, feeling that I had been lucky to get away with this hurdle as easily as I had.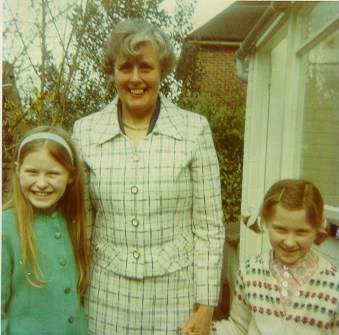 Sue Jordan with the Gundry daughters
The main rehearsal was done in London, apart from the chorus, who were members of the High Street Methodist Church Choir, Penzance. We had to trust that they would be learning their parts, of course. The rehearsals in London went well and everybody seemed to like the music. I shall never forget taking three members of the cast in my car down to Cornwall. They rehearsed my music practically the whole way down from London to Penzance. What greater compliment could have been paid to a composer. When we arrived, how different. The clouds gathered immediately, Carn Vallister was declared uninhabitable. Everybody crowded into South Minack expecting to be put up there, or they would go home immediately. How thankful I was for my wife to be, Peggy, and her dear life-long friend, Sue Jordan, who had volunteered to come in any capacity. I had booked a room for then in Treen not far away and they and Peter's wife, Betty Corbett, had to spend their first few days trying to make Carn Vallister habitable. They certainly saved the situation and it was in this hard way that I was to learn how necessary it is to have a loving wife. Only a man would have been taken in by that specious lady who first showed me Carn Vallister. Sue Jordan organised all the catering here which was of great importance.
We had arrived a week too soon in order to be able to rehearse in the theatre during the daytime while some other company performed Shakespeare's 'Julius Caesar' in the evening .
I had borrowed Peggy's harmonium, which an Aunt of hers, who was a missionary, had taken all over India, in order to accompany the rehearsals down in the theatre, but unfortunately, though I played as loud as I could, the wind was such that the singers often could not hear me at all. They kept asking me to play louder when I was already playing fortissimo. I was at my wits end and was thinking of going into Penzance to hire a piano, though how I was to get it down into the theatre and get it up again, I did not know.
Luckily the orchestra soon arrived. What a relief it was to hear my music in colour and to find that it played itself.
The trouble now was how to house the instruments in the theatre. Rowena suggested an awning over them and was prepared to make one, but realising that this would obscure the view from some of the best seats and because the weather seemed set fair, this idea was overruled. In view of what happened, it might have been wise to listen to her. The strings soon began to complain that they could not keep themselves in tune, and I began to realise the need for wind instruments in the open air.
We were very fortunate, indeed, in having Edith Coates, who had performed so frequently at Sadlers Wells and Covent Garden, as An Maggy, The Wise Woman, in some of the performances. Patricia Godwin did very well in this part too. Charles Draper, who sang often at Sadlers Wells, was excellent as Uncle Dan, as was John Harvey. Graham Smith and Eric Pennal were both very effective as the important Chorus Leader, and I was very annoyed when the Members of the High Street Methodist Choir who came all the way from Penzance night after night at their own expense were given a bad criticism by one of the Cornish papers. They were excellent and gave so much to the performances.
Phyllida Garth arranged the dances beautifully and I felt really sorry for her husband, Kenneth Ellis, when he took his place, night after night in that cold bleak place as Giant of Maen. I think Phyllida was responsible for finding Agnes Hutchens, who spoke that prologue part so well:-
Giants! A Wise Woman. What, you say
We have none such today
What? Have we no
more than life-size dictators?
These are our giants.

And now that guided missiles are all the rage,
We're back to the rock-hurling giants' age.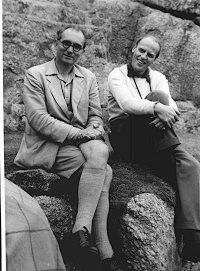 Inglis with Marcus Dods
We gave only one complete performance - on the Monday. Thereafter the weather changed. Marcus Dods was always saying "Sorry - the rain …." The cellist was rushing for cover with his valued instrument. The valiant Andrews' sisters, Nina and Madeleine, who had undertaken to secure a recording of the opera, lugged my Ferrograph round from rock to rock. In the end they were unable to get a complete recording but we are so pleased to have the recording they did for us.
The weather became worse and worse. We tried resorting to the parish hall, but audiences were negligible. They only wanted to see an opera at the Minack Theatre.
Of course the main loss landed on me. The box office takings were only enough to pay for the orchestra. I retired home to write a Suite or Overture for full orchestra, which received its first performance nearly forty years later under my friend Robert Tucker in one of his Eton College Hall concerts, when it was a great success.
After marriage we continued to take our holidays at North Minack until we finally built our bungalow at Sennen Cove. My friendship with Rowena Cade continued. She used to bring over her King Charles Spaniels for a walk on the beach and then have tea with us. She even had sugar in her tea on one occasion! Living alone she had come to disregard the pleasures of food in the end.
After leaving hospital the first time her friend and gardener, Tom Angove, who had helped her so much over many years, used to push her around the garden and theatre in a wheelbarrow which gave her much pleasure. He appeared several times in the TSW programme "Theatre Under the Stars."
We went to see her in hospital when she had to have her leg amputated. When I went to see her the last time, I don't think she knew me. But she knew it was someone she loved. How glad I am to have known you, Dofferty!