April 1998
---
Three intriguing and artistically satisfying albums centred around violinists:-
**************************************************************************

EDITOR'S CHOICE - FILM MUSIC CD OF THE MONTH - April-May 1998

***************************************************************************
| | | |
| --- | --- | --- |
| Franz WAXMAN. Humoresque - music for the Warner Bros film Nadja Salerno-Sonnenberg (violin); Judy Blazer (vocals) and Leslie Stifelman (piano) with the London Symphony Orchestra conducted by Andrew LittonNonesuch 7559-79464-2 [59:37] | | |
| | | |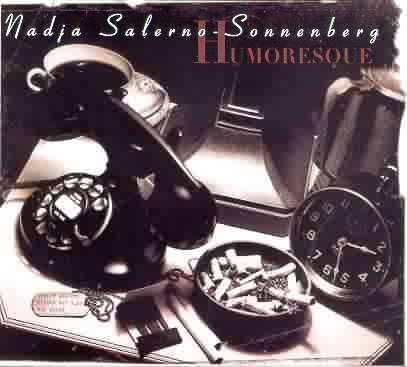 Humoresque, made by Warner Bros in 1946, starred Joan Crawford, John Garfield and Oscar Levant. It was a story about a classical violinist (Garfield) totally, ruthlessly dedicated to his career; the alcoholic, thrice-married socialite (Crawford) who sponsors him but whose love for him brings her only despair and suicide; and the violinist's pianist friend and mentor (Levant). Waxman's arrangements of many classical works won him an Academy Award nomination. After Warners failed to contract Heifetz to the film, it was Waxman who persuaded a young Isaac Stern to play the violin on the soundtrack (in fact it is Stern's hands, arms and violin that can be seen in the numerous insert shots during performances; many of the shots were done in such a way that Stern was able to crouch beneath him and put his own fingers on the fingerboard).
The album contains Waxman's exciting and often sensuous transcriptions for violin and orchestra, for the film: the Carmen and Tristan and Isolde Fantasies (the latter also including a very significant role for the piano) and his arrangements of Dvorák's Humoresque and Rimsky-Korsakov's The Flight of the Bumble Bee (both pieces originally scored for violin and piano). Also included are three songs for violin and piano arranged by John Musto and Russell Warner in a manner that frequently recalls the cheeky wit of Levant's seemingly "just thrown-off" improvisations: You Do Something to Me and What is This Thing Called Love? - both by Cole Porter, plus George and Ira Gershwin's Embraceable You. Rounding off the programme is the first movement of Lalo's Symphonie Espagnole, the Presto movement from Bach's Sonata No. 1 in G minor and some linking music, sandwiched between some other brief classical music excerpts, composed for the film by Waxman under the heading of City Montage. Salerno-Sonnenberg brings fire and brilliance to this bravura music and the LSO in sparkling form clearly enjoy themselves under the direction of Andrew Litton. Royal S Brown's usual eloquent and scholarly notes complete a memorable compilation.

Ian Lace
---
| | | |
| --- | --- | --- |
| LE CINEMA. Music for Films Gidon Kremer (violin) Oleg Maisenberg (piano) plus (for Takemitsu score only) the strings of the Deutsches Symphonie-Orchester, Berlin. TELDEC 0630 17222-2 [66:14]. | | |
| | | |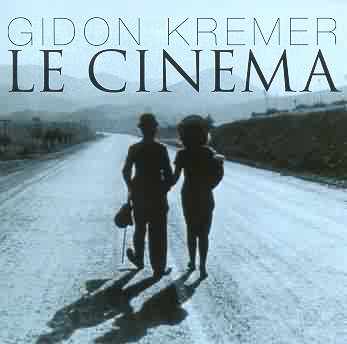 Charlie Chaplin: Smile (Modern Times). Nino Rota:Improvviso (Un diavolo sentimentale) Isaak Dunayevsky/Sergey Dreznin: Fantasy on the music to the film Circus. Astor Piazzolla: Tanti anni prima from the film Enrico IV. Takemitsu: Nostalgia in memory of Andrey Tarkovsky. Leonid Desyatnikov: Absalom's Death and Tango - Sketches to the film Sakat (Sunset). Shostakovich: Romance (The Gadfly). Milhaud: Le boeuf sur le toit (Cinéma-Fantasie). Giya Kancheli: Rag-GIDON-time. Nino Rota: Improvviso in re minore from the film Amanti senza Amore.
At a first glance this might look like an album for the connoisseur for most of the pieces are for violin and piano only; however, although the names of many of the composers may be unfamiliar to most listeners, all these tracks are very accessible and definitely worth exploring. The most substantial item in the programme and one of the most familiar is Milhaud's Le boeuf sur le toit. Of it, Milhaud said: "Still haunted by my memories of Brazil, I assembled a few popular melodies, tangos, maxixes, sambas and even a Portuguese fado and transcribed them with a rondo-like theme recurring between each successive pair. I called this fantasia Le boeuf sur le toit, which was the title of a Brazilian popular song. I thought that the character of this music might make it suitable for an accompaniment to one of Charlie Chaplin's films. At that time, the silent films were accompanied by fragments of classical music, rendered by large or small orchestras, or even a single piano, according to the financial means available." The violin and piano version brilliantly played here is therefore very much of the spirit of the early cinema. Interestingly, the CD's programme opens with Charlie Chaplin's Smile from (according to the booklet) Modern Times (I may be wrong but I thought it was Limelight?) In this arrangement Kremer traces the famous tune wistfully and pleadingly over accompanying, rippling piano chords.
Nino Rota's Improvisio Allegro has a sense of silent cinema too; it evokes all the slapstick and pathos associated with the early clowns. Dunayevsky and Dreznin's Circus, starting coyly, goes on to echo Gershwin's jazz inflections; it is vivacious and full of fun, emulating, through part of its way, tap dancing with Kremer finger tap-tapping away most convincingly on the board of his instrument. The Piazzolla piece is very introspective with Kremer caressing its beautiful nostalgic melody and Maisenberg counterpointing it with an equally haunting refrain. The Takemitsu work uses strings in a sound that reminds one, at first, of Bernard Herrmann's Psycho music before the temperature rises as nostalgia takes over but there is an uncomfortable fluctuation between warm and cold as screen images of cruelty are contrasted with domestic harmony.
Desyatnikov's Death is again uncomfortable; the violin's intense, almost shrill hysterical mourning sounding over a dead and remote piano; while the following Tango has stark, staccato rhythms and the work fades quietly and distantly. Shostakovich's Romance from The Gadfly is well-known through the TV series Reilly Ace of Spies and the Kancheli item, specially composed for Kremer, is another comic item suitable for the silent era with witty, wiry glissandos and stumbling pizzicati.
The considerable talents of Kremer and Maisenberg complement each other perfectly in a rewarding programme for the adventurous which would have received my top award of the month if it had not have been for the sheer brilliance of the Humoresque CD reviewed above.

Ian Lace
---
| | | |
| --- | --- | --- |
| CINEMA SERENADE. Music for Films Itzhak Perlman (violin) with the Pittsburgh Symphony Orchestra conducted by John Williams. Sony SK 63005 [53:55] | | |
| | | |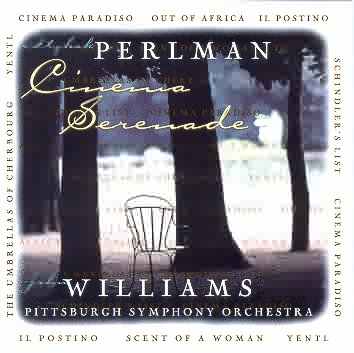 Andrea Morricone: Cinema Paradiso - Love Theme.* Carlos Gardel: Scent of A Woman - Tango. Michel Legrand: Yentl - Papa, Can You Hear Me; The Umbrellas of Cherbourg - I Will Wait For You.* Luis Bacalov: Il Postino - Theme. Elmer Bernstein: The Age of Innocence - Theme.1John Williams: Schindler's List - Theme; Sabrina - Theme; Far and Away - Theme André Previn: The Four Horsemen of the Apocalypse - Theme 2. John Barry: Out of Africa - Main Title*. Luis Bonfa: Black Orpheus - Manha De Carnaval. Various: The Colour Purple - Main Title. Arrangements by John Williams except those * by Angela Morley,
1 Elmer Bernstein, 2André Previn
This album was released late in 1997 but a review is included for the obvious reason that it once again focuses on a violinist; this time a major artist - Itzhak Perlman with a top rank American orchestra conducted by film music wizard, John Williams. The best way to approach this collection is to listen to it right the way through first, to get over the shock that these are not faithful renditions of cherished of original soundtracks; and then to listen afresh appreciating that, instead, we have skilful and often subtle arrangements designed to spotlight the violin. Indeed the thirteen pieces presented in this programme stand up very well as satisfying music away from the film. The only trouble is that there is an over emphasis on dreamy, romantic music at the expense of more rousing and vigorous forms - what you might call a chocolate box album.
For the famous tango sequence featuring Al Pacino from Scent of A Woman, John Williams more-relaxed-than-the- original arrangement, with some lovely imaginative flecks of instrumental colour, adds a shady sexy sense of mystery to its sultry atmosphere. The other Latin American track is the well-known romantic music played beguilingly by Perlman over strumming guitar and swelling strings, from the 1958 European production, Black Orpheus. The scherzo, if you like, of the set is the Irish-inflected arrangement of the score from Far and Away which gives Perlman the chance to display his pyrotechnical skills. How interesting to see an André Previn composition included - gently reflective, almost pleading music that at the same time is quite bluesy and mildly dissonant, transporting us from the poignant to the tragic.
From the remainder of the sweetly romantic selections I would mention the eminently satisfying fusion of Classical and Romantic styles in Elmer Bernstein's arrangement of his own The Age of Innocence theme evoking the repressive hot-house atmosphere of the screenplay. Perlman enhances the unforgettable melodies that are the themes from the Umbrellas of Cherbourg, Out of Africa and the 1995 version of Sabrina (equalling Frederick Hollander's sparkling score for the original 1954 production which needs to be recorded in more detail than the excerpt on the Charles Gerhardt Casablanca album); Perlman also adds to the charm of the theme from Il Postino as he takes the theme meandering dreamily over rocking pizzicato upper strings, accordions, mandolins and full surging strings. One must not forget John Williams's celebrated poignant theme from Schindler's List in which Perlman was featured so memorably on the original film soundtrack. One guesses that that collaboration sparked this present collection. Pleasant and undemanding listening.

Ian Lace

---

This RVW film music CD has been in circulation since its release in 1995 but it is reviewed here because of its importance and because it formed part of Alan Willmott's presentation entitled "The Film Music of RVW" given on April 3rd as the opening programme of the "Ralph Vaughan Williams and Dorking" celebration at the Dorking Halls, Surrey. The celebration continues until May 3rd
| | | |
| --- | --- | --- |
| VAUGHAN WILLIAMS. Film Music RTE Concert Orchestra conducted by Andrew Penny MARCO POLO 8.223665 [67:39" ] | | |
| | | |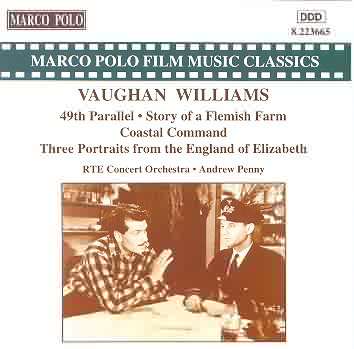 49TH PARALLEL (1941) [1] Prelude. Of the RVW film music, we know, this is one of the most attractive of his inspirations. The work has a wonderful nobility and epic stride all created and sustained in the space of 2:18 in this recording. Although some people complain of Bernard Herrmann's ponderous gait in the Decca CD (London 448 954 2) this piece easily sustains the 3:22 treatment it receives there. Penny's performance however comes across with considerable majesty and power and does not feel at all rushed.
STORY OF A FLEMISH FARM SUITE (1943) [2] [8] The Flag Flutters in the Wind; Night by the Sea Farewell to the Flag; Dawn in the Barn The Parting of the Lovers; In a Belgian Café; The Major goes to face his Fate; The Dead Man's Kit; The Wanderings of the Flag. This is the first recording in any format of music from this film. There is nothing remotely Flemish about this suite as far as I can see but this hardly matters and there is plenty to enjoy. The elegiac Dead Man's Kit has a pastoral feel to it, some of the stillness (and more) of the Fifth Symphony. There is even a strange cross reference to Finzi's Introit for violin and orchestra. In a Belgian Café has considerable charm and thankfully no local clichés. Dawn in the Barn is an effective miniature genre piece perhaps like Constant Lambert's Aubade Heroique dedicated to RVW on his 70th birthday the year prior to this film. There is a brazen coldly cheery march to conclude things.
COASTAL COMMAND SUITE (1942) [9] [16] Prelude; The Hebrides; U Boat Alert; Taking off at Night; The Hudsons take off from Iceland; Dawn Patrol ('Quiet Determination'); Battle of the Beauforts; Finale. This suite has been previously recorded, movement for movement, by a 'crack team': Kenneth Alwyn/Philharmonia (Silva Screen FILMCD072). Before that there was a fine recording of the isolated Dawn Patrol movement by Sir Charles Groves with the RLPO. The sequence is distinguished by a magically impressionistic Hebrides movement brilliantly done here and with the hint of an Arnoldian 'Scotch'skirl. There is a dashing Hudsons movement all gallantry. The finale has RVW's all purpose busyness about it which can be irritating however all is redeemed by a quiet poetic interlude out of which rises a brief gesture of great nobility. There is much to enjoy here although finally I marginally prefer the sound and performance on the Silver Screen CD. The coupling on the Marco Polo is preferable. I have always leaned towards single composer collections. The mixed composer anthologies usually leave me with a sense of dissatisfaction and lack of focus.
THREE PORTRAITS FROM THE ENGLAND OF ELIZABETH (1957) [17] [19] Explorer; Poet; Queen.
Once recorded by RCA with LSO/Previn as part of his Boult-shadowing symphony cycle in the 1960s and 1970s, this little set of 'pictures at an exhibition' is very attractive. It is colourfully put together with many delightful touches. Some of RVW's bombastic march moments ring rather hollowly for me but there is so much here that touches the heart one cannot really complain. Explorer (Sir Francis Drake) evokes danger and endeavour. Poet (Shakespeare) reminds us that RVW drew on The Bard for Serenade to Music and most affectingly in Sir John in Love. This music dates from the end of his life and in its quietness we can easily feel a sincere tribute by RVW to the man who, across the centuries, offered inspiration and joy. This is a lovely movement with some pipe and tabor themes looking back (2:40) through 'Capriolic' glasses to Tudor times relieved by (3:49) a timeless, warming romanticism and returning briefly to the world of 'Sweet Lovers' and 'Hey Nonny Noh.' The final movement, although celebrating the First Elizabeth age, also serves as a reflection of the confident New Elizabethan era: The Coronation pre-dated the writing of the music by only two years. This British Rail film was released in 1957, the year before the composer's death. Skirling pipes and an almost 'Prince of the Pagodas' glittering peroration brings things to a close.
CONCLUSION: This is the first time we have had a whole CD devoted to RVW's film music. It comes as a surprise that it has taken so long for such a collection to be drawn together. It parallels Chandos's excellent collections of single composer film music for Alwyn and Arnold. Before too long we should have similar single composer anthologies of film music for Frankel and Rawsthorne. In due course I hope we will see collections of film music by Brian Easdale and others. It will have taken more than twenty five years but we have here the germs of a British film music project parallelling the RCA Classic Film Scores series. What George Korngold and Charles Gerhardt did for Hollywood composers perhaps Penny and Marco Polo, Chandos and Silver Screen will do for British film music. Vaughan Williams could easily stand a second and possibly a third CD in the film music series. The Forty Ninth Parallel has a great deal of fine music. RVW made a suite from it which, although premiered in the 1940s, was withdrawn shortly afterwards. There exists a suite of music from The Loves of Joanna Godden and going by the old Ernest Irving 78s (reissued in the early 1980s on an old Ariel LP CBF13) this offer amongst his most attractive and freshly inspired film music. I am also sure that hearing the music in an extended suite or a complete score and exactly as it was written for Scott of the Antarctic would be a wonderful experience. A completely unknown quantity is the music from Stricken Peninsula, Dim Little Island and People's Land.
Lewis Foreman's authoritative notes are a joy to read. By the look of it his research for these notes extended to viewing the films and hearing the music in context. The five stills from the films are a bonus although one can imagine the impact a larger number of bigger pictures would have had in the days of vinyl and gatefold sleeves .The Cloud Nine LP coupling Bax's Oliver Twist and Malta GC re-recordings was an object lesson.
This CD is warmly recommended. If you are interested in film music then do hear it. If you are a Vaughan Williams enthusiast do not think that he dropped into uninspired mode when working with films. You will find this disc well worth adding to your collection. Those who think they are allergic to RVW (and let's face it The Sea Symphony can be a bit of a trial as can The London) may well get a surprise here for there are tangs and flavours you will not have heard before
.

Rob Barnett
---
There are More>>>>>>>
April-May Film Music Reviews Part 2
Return to: Previous month's page
---

COMPETITION WIN a CD of your Choice

---
Search the Crotchet database from here
Discs on these pages are offered for sale. There is also a page of search engines from a selection of on-line retailers here.
Please support this web-site by buying your discs here.
Disclaimer: Every effort is made to make sales links to the correct disc but, in the end, you must take responsibility for checking that what you are purchasing is what you want.
Some of these discs were not actually available for sale at the time of posting but a link has been made in anticipation of their forthcoming availablility.
Return to Film Music on the Web
e-mail Len Mullenger len@musicweb.force9.co.uk