---
>>>>April-May Film Music reviews contd.
Two 70th Academy Award Nominated Scores in the Musical or Comedy Category
| | | |
| --- | --- | --- |
| Anne DUDLEY. The Full Monte OST RCA VICTOR 09026 68904 2 | | |
| | | |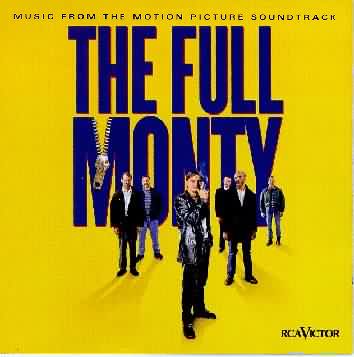 One regrets having to sound churlish but the awarding of the Oscar to Anne Dudley for this slight score seems to this reviewer a sop to the Brits because so many of their 70th Academy Award nominations hopes were disappointed. An examination of this album shows that Ms Dudley has only contributed two original cues lasting no more than five minutes or so the rest of the CD comprises music by others such as "You Sexy Thing" by Hot Chocolate. I am not denigrating the quality of Ms Dudley's work her two cues employed through the film do emphasise the cheekiness of the men's stripping farrago and The Lunchbox has Landed cue with its old fashioned tango rhythms subtly suggests the underlying plaintive and semi-tragic elements of this rather over-indulged little story (the other Yorkshire comedy Brassed Off was more deserving, more risible and more poignant). Much better and more deserving of the Oscar, in my opinion was the Zimmer score reviewed below

Ian Lace
---
| | | |
| --- | --- | --- |
| Hans ZIMMER. As Good As It Gets OST COLUMBIA/SONY MUSIC Soundtrax 489502 2 | | |
| | | |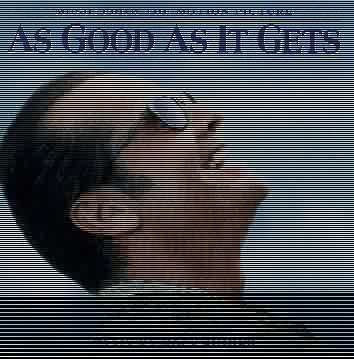 This is another interesting score from Hans Zimmer who wrote the haunting music for Driving Miss Daisy. Again a tango rhythm plays an important part but it is more acerbic in line with the quirky, bad tempered Jack Nicholson character. A smaller chamber orchestra is used heavily accented towards the strings - frequently producing a rather biting monochrome sound reminiscent of Bernard Herrmann's music for Psycho but clearly not so chilling since this is basically a romantic comedy. More than once, there are hints of Prokofiev. Warmer romantic music represents the Helen Hunt (a well deserved Oscar performance) character. There is some very effective polytonal writing and intelligent yet spare use of instrumentation. I was especially impressed with Zimmer's the cue Under Stars, a most imaginative nocturne. An unusual and inventive, melodic, score. The album also includes songs used in the film sung by Nat King Cole, Art Garfunkel and Danielle Brisebois.

Ian Lace
---
| | | |
| --- | --- | --- |
| JOHN BARRY. Swept from the Sea English Chamber Orchestra conducted by John Barry; Song: To Love and Be Loved. Lyrics: Tim Rice. Singer: Corina Brouder. Decca London 458 793 2 [62:01] | | |
| | | |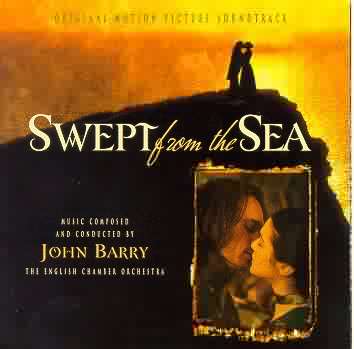 This is a subdued plangent sounding score. The piano touches in fine points of moonlight across an unnaturally calm sea. The sea swells and recedes and like many another score in film and concert the sea's moods are clearly intended to echo some of the emotional landscape of the characters. A female choir is used with great restraint in a couple of the tracks adding a subtle additional instrument to the orchestral marine-scape. Overall, for a score running for just over 62 minutes, it is all a bit unvarying but it does cast a spell. I do rather feel the lack of a good gale here and there is hardly even a briskly choppy sea.
We get Allan Pettersson like trumpet interjections in a number of the sea lullaby tracks. Track 9 is notable for being so different from all the other tracks: It gives the impression of a much smaller acoustic a real perspective shift with music box effects from cimbalom and small ensemble. This is no doubt the track which the director, Beeban Kidron said recalls the Jewish dances of childhood.
At track 10 the sea swell theme returns and there is a certain similarity to the Star Trek Voyager main theme. Track 12 has the big theme opening out very satisfyingly with nice punctuation from piano and deep strings. Yanko's Delirium (Track 15) offers tense buzzing strings forming a background over which a strangulated version of the big theme is played. This has a suffocating force. Track 17 again offers Pettersson like loneliness and a bleak atmosphere. A breathing Finzi-like figure offsets this to some degree. The final track is the 'song of the film' using Corina Brouder who has a chaste bloom to her young sounding voice. The song is in keeping with the mood of the rest of the score. Barry thankfully does not succumb to a pop balance.
The CD is attractively packaged but once again light on decent notes. We do not get a succinct outline of the plot. John Barry has very little to say about the score but as someone who lives by the sea he fairly claims or seems to claim its inspiration for this score. There are attractive photos and design work generally.
Any doubts about the muscle of the ECO can be dispelled. Rather like the Academy of St Martin in the Fields the orchestra is augmented when necessary. The sound is quite big though this is not a great brazen epic of a score. The music has more to do with the moonlight flecked surface of the sea perhaps seen from below rather than from some dramatic cliff. Overall it is too unvarying to make absolutely satisfying listening although excellent for background listening or as a memento of the film.

Rob Barnett
---
| | | |
| --- | --- | --- |
| MICHAEL NYMAN. GATTACA OST Virgin Records CDVE 936 | | |
| | | |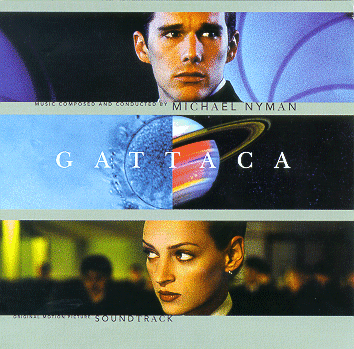 I have not seen the film so I come to this recording of the original soundtrack without any of the memento baggage which many hearers may bring when they get this CD.
The CD packaging is another of these triumphs of design over information. Nowhere are we told the total playing time of the disc (which must be just over an hour). Classy visuals are no substitute for some solid information like which orchestra was involved and if a pick up band then who was in it. I would have liked to know who the solo violinist, principal French horn and bassoonist were. How about some biographical information on Nyman? How about a brief interview with Nyman? We get an awed quote from Andrew Niccol about the quality of the music so we know what to think. We get the track information from the back of the jewel case repeated in the 8 side folded insert and eight of those sides are taken up with pictures. Rant over!
The score is all perfectly in character for Nyman and very strong on accessible beauty. The twenty four tracks are heavy with his accustomed long breathed and sustained string anthems. Concert hall points of reference in the string writing include Sibelius, Hovhaness, Finzi, Roy Harris and Shostakovich. My wife who is by no means familiar with Nyman's music identified Nyman as the composer immediately and her only reference point was the still wonderful 'Where The Bee Dances' (Argo 433 847 2). The tracks are quite short. If we leave the last track out of the reckoning, because it is really two segments in one, the shortest track is 1.00 and the longest 3.53. Not once is there any strain on your attention and neither is there much of a challenge either. Undemanding listening then, which will play warmly in the background from time to time engaging the ear with neat and imaginative touches, like the slightly acid Shostakovich like solo violin which plays over the undulating veldt of another of Nyman's stalking string figures (Track 18).If you warm to clean lined melody you should hear this. The tunes are good and Nyman does have a way with tension: listen to Track 13. The sound stage is open and clean. Nymaniacs already have this CD and will not be disappointed.

Rob Barnett
---
| | | |
| --- | --- | --- |
| Ilona SEKACZ. Mrs Dalloway The Metropole Orchestra of the Netherlands conducted by Dick Bakker MILAN/BMG 35845-2 [45:15] | | |
| | | |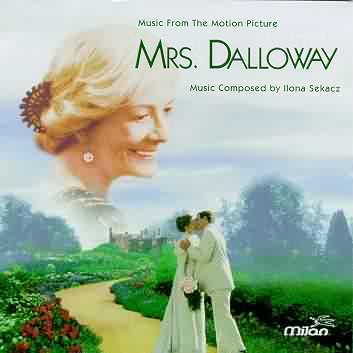 This is a delightful score - full of charm and delicacy. It captures the period of Virginia Woolf's classic novel beautifully; it is true to the spirit of the book and the sensibilities of its characters. Much of the film's production has Dutch backing so it is appropriate that the Metropole Orchestra of the Netherlands was chosen to record the music from the film. Sekacz uses an orchestra of chamber proportions and often reduces her scoring to piano and violin alone or for small groups of instruments to preserve a private and intimate feeling so appropriate to the repressed character of Mrs Dalloway who chooses a practical marriage, to a successful statesman, rather than submitting to her passion. Most of the cues interest and fascinate, it is only rarely towards the end of the album that one feels any longueurs which in itself is a sign of a good score - as music standing up on its own right - and a tribute to Sekacz's craft. I was especially drawn to the early 6 minute cue Clarissa and Sally which so cleverly epitomises the jolly frolics and romantic dreamings of the young girls. Influences are many but subtle and fleeting; they appear and vanish swiftly before one can identify them properly; certainly Brahms and Copland and possibly Finzi and the Moszkowski Piano Concerto for instance. The prevailing mood is one of regretful, plaintive nostalgia. Darker shadows are introduced with ghostly memories of World War I and the suicide where more atonal music is briefly introduced. Certainly the best new score that I have reviewed this month

Ian Lace
and another view of the same CD comes from Rob Barnett:-
Sekacz will be well known to some for her music for radio and theatre. She has also worked in television. The score for Antonia's Line (the Dutch feature film directed by Marleen Gorris) is her's. My usual complaint about the CD booklet: is light on information and heavy on pictures and 'style'. Good to have a photo of the orchestra but when was this recorded and where and how about giving Ms Sekacz a couple of hundred words to speak about the music and this performance? Interesting that the conducting is given over to Dick Bakker rather than being taken by Ms Sekacz. Is the orchestration also by Ms Sekacz, I wonder?
Mrs Dalloway is another Gorris-directed film being an adaptation of Virginia Woolf's novel of the same name. This Sekacz score is quite specific in mood: lightly romantic not trivial mark you! This a finely judged score with no lapses in taste but inhabiting a very specific enclosed world. The world is one of moonlit English country house lawns and candlelit ballroom waltzes. Another reference point might be Burgon's score for Brideshead Revisited. Other passing references include a cuckoo call in the main theme which sounds just like Finzi (In Terra Pax) and one or two other segments which remind me of the more poetic moments in Copland's The Tender Land. The monstrous shadow of the Great War can be heard in the sourly dreamy track 9 'At the Party' which is exotic almost oriental. The trotting melody in tracks 1, 10 and 12 is charming and fleet. It reminded me of Frankel's Carriage and Pair and even of the bustling townscape music at the start of Disney's Beauty and the Beast. The music has its limitations and one of them is the predominantly slow or strolling pace. The 'oompah' park band evocation in tracks 3, 5 and later (always seeming about to escape into something from Walton's Façade) provides some variety but more would have been welcome. This sameness of mood limits the star scoring.
If you want to try out a single track play number 1 or perhaps 11 with its delightfully husky viola song. If you like those tracks you will like the whole CD. For myself I want to hear more Sekacz. So all you commissioning editors out there please don't neglect one of the UK's most cherishable talents.

Rob Barnett
---
Two curios:-
| | | |
| --- | --- | --- |
| Albert W. KETÈLBEY. Orchestral Works The Palm Court Theatre Orchestra directed by Anthony Godwin CHANDOS Flyback FBCD 2002 [68:58] | | |
| | | |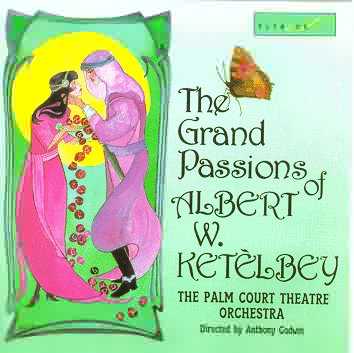 This album takes one right back to the silent era and those tinkling piano and small band accompaniments to on-screen action when Ketèlbey's atmospheric and vividly illustrative music was often employed - one only has to think of In A Persian Market, In A Chinese Temple Garden and In the Mystic Land of Egypt (alas omitted from this collection). In fact Ketèlbey wrote much music especially for silent films such as the Bacchanale de Montmartre - for cabaret, orgy and riotous continental scenes. This album is a real treat comprising new saucy renderings, completely in character. The instruments used are of the period: bass drum, tubular bells, wooden flute and a magnificent G Bass Trombone. As Patricia Goodwin says in her notes: "Ketèlbey described the pieces as tone pictures full of atmosphere and drama. You smile at the extravagance and are beguiled by the sheer beauty of the melodies. It is music of its period but with flurries of the unexpected - a military band and fairground steam organ playing one tune against another, drunken roisterers, a fairground barker with his rattle in 'Appy 'Ampstead; Chinese coolies having a street fight In A Chinese Temple Garden; and natives chanting in Jungle Drums while a patrol marches by and an organ plays eerily in the background. Ketèlbey has written detailed instructions in the music for the orchestra - sing, whistle, chant etc., and on this recording the musicians comply with style and enthusiasm." Other works in the programme include: In the Moonlight, The Clock and the Dresden Figures and with the seldom played Suite: In a Lovers' Garden. Great fun.

Ian Lace
---
| | | |
| --- | --- | --- |
| Ivor NOVELLO Songs Marilyn Hill Smith; The Chandos Orchestra conducted by Stuart Barry CHANDOS Flyback FBCD 2006 [68:42] | | |
| | | |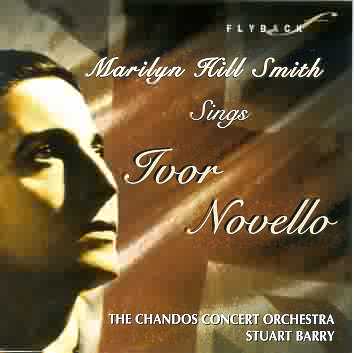 Older listeners will remember Ivor Novello as the Andrew Lloyd Webber of the 1930s and 1940s; and many would argue that Novello's works were far superior. Of his half dozen or so hit shows from that period, three were filmed in British studios: Glamorous Night, The Dancing Years and King's Rhapsody - the latter with the unlikely co-starring of Errol Flynn and Anna Neagle. This album was first released in 1993 and is reissued in this new packaging. The album contains 20 songs, famous and less well-known including We'll Gather Lilacs and Keep the Home Fires Burning cherished by the Brits during the dark war-time days. The slightly saccharine tones of Marilyn Hill are in character and only occasionally cloy. I would briefly mention the charm of When I Curtsied to the King from Perchance to Dream and the beautiful, haunting Fly Home,Little Heart from King's Rhapsody.

Ian Lace
---
Four Action Film Scores:-
Jerry GOLDSMITH. Air Force One

OST

Varèse Sarabande VSD-5825 [35:42] buy here Crotchet
Christopher YOUNG. Hard Rain

OST

Milan/BMG 56425-2 [51:46] buy here Crotchet
Nick GLENNIE-SMITH. The Man in the Iron Mask

OST

Milan/BMG 56495-2 [50:35] Crotchet
Gavin FRIDAY and Maurice SEEZER. The Boxer

OST

MCA MCD11751 [44:38] buy here Crotchet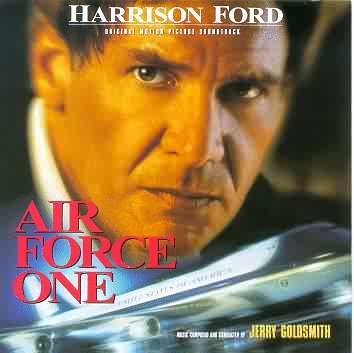 The Air Force One album is now some months old but a review is included because of the video release and because it serves as a good comparison for the other three action scores. Goldsmith is, of course, very experienced in the action movie genre and this is a typically well-crafted score. Given the incessant roller-coaster heroics of this action movie, there is limited scope for other than the powerful, punchy type of music with which we are served. The meagre 30 odd minutes duration of this CD is about as much as one can tolerate of the relentless snare drumming and general pounding. But this album is ridiculously short measure - it is a pity Varèse Sarabande could not have complemented it with a somewhat quieter Goldsmith score. The main Air Force One theme is memorable if something of a compendium of much that we have encountered before. It ideally communicates the nobility and bravery of a US President hijacked on his Air Force One. Goldsmith introduces as much variety into his breathless score as one senses is possible and his writing for brass and percussion is impressive enough but this is not top drawer Goldsmith.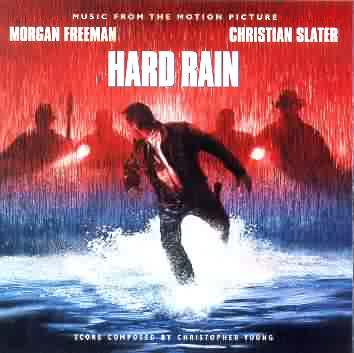 Christopher Young's equally pounding and strident score for Hard Rain a thriller concerning an armoured car heist, set against the backdrop of an impending flood (the film dropped out of sight at the American box office), is, however, more varied and interesting. The movie stars Morgan Freeman and Christian Slater. Young's dark, brutal score shows more ingenuity and imagination. He follows in the tradition of John Williams, James Horner and of course, Goldsmith himself, in showing a mastery of orchestration and creating atmosphere and dramatic tension. He uses a huge orchestra with eight french horns and employs six percussionists. The writing uncannily suggests the powerful and destructive swirling of flood waters and his use of a mournful chromatic harmonica to represent the bad guys led by Morgan Freeman is interesting.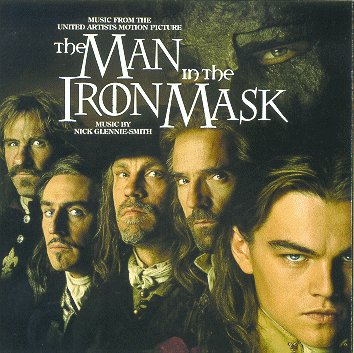 Nick Glennie Smith's music for The Man in the Iron Mask treads too familiar territory; the main theme seems to be made up of bits of material presented too many times before; and, with our old friend the snare drum pounding away below the clichéd aspirational theme, I thought for a moment that I was back again on Air Force One! Synthesisers are introduced to suggest steel on steel for the swashbuckling scenes and for the forging of the iron mask and some rather weak pastiche work is used for the period recreations of scenes like The Masked Ball. (The 1939 version of The Man in the Iron Mask, starring the much under-rated Louis Hayward who was mesmerising in the dual role of the Royal Twins, had some stirring music by Lucien Moraweck that might be worth exploring.)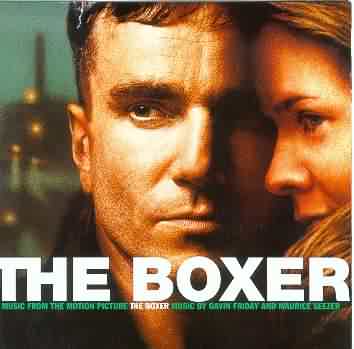 The music for The Boxer is a strange mixture of elegy and near-banality. It incongruously mixes symphonic writing, Irish pipe music, choral music (performed by The Choir of Christ Church Cathedral, Dublin) with hard rock and clashing dissonant synthesiser music complicated by snatches of single line dialogue that sound as if they have been recorded in a toilet. A case of a score that probably tries to please everybody and ends up pleasing nobody. You will have gathered that I have not seen this Daniel Day Lewis film which from the cue titles seems to imply a story about a boxer, his faith and the troubles in Ireland, but standing up by itself as music this album is just too weird.
Ian Lace.
Air Force One

Dark Rain

The Man in the Iron Mask

The Boxer

---
Part 1 of the April-May Film Music Reviews
Return to Film Music Main page

COMPETITION WIN a CD of your Choice

---
Search the Crotchet database from here
Discs on these pages are offered for sale. There is also a page of search engines from a selection of on-line retailers here.
Please support this web-site by buying your discs here.
Disclaimer: Every effort is made to make sales links to the correct disc but, in the end, you must take responsibility for checking that what you are purchasing is what you want.
Some of these discs were not actually available for sale at the time of posting but a link has been made in anticipation of their forthcoming availablility.
Return to Film Music on the Web
e-mail Len Mullenger len@musicweb.force9.co.uk