John S. Bridge
A Manchester Musician
By Stuart Scott
John S. Bridge c.1918
An important figure in Manchester music and much in demand, John Bridge progressed through the Hallé ranks to become leader, whilst at the same time earned a reputation for himself as a chamber musician being associated with two of the best string quartets of the early twentieth century. Among the first musicians to be employed by the BBC for their 2ZY Manchester station, Bridge held important posts as an early broadcaster and also found time for teaching and conducting. From the beginning of his professional life his talent was recognised by his colleagues and critics often singled him out with kind words.
John Sedgwick Bridge was born on 22nd December 1872 at Bury in Lancashire. From an early age he was always known as Jack and as a lad lived with his grandfather, John Sedgwick, as part of a large musical family at 10, Haymarket Street, Bury. Music and the arts had obviously played a part in the family life of the Sedgwicks long before Jack was born. His grandfather had taken in borders including the opera singer, Charles Mallett. Jose and Hortensia Ramirez, two Spanish minstrels, also lodged with him for a time.
Jack's brothers were musicians too. Harry (b.1879) was a violinist and conductor/director of the Bury Theatre Orchestra. Sam (b.1881) was a good amateur cellist and Herbert (b.1883) became a professional double bass player and he was said to have belonged to 'Richter's Band', although it appears that he was never a permanent member of the Hallé Orchestra. However, he was a member of the Royal Opera House Orchestra and spent summers at Torquay where he played with the municipal band.
Through the tuition and professional guidance of his uncle Henry, Jack began playing publicly at the age of 16 in the old theatre, Bury. Between the ages of 16 and 20, he found a new teacher in Willy Hess who prepared him for a professional life in a symphony orchestra. In 1893, at the age of 20, the young Bridge found a place in the first violins of the Hallé Orchestra sitting alongside so many well established and revered musicians. He must have been a first class player at an early age and he maintained his position over a long period of time surviving Richter's purge of personnel in 1900. Being a member of the Hallé must have meant much to the young man. At concerts Willy Hess sat at the front desk, his uncle and first teacher, Henry Sedgwick sat close by in the second violins and his cousin, Frank Sedgwick, looked over him from the ranks of the Hallé Choir during a performance of Beethoven's Choral Symphony on November 30 1893. One can perhaps also imagine Jack's excitement when playing his very first concert in which Sarasate appeared as soloist in Lalo's Symphonie Espagnole.
In the same month (October 1893) the Royal Manchester College of Music opened its doors for the first time and staffed by Hallé Orchestra principals, the college would have much significance for the future of Manchester music. In the coming years Jack Bridge was to play an important part in maintaining the high standards of the establishment.
Jack Bridge's first season with the orchestra was conducted by Charles Hallé and his teacher, Willy Hess, appeared regularly as soloist and leader. There was a  performance of Flying Dutchman (Nov.16) and Hallé played what was to be his last performance in Manchester of the Emperor Concerto. The music of that first season was probably all new repertoire for the young player and for many of the audience too.
Bridge's second Hallé season (1894-95) ended on May 4 when Charles Hallé conducted Mendelssohn's Elijah in aid of a charity. It was to be Hallé's last Manchester concert as he died the following October. Bridge and his colleagues played at his funeral which took place at the Church of the Holy Name on Oxford Road, close by the college of music. Appropriately, Brodsky conducted Mozart's Requiem and the funeral march from Beethoven's Eroica Symphony. With little or no time to mourn, Bridge and the rest of the orchestra played the following day (Oct.26) in Simon Speelman's Saturday Popular Concert at the Free Trade Hall which included Greig's Piano Concerto played by Leonard Borwick. Curiously enough, there was no tribute to Hallé in the programme. For this concert Jack's uncle Henry took his usual position in the second violins but Jack played alongside Simon Speelman's brother, Sam, as sub-principal. Already his talent was beginning to be recognized. At the third Speelman Concert of the series he found he had a closer look at the great Sarasate, soloist in the Mendelssohn concerto.
When the season in Manchester came to an end in may 1896, Jack Bridge managed to find work on the North Wales coast, like many other Hallé players. He left behind him a busy and successful season in which he had given such a good account of himself as a professional that he was now in demand as a chamber music player too. Only a few months before, he had been asked to play second violin in Tchaikovsky's String Sextet Op.70 at Wilhelm Bauerkeller's[2] Chamber Concerts (Monday, March 30 1896) in the Gentlemen's Concert Hall on Peter Street but now all his attention was given to music at the seaside and marriage.
He married musician, Enid Stuart Jones (1868-1937) on 25 July 1896 at Brunswick Chapel (Wesleyan Methodist), Rhyll. Bridge had known her work in Manchester where she was busy building her own career as pianist and accompanist in chamber music concerts, often in the company of well established musicians such as Willy Hess and Carl Fuchs. From the 1890's she provided music for Ancoats Brotherhood meetings and concerts.[3] On 4 January 1890, Herbert Gladstone M.P. addressed the meeting giving a talk on India and Enid played in piano quartets by Rheinberger and Mozart with Carl Fuchs and others, before and after the lecture. She was there again on 5 October when she joined Ettie Wraith (violin) and Carl Fuchs (cello), playing trios by Gade and Mendelssohn. She also sang two songs at the same concert but doesn't seem to have pursued singing as a career. It was Ancoats Brotherhood meetings that were to provide Enid with much work in the future but she was in demand by other concert promoters too. The Schiller-Anstalt Concert on 14 May 1892 was billed as an event given by Enid Jones 'assisted' by Willy Hess and Carl Fuchs. Schumann's Trio Op.63 was played and Enid gave Beethoven's Moonlight Sonata and other solos. Throughout 1903-04 Enid acted as accompanist at the Ladies' Concerts given at the Midland Hotel Concert Hall. She may have been the resident accompanist there as she appeared with a number of different ensembles. It is clear that she too had a growing reputation in the city.
In the early 1900s, Guardian critic Samuel Langford (1863-1927) seemed to be leading a campaign for the acceptance and performance of chamber music in the city. Through his writings he repeatedly emphasized its importance in the musical education of Mancunians. Bridge and his wife obviously felt the same and after the birth of their daughter, Barbara Enid Bridge (b.1900) on 18 January 1900, they appeared together at the Schiller-Anstalt Concert on Saturday October 20 along with other Hallé players led by Rawdon Briggs. Jack and Enid continued to appear together in chamber music concerts throughout their careers but Jack also made regular solo appearances. On one occasion at a Sowerby Bridge Choral Society Concert on Tuesday, 21st February 1899, he "delighted the audience with a violin solo, and gratified them greatly by re-appearing in response to a not-to-be-denied recall".[4]
However, Jack Bridge's orchestral work of this period was of no less interest or importance to him as any other kind. It has been said that he admired very much the playing of Fritz Kreisler. Between 1902 and 1909 the famous violinist made several visits to Manchester playing concertos with the Hallé Orchestra. The Brahms, Mendelssohn and Mozart A major concertos were popular. As a member of the orchestra Bridge was, no doubt, very happy to be part of these performances and learned much from them as later in his career he performed these same concertos to much acclaim and often included Kreisler arrangements in his chamber music concerts.
Richter was now in charge of the Hallé and on 2 March 1905 he gave the British premiere of Sibelius's second symphony in Manchester. Sibelius was present at rehearsals and Bridge would have gained valuable insight into the new work. In the same way he would have met other composers of his day. There was Elgar of course, Bantock, Richard Strauss and John Foulds, one of his colleagues with whom he played quartets, who was then becoming recognised as a composer.
At the close of the 1904-05 season Bridge probably felt quite honoured that Richter had selected him to go to London's Covent Garden with him once again for his spring/summer opera season which started on 1 May, ending on July 25th. Previously he had played in the Ring Cycle of 1903 but this season he played in nineteen different opera plus two Ring Cycles, with Tristan and Tannhäuser in addition. Highlights of that season included the appearance of Melba in Traviata (17 May), the production of Franco Leoni's new opera, L'Oracolo (28 June) and Madama Butterfly (10 July) with Emmy Destinn and Caruso. There was also a Gala Concert on 8 June in honour of the King of Spain. Bridge probably found it all a little more demanding than his previous summer work on the North Wales coast. Nevertheless, he was adding to what was later recognised as a profound musical knowledge and memory. He had a very retentive memory and it is reported that once, whilst at Covent Garden, he played through from memory, the whole of the fire music from the Valkyrie while in the 'green room', before a performance.[5]
The following summer, Bridge made his way back to the seaside, although this time it was not to one of the Welsh resorts. He played a summer season with the Devonshire Park Orchestra, at the Floral Hall, Eastbourne. On Saturday 5 September, Mr Norfolk Megone's Grand Concert was given with an orchestra of 54 players. In addition there was the Band of His Majesty's Coldstream Guards, the Band of the 2nd Sussex R.G.A. Volunteers, the pipers of the Scots Guards and the municipal orchestra and military band. The military presence was reflected in the programme which included Grand March from Le Prophète by Meyerbeer, Wagner's Rienzi and Tchaikovsky's 1812 overtures. The concert ended with Jullien's popular The British Army Quadrilles.
As the first decade of the century rolled on towards its conclusion, Bridge enjoyed Kreisler's visit to Manchester in 1908 when he played the Mendelssohn concert once again and Mrs Enid Bridge pursued her career as accompanist to various chamber ensembles and singers. Music was providing a reasonable living for them as they were soon to move to a new home in Goulden Road, Withington where they employed one domestic servant.
More work was assured when Ancoats Brotherhood introduced a regular series of chamber concerts in 1911, mostly given by Hallé players and college staff. In the same year, Bridge took on the position of second violin with the Rawdon Briggs Quartet (Rawdon Briggs, John Bridge, Mrs Rawdon Briggs and Walter Hatton) and first played with that ensemble on 10 April 1911 at a concert given in the Memorial Hall, in aid of the Manchester Domestic Mission. In November Kreisler played the Elgar concerto at a Hallé concert conducted by Henry Wood and in the same month Jack Bridge came face to face with Elgar as conductor when, on November 23, he visited the Hallé to conduct his second symphony, its first Manchester performance.
The following year he prepared himself for one of the biggest undertakings of his career. He was to tour the USA and Canada with the London Symphony Orchestra, under Arthur Nikisch, 8 – 28 April 1912. Hallé colleagues Arthur Gaggs, Joseph W. Gaggs, Walter Hatton and Harry Barlow also played in the LSO for the duration of the tour and the American immigration form described Bridge at that time as aged 39, height 5'81/2, complexion fair, hair brown, eyes grey. Originally booked to sail on the Titanic, the orchestra most certainly avoided catastrophe when the arrangements were changed and they sailed from Liverpool on the White Star Liner, Baltic, for New York on March 28. On April 2 the orchestra gave a concert on board ship in aid of seamen's charities in Liverpool and New York. Arthur Payne, leader of the orchestra, conducted and two days later gave an evening concert at which members of the orchestra contributed solos. Whether or not Bridge made his own contribution is not known.
Once in the USA the twenty-one day tour itinerary consisted of twenty-eight concerts in twenty-three cities. The orchestra travelled by train, berthed 32 to a carriage, stopping for meals and baths at hotels en route. However, the latter needs were often missed through train delays. One can't help thinking that Bridge's usual list of anecdotes was lengthened considerably by the events of this journey. He had a genial presence and often related stories of the many famous musicians he had met, and of the varied nature of rehearsals and concerts in which he had played.
Between 1913 and 1919 Bridge played under Michael Balling and Sir Thomas Beecham. The Hallé programmes represented a wider repertoire mainly through the efforts of Beecham to include French, Italian, Russian and English works. During the same period he did much to enhance his reputation as a chamber music player too. He travelled to London with the Rawdon Briggs Quartet in the first week of July 1913 for a Bechstein Hall concert given on Monday, July 7. A quartet by Haydn and the Brahms Quartet in B flat Op.67 were included in the programme and one London critic was moved to write that, "John Bridge's playing had excellent qualities".
The following year he was appointed principal second violin in the Hallé Orchestra and continued to appear at the usual venues in the city playing chamber music with available colleagues. At Ancoats in February 1914 he played trios with R.J. Forbes and John Foulds. In October he formed his own quartet with T. Barrett, S. Gibbons and John Foulds to play concerts for Ancoats Brotherhood. Later the personnel of this quartet changed when Arthur Stewart and Seth Lancaster replaced Gibbons and Foulds. He appeared in programmes with Ethel Midgley and his wife, Enid, providing piano parts and he increased his repertoire to include more trios and solos.
The onset of war dictated that Hallé players were on half pay for a while and Jack's brother, Herbert enlisted and joined the 7th Bn, King's Own Yorkshire Light Infantry.
Nevertheless, concerts in Manchester went ahead under various conditions and whilst still playing with Rawdon Briggs, Bridge became a member of the Catterall Quartet, first appearing with the ensemble at the Birmingham Chamber Concerts Society meeting on 12th October 1915, replacing Hallé colleague, Ernest O'Malley. He was now a member of two reputable quartets and after playing in the first of four winter concerts of the Catterall Quartet, held at the Midland Hall on November 17, 1916, Guardian critic Samuel Langford readily recognized that Bridge was an excellent player and now one of the leading violinists of his day, in writing, "Mr Bridge is worthy of a more honourable place amongst our leading violinists than has been yet awarded him". The programme included a performance of Bach's Double Concerto with Catterall and Forbes (piano) of which Langford particularly noted the "intensity and refinement" of Bridge's playing. The Bach concerto was later to become a favourite vehicle for the display of his musicianship.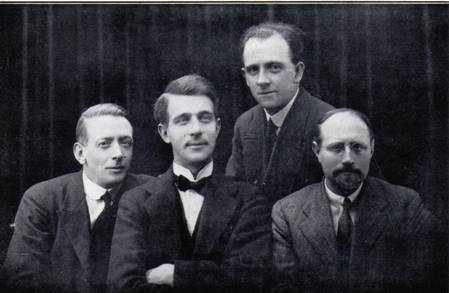 The Catterall Quartet, 1918
In 1917 Bridge made another journey to London with the Catterall Quartet which made its first appearance at the Leighton House Concerts[6] on Thursday 15 February. Other venues for the quartet that year included the Midland Hall, Windmill Street, Manchester where on Friday 9 March they placed themselves in the centre of the room rather than on the platform. Debussy's Quartet and Mozart's Clarinet Quintet were performed with E. Mills (Hallé principal) taking the clarinet part. On the 21 March Bridge was back in the same hall playing Bach's Concerto for two violins with Ottoline Walker and Archie Camden (piano) and a further opportunity for solo work was taken up in an evening orchestral concert conducted by Baguley Waters at Fernilee Schools, Whaley Bridge on 21 November. Exactly two months previous to this date, Bridge had learned that his youngest brother, Herbert had been killed in action in Belgium and that another brother, Harry, formerly Director of the Bury Theatre, was then serving with the Machine Gun Corps. One can only hope that he found some solace in music. Maybe in recognition of his increased credibility as a chamber musician, Bridge was admitted to the Royal Society of Musicians of Great Britain on January 6 1918. In the same month, Langford noted that "Bridge plays with an increasing warmth of style", after hearing him perform the Brahms Sonata No.1 in D minor at a Friday Noon Concert with Ethel Midgley. A later performance of the same work with the Ethel Midgley Trio at a Friday Noon Concert on April 14 brought him a further complement from Samuel Langford who thought that "Bridge played as always, with a fervour that at no time overwent the limits of pure musical beauty". The following month (March 22) he was no less enthusiastic after their performance of Tchaikovsky's Elegy Trio in writing, "John Bridge never fails to match the ardour of his colleagues. His reputation …. is enhanced by every concert at which he appears". The Ancoats Brotherhood concerts continued regularly throughout the year offering Bridge and Frank Park the opportunity to give Mozart's Concerto for Violin and Viola in E flat accompanied by Enid in February and November.
In addition to orchestral duties, Bridge and his wife were heavily committed to chamber music performances in Manchester with various ensembles at the Tuesday Midday Concerts, the Friday Noon Concerts and the New Islington Hall concerts. However, both appeared as soloists and Bridge took on some conducting in 1919. On February 7 he and Archie Camden shared the conducting of the opening night of the New Mills Orchestral Concerts season as their regular conductor, Baguley Waters, was indisposed. Not refusing the challenge, Bridge also appeared as soloist in Mendelssohn's Violin Concerto before ending the concert by conducting Schubert's Unfinished Symphony. His performance of the Mendelssohn, according to Langford had "rich expression" and showed "polished execution".
During May 1919 Bridge turned his attention to Elgar and played the new Violin Sonata with Ethel Midgley at the Houldsworth Hall on May 9. Later in the month he took part in the first Manchester performance of Elgar's Quartet when the Catterall Quartet played it at an afternoon concert on May 27. Once again Bridge's contribution was singled out by Langford noting that in the slow movement, "The first violin is kept in reserve during the opening section, and Mr Bridge has rarely performed a delicate task so well as in the introduction of the main melody". The Catterall Quartet played the work again on 17 November at the first concert of the newly formed Rochdale Chamber Concerts Society.
Enid's opportunity to appear as soloist came at a Tuesday Midday Concert on June 3 at the Houldsworth Hall. The programme given by Walter Mudie's String Orchestra included Bach's Concerto in F minor and Piece for Piano and Strings by Julius Harrison.
Any Manchester violinist would have been hugely honoured and delighted to have been a member of the Brodsky Quartet. In 1920, Jack Bridge was invited to play second violin in that very quartet and soon he had his friend and colleague, Frank Park (viola) sitting next to him. This came about through the death of Simon Speelman and the resignation of Rawdon Briggs. Park and Bridge were now playing as regular members of both the Catterall and the Brodsky Quartets. When not playing with the Hallé, Bridge played chamber music on most other days of the week. It was a very busy period requiring much stamina and enthusiasm. On January 23 he played Schubert's Rondo in B minor with Ethel Midgley at the Friday Noon Concert and according to Langford, "Mr Bridge and Miss Midgley gave a spirited performance of the work".
Friday Noon Concerts and Tuesday Midday Concerts continued to give Bridge a platform for his talent and his reputation as a chamber music player. On March 26 he performed Dvorak's Trio in F minor Op.65 with  the Ethel Midgley Trio and once again, Langford was enthusiastic in writing, "Mr Bridge kept the full fervour of the natural style and his playing has rarely sounded more beautiful". Two months later after a performance of the Brahms Piano Quartet in A on May 4 with Enid at the piano, the same critic recognized that, "Mr Bridge has never played with more beauty. His tone had warmth and a flush of beauty not always realized in his playing". It is clear that Bridge held a respected position in Manchester music making appreciated by colleagues, critics and audiences alike.
After the Catterall Quartet concert for the newly formed British Music Society in Manchester on October 1 1920, Langford noted in the Guardian next day that, "the quartet has never shown itself a more finely balanced body". Later in the same month, in response to a performance of Beethoven's Quartet in B flat given at the Tuesday Midday Concert (Oct.26 1920), he found "Mr Bridge in his finest mood". The Catterall Quartet was going from strength to strength, gaining a wide reputation. In December 1920 they played in Dublin at the Royal Society Hall and Bridge played trios by Brahms, Schubert and Arensky with Beatrice Hewitt (piano) and Johan Hock (cello) in the same hall on December 13.
To end the year, Bridge joined Hallé flautists Joe Lingard and Joseph Ridgway in Bach's Brandenburg Concerto No.4, conducted by Baguley Waters on December 1st, of which Neville Cardus noted that, "Mr Bridge played the solo violin, and his tone was keen and perfectly phrased". Before the Christmas break, Jack and Enid, along with Frank Park and William Warburton gave the Brahms Piano Quartet in A Op.26 at the Tuesday Midday Concert in the Houldsworth Hall, bringing to a close a very busy and successful year.
The winter programmes of the Ancoats Brotherhood at the New Islington Hall continued on January 9 1921 when Bridge played with the Brodsky Quartet. Brodsky was very happy giving concerts for Charles Rowley's Ancoats Brotherhood, introducing the arts to an area deprived of any beauty. Rowley subscribed to Brodsky's college and so there was a two-way benefit in the arrangement. However, it wasn't long before Bridge had to make some decisions about his work as a quartet player. Because of the increasing workload with the Catterall Quartet, both Bridge and Frank Park decided to resign from the Brodsky Quartet in favour of work with Catterall which involved concerts in the city and at other venues including Birmingham and Dublin as well as future recording contracts. In June Brodsky reformed his quartet with Alfred Barker (his pupil), Mrs Rawdon Briggs (viola) and Walter Hatton (cello). The following month, the Catterall's first recording for HMV was issued, helping the quartet to gain an even wider audience. Later in the year they travelled to London's Wigmore Hall where they gave performances on 15 and 22 November.
However successful the ventures of the Catterall Quartet had become, Bridge was always loyal to the Hallé and local music making. In 1922 he became a member of the Management Committee of the Hallé Orchestra Pension Fund and later, Chairman of the same body. He continued to appear at Ancoats as soloist or quartet member on a regular basis, and was joined there on one occasion by his daughter, Barbara, who accompanied her father in four Kreisler arrangements at the meeting of January 29. In August further recordings of the Catterall Quartet were issued by HMV and several more the following year. The quartet had become a household name.
The quartet members travelled to Dublin at the beginning of 1923 for a Monday afternoon concert at the Royal Society of Arts on January 15. With little or no time to spare, the players found themselves back in Manchester ready to play at the Midday Concert the next day. Such was the size of the audience to welcome them that Langford found it difficult to get in or out of the Memorial Hall that day and reported that, "Mr Bridge, the second violinist, played many phrases of melody with an especial sweetness and beauty". In a later column he went on to say that, "The enthusiasm displayed by the public over the performances of the Catterall Quartet is one of the most gratifying signs of musical appreciation now to be found in Manchester music". He felt that the players had a fine unity of feeling and tone and technical achievement of the highest order. Clearly, the quartet had reached a high point of fine playing, their recordings and travels helping to spread the word.
Bridge took on further responsibilities that year. He became Deputy Leader of the Hallé Orchestra on 18 October 1923. He had adjudicated at the Buxton and North Derbyshire Musical Festival in May (Bantock was there at the same time, adjudicating choral classes) and made recordings for HMV with the quartet in June. Nevertheless, the following year the Gramophone Company formed their own quartet, the Virtuoso Quartet, ending the Catterall Quartet's association with HMV.
The quartet concert at Rochdale Chamber Concerts on Saturday, January 12 1924 included a performance of the Bach Double Concerto played by Bridge and Catterall. Their Columbia recording of this work with the Hallé under Harty (Col.L1613-15) soon became popular and a large number of copies were sold. The reviewer in the March 1925 issue of The Strad enthusiastically noted that "the two violinists both played from the first desk in the Hallé Orchestra, thus the complete unanimity with which they play together will be understood and the general effect very fine". On March 29 the same soloists were to be heard in a performance given at the Brand Lane Concert in the Free Trade Hall, and Neville Cardus remarked that, "By the time the noble slow movement was reached his [Bridge] playing had come into a warmth of tone and an eloquence of phrasing far beyond anything we have heard from him in the past".
Bridge had played a s a member of the 2ZY Wireless Station Orchestra on occasion but in May 1924 T.H.Morrison, leader of the orchestra became its conductor on the resignation of Dan Godfrey (jnr) and Bridge took on the leadership. This was the beginning of a new departure and an important contribution to early broadcasting. By the end of the year another important contribution was recognized when E.W. Grommé, president of the Hallé Society, presented Bridge with the Hallé Medal for long service on October 16. Bridge had been a member of the orchestra for 31 years. It seems that he was much appreciated in the city and never more so than by Guardian critic Samuel Langford who, after hearing him play with the Midgley Trio at the Tuesday Midday Concert on September 23 1924, exclaimed that, "Mr John Bridge, all musical feeling and refinement. Never before have we found Mr Bridge play with such a full-blooded intensity of style, and his tone shone with a brilliance of which we had hardly suspected him capable".
At this time the Catterall Quartet were planning a tour of Russia, Germany and Poland, and Langford's Guardian column of July 10th 1924 had already made it clear that any such tour would bring recognition of the Quartet's abilities and was well deserved. The tour went ahead in January 1925 when the quartet gave concerts in Berlin, Crakow, Warsaw, Lodz, Moscow and the Ukrainian towns of L'viv and Kiev. On their return changes were soon to be made in the Hallé ranks. Catterall resigned the leadership at the end of the season and Bridge was appointed in his place. Bridge gave up his position in the Catterall Quartet but travelled to Dublin once again to play trios with Clyde Twelvetrees (cello) and Dr. Esposito (piano). Works by Brahms and Beethoven were played and according to the writer in The Strad (April 1925), they were "given by three great masters, brilliant equally in solo work and chamber music". Bridge spent the summer at Llandudno. He was leader of the pier orchestra for Arthur Payne's last season as conductor there before facing the start of his first Hallé season as leader.
Catterall returned as soloist and joined Bridge in a performance of the Bach Double Concerto, conducted by Beecham on November 21 at the start of the new Hallé season. Two days before that, Bridge had faced a difficult task as new leader of the orchestra in a performance of Don Juan by Richard Strauss but Langford noted that, "Bridge came well out of the important solo passages, which in their precipitate nature are as much a test of nerves as of a player's execution".
On Monday 23 November 1925 Bridge appeared as soloist with the orchestra playing the Mendelssohn concerto at the Municipal Concert in the Free Trade Hall and gained the approval of the Guardian critic yet again. "Mr John Bridge aroused the audience to the greatest enthusiasm", wrote Langford, "He kept the tone refined in quality and free from the garishness which has too often been the undoing of this music. He played the rapid finale at a fine speed, and at the close worked up a quite brilliant climax". From such comment one may be certain that Bridge had made an impressive start as the Hallé's new leader. In addition to this, broadcasting continued throughout the year and Bridge not only led the 2ZY orchestra but now organized the 2ZY Quartet (John Bridge, T.B. Sidebottom, Norman Cunliffe, and Haydn Rogerson).
As the Hallé season moved on into the New Year, Bridge gave Bach's Double Concerto once again with Alfred Barker at a Thursday Concert on 28 January 1926. On the same day the Guardian announced Bridge's appointment as conductor of the Llandudno Pier Orchestra. His association with the Pier Orchestra stretched over many years. In 197 he was playing under Jules Rivière and continued to spend summers there becoming leader and deputy conductor under Arthur Payne and then under Sargent, eventually taking over as conductor himself in 1927. With two performances a day, summer music kept the players busy enough but the repertoire was not quite as demanding as the Hallé season or the chamber music performed at other times of the year. There were of course certain periods for relaxation and it is reported that in his early days at the resort, Bridge took part in a cricket match, Pier Orchestra Strings v Pier Orchestra Wind at the Llandudno Cricket Club Ground in August 1897. Wind players won by seven wickets. Apparently Bridge had a little more luck with golf club and billiard cue in his younger days.
Returning to Manchester for his second season as leader he was again in the limelight on the weekend of October 3 playing a half hour recital broadcast from 2ZY station at 4.00pm. Later that same evening he was performing as leader of the augmented Wireless Station Orchestra conducted by T.H. Morrison in the Manchester station's Red Rose Concert given in celebration of Civic Week. The concert was relayed from the Hippodrome, Manchester and included solos from Arthur Catterall, Isobel Baillie and Norman Allin. A full day of broadcasting was not to be unusual for Bridge from then on. The BBC was making more demands on his time and he had probably reached a point where, like many of his colleagues at that time, a decision had to be made concerning workload, conditions and making a better living. It is not clear whether Bridge was appointed Hallé leader on a temporary or permanent basis but his tenure lasted for only two seasons. Memorable occasions of his last season must have included playing under Richard Strauss at a Brand Lane Concert on November 14 and Elgar's visit to Manchester to conduct a programme of his own music on January 20th.
Bridge continued to play in the Hallé as first violinist after March 1927, and later in the year he was once again busy with broadcasts. He gave a broadcast recital at 8.30pm on September 3, titled "The Violin in Lighter Mood". On September 21, following music by the station quartet broadcast at 3.00pm, Bridge and his wife, Enid, along with Winifred Bury (mezzo), provided chamber music and songs at 7.30pm on the same day. The following month the station announced the new John Bridge Quartet (John Bridge, T.B. Sidebottom, Norman Cunliffe, Haydn Rogerson). The first broadcast of the 2ZY Quartet under the new name took place on Sunday October 23. Bridge also conducted on occasion and perhaps his resourcefulness as a conductor and broadcaster is demonstrated by the story told of him conducting the Northern Wireless Orchestra when the lights failed. As hero of the drama, Bridge hurriedly lit a cigarette and used the glowing end to lead the players through the music.
In 1929 Bridge turned his attention to the business of teaching and joined the staff at the RMCM under Catterall who was then senior professor. Nevertheless, his demanding work schedule still included broadcasting, orchestral playing, appearances as soloist and chamber music concerts with various ensembles in the city. He resigned from the Hallé Orchestra the following year playing his final concert with them on March 13 1930 and took up an appointment as leader/conductor of the BBC's Northern Studio Orchestra, a nine piece ensemble used only for broadcasting. Its members were John Bridge, Don Hyden (violin), Frank Park (viola), Clyde Twelvetrees (cello), Alfred Stott (double bass), Pat Ryan (clarinet), Otto Paersch (horn), Sam Holt (trombone) and Eric Fogg (piano). The ensemble replaced the disbanded Northern Orchestra which Bridge had previously served as leader and deputy conductor.
The Sunday afternoon broadcast on November 9 featured Bridge as soloist in the Violin Concerto in D by Brahms. It was to be his last performance of a concerto and by all accounts one of his most successful. Neville Cardus remarked that, "the cadenza was a brilliant piece of fiddling", and then went on to say, "Mr Bridge played the adagio with great beauty of tone and style. The finale was very masterful and enjoyed a freedom of rhythm". He paid further tribute to Bridge in writing, "The performance was a personal triumph for a Manchester artist who is as modest as he is clever and experienced and musicianly."
Over the next few years Bridge involved himself in the chamber concerts at the college and continued his duties for the BBC. He must have particularly welcomed the broadcast made from Manchester on September 29 1935 when Catterall met up with the old members of the quartet to play Mozart and Ernest Walker's Fantasie Quartet. That same year Bridge taught pupils in his studio at Ogden Chambers on Deansgate.
After the death of his wife, Enid, on November 28 1937 and now approaching the age of 65, it was time for further changes to be made in his busy life. Two days after a short tribute broadcast (The Orchestra in Person: John Bridge) lasting only fifteen minutes on March 28 1938, the BBC announced his retirement, and Bridge contented himself with the odd opportunity of chamber music. By 1940 he had set up a new teaching studio at 328, Oxford Road, opposite the Royal Infirmary but he had not given up the idea of playing professionally. For the 1941-42 season the Hallé found their numbers were depleted because of war demands and Bridge returned to his old orchestra for one season as a second violinist.
Four years later his life's work was at an end when he died at his home in Didsbury on July 2 1945, aged 72. Once described as the little man with the twinkling eye, the shy manner and the touch of an angel, Bridge had a professional career spanning more than 50 years. During that time he freely shared his talents with others to bring about important artistic events in Manchester music.
© Stuart Scott, 2011
Acknowledgement: Catterall Quartet photograph from Wigmore Hall programme, Feb.25 1918. Source: GB-LrcmCPH/GB-Lwh
The author is indebted to Frank Rutherford for his extensive and diligent research.