Richard Stoker
Bibliography & Links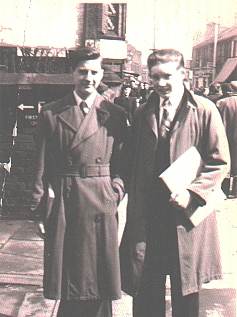 Stoker (right) in his early teens outside Castleford Library,
holding new score of Britten's Gloriana
Literature by Richard Stoker
Portrait of a Town (1974)
Words without Music (1974)
Strolling Players (1978)
Open Window-Open Door ((1985)
Tanglewood (1990)
Between the Lines (1991)
Diva (1992)
Collected Short Stories (1993)
Sir Thomas Armstrong – a Celebration (joint author) (1998)
Turn Back the Clock (1998)
Travellers Tales (1999)
A Passage of Time (1999)
Seven entries for the New Dictionary of National Biography (OUP, 2004)
Literature about Richard Stoker
Richard Townend (entry in Groves Dictionary of Music, 1974, and New Grove, 2000,
Shorter Grove 1980, Grove Opera, 1992)
E.Brophy: 'Richard Stoker's Dr Johnson Opera', Opera xviii (1967), 543-6
Richard Townend, 'Richard Stoker, Musical Times, 1968.
Judyth Knight, 'Stoker's Modern Music for Dance', Dancing Times, 1970.
C. Norris 'Richard Stoker', Music & Musicians, xxiii/6 (1974-5), 16-22.
Brian Schlotel, 'Richard Stoker's Music for Young People', Music Teacher, 1975.
Malcolm Stewart, 'Richard Stoker', Composer, no.81, 1984.
Ruth Franks, 'Contemporary Composer Richard Stoker', Coda, April 1989.
Richard Townend (entry in Contemporary Composers, Chicago, 1992, 2nd ed 1998)
Michael Dawney, 'Richard Stoker at 50', Musical Opinion, 1998
Mark Lehman, 'Stoker: Piano Music', American Record Guide, December 1999.
Colin Scott-Sutherland, British Music Journal, 1999.
Web Links
British Music Information Centre
(full list of works)
Castleford and Pontefract website Richard Stoker page.
Impulse classical music website (includes musical examples)