Other Links
Editorial Board
Editor - Bill Kenny
London Editor-Melanie Eskenazi
Founder - Len Mullenger
Google Site Search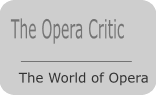 SEEN AND HEARD ARTIST INTERVIEW

An Interview with Howard Blake: The composer of Walking In the Air turns 70 this month. Bob Briggs discovers more about an extraordinary musician. (BBr)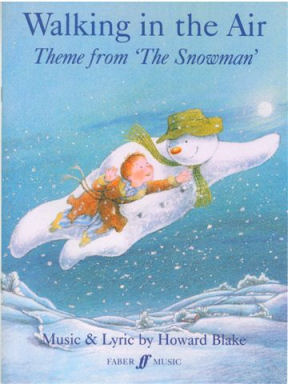 [ Editor's Note. This interview was intended to take no more than an hour - the standard length - but developed into an extended conversation over a couple of beers and a meal, charting the whole of Howard Blake's rich and varied life. We publish it without cuts and in three parts, because it is a deeply personal, funny and often moving account of a fascinating man, noted mostly for one immensely popular song. ]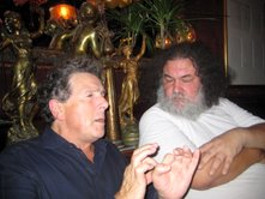 Howard Blake (Left) and Bob Briggs - August 2008. Picture © Natalie Briggs

There are some things which never seem quite right and somehow don't gel in the mind:
- that Leonard Bernstein will never conduct again,
- that the England Cricket Team won the recent one day series against South Africa,
- that beards might come back into fashion and,
- that Howard Blake, known to many as the composer of the score to the animated film The Snowman, and the hit song Walking In The Air, celebrates his 70th birthday on 28th October this year.

What may come as a surprise to many is that there is so much more to Howard Blake than the public knows; his work list is huge, encompassing both commercial and concert music, his working knowledge of music and its practitioners is quite fantastic in its range, and he has a lifetime of experience which allows him to be able to sit back and write music fully aware of his own abilities and powers. He knows exactly what he is doing and - best of all so far as he is concerned -he knows that he can communicate with an audience in a language which speaks directly to the emotions and packs a big punch.

I went in search of Howard Blake and we met for at his studio in West London on 19th August this year. I was late, which thankfully he didn't mind, and as he opened a bottle of water, he started chatting and there was no stopping him. It was fascinating.

What follows is the majority of our chat – I have changed nothing except that when we talked we developed a kind of shorthand (or perhaps shortmouth?) where we didn't finish sentences because the person being talked to knew what was left unsaid and because of their knowledge of the person doing the talking, or knowledge of the subject under discussion, the mind automatically filled in the gaps. The gaps are filled in for this text version to make things clearer for the reader, and I have not bothered to acknowledge where this might have occurred: the article would have been twice as long if I had. Howard has also made a few additions of his own for the same reason, and these have also not been acknowledged. Anything which I have added for clarification, such as the names of people and places which were not spoken, have been added in square brackets. So please enjoy this meeting with Howard Blake as much as I did.

His background was not in professional music making:

"There was music in our home, and my mother played the piano. We lived in this flat and I had this tiny room and there was an asbestos wall and the piano was the other side of the wall right up against my ear. I was six. And my mother would play the piano after I'd gone to bed, and it was deafening. And I just used to listen. And she played an A minor waltz of Chopin, and I thought, 'I've got to play that'. There was a piano tutor book called Ezra Reed's Piano Tutor and it had a picture a keyboard with the notes on it, so I wrote the names of the notes on the keyboard, with an indelible pencil, and I actually worked it out and I learned how to play this Chopin waltz. I learned to play by ear and read music all in one go. It never seemed difficult; it seemed the obvious thing to do."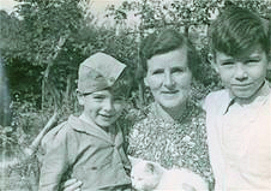 Howard Blake with Mother and Elder brother 1943 © The Howard Blake Collection

The time was then 1945 and with the war was coming to an end the family moved to Brighton, into a run-down terraced house with some bomb damage, and Blake joined the choir of Saint Augustine's Church.

"I was very lucky, I had an organist called Bartholomew Hales who was very good. He retired from London - he'd played the organ at the Temple Church and he studied with George Thalben-Ball – and I could sing spot–on in tune. He taught me to sing really well and then I started singing solos in weddings. I used to sing Hear my Prayer and I Waited for the Lord."

With all this exposure to music I wondered if Blake had had a moment of epiphany when he realized that he knew he had to be a composer.
"I used to write things down, from about the age of 9. I used to write birthday cards for my family and instead of writing a message I'd put in five lines and write a song in the birthday card. I always thought that I liked to write music, but it never occurred to me, at all, that I could conceivably be a composer, because it wasn't the sort of thing people from my background did. When I was about 12, I wrote a huge March IN INK! A long March, complete with double octaves and a minor section and a major section and a coda.

I took this piece to [Bonney Churcher, Blake's piano teacher] and he said, 'Where did you get this from?' I said, 'I wrote it', and he said, 'You mustn't lie, sonny, you mustn't lie' and he didn't believe me! He said, 'I can't believe you've written that, we must teach you proper harmony and proper counterpoint, fugue and everything else. That was wonderful. He bought me a book, [Percy Buck's] Practical Harmony, and I did all the exercises. I got that out of the way, very early on. So I took to writing music."

After the ritual of the 11-plus, Blake was sent to Brighton, Hove and Sussex Grammar School for boys, where he was told he'd:

"…have to be a teacher, and I was good at history and I was going to be a history teacher. I used to spend all of my time playing the piano, and I had a friend at school [David Shaw] with whom I used to play duets all the time, then later he inherited a second piano, from his grandmother, and we played two pianos, which was terrific. And we played all the repertoire, Haydn Symphonies and Brahms, the Enigma on two pianos – it was fantastic. I also sang in Gilbert and Sullivan operas but it still didn't occur to me that I could be a musician because my family said, 'Oh, you'll never make a living doing that, it's totally impossible.' So I just discounted it.

"When I was about 16, a local piano teacher heard me play, and said, 'you're not being taught properly' and she took me on. She actually was a very fine teacher, she was the piano teacher at Roedean Girls School. She studied with Harold Craxton at the RAM, and also studied with Marguerite Long, friend of Ravel. She came from a rich family, and her first teacher ever was Adelina de Lara, who'd actually studied with Clara Schumann! She made me work at the piano, and she said, 'you could become a concert pianist,' and she put me in for a festival, the Hastings Competitive Music Festival and she put me in the Bach Prize, the Beethoven Prize, the Chopin Prize and a scholarship to the Royal Academy. I won all four!!

It was a considerable surprise to me! I went to the headmaster at my school – my grammar school was not predisposed to music at all – and I said to him, 'I've won a scholarship to the Royal Academy,' and he said, 'I'm very, very, distressed to hear that because we want you to go to Oxford and read history. If you take up music it will ruin your entire life, and you'll be destitute and on the streets.' He wouldn't announce it, and still, to this day…I went to the reunion and there's all these people who've won the hop, step and jump in six hours, or whatever it is, but there's still no mention that I won a scholarship to the Academy. Everybody said, 'you can't possibly do that,' [go to the RAM] I decided to do it. I'm very glad I did. I would never, I think, have gone into music had I not won that scholarship."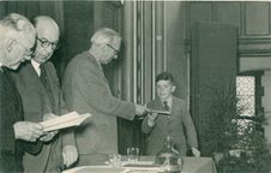 School Days ©The Howard Blake Collection

Blake went to the RAM as a pianist – the scholarship was for a pianist – and intended to study organ as his second subject – he'd been playing the organ from the age of 12, when he'd been taught by Bartholomew Hales. But composition was always close by.

"I'd already written a lot of stuff, including a piano trio, I seem to remember. And when I went to my interview to take up my scholarship, and to be admitted to the Academy, and I was interviewed by the warden and the assistant warden, and they said to me that you had to give in a piece of written work to show if you knew theory of music. I think I submitted a Suite for small orchestra and they looked at it and said, 'why aren't you studying composition?' I said it never really occurred to me. They said, 'would you play some of it?' so I played some of this composition and they said, 'well I definitely think you should study composition.' They talked me into it. I was given Howard Ferguson, who was certainly one of the top professors of composition. He taught me a lot and I started to write a bit more."

He left the Academy in 1960, at exactly the time that the influence of Darmstadt, Stockhausen, Boulez and William Glock at the BBC was taking hold of the musical establishment. Blake has always been a lyrical composer and the 12 note system, and free form composition, has never been for him. So how did he cope with seeming to be out of step with the whole musical world?

"You couldn't do it," he said, referring to the kind of lyrical music which is in his nature. "When I started with Howard Ferguson I was writing some music for strings, and piano, and so on, and I did write what I consider to be my first serious work. He set me a theme by Bartok and I wrote Variations on a Theme of Bartok".

This set of variations, Blake's opus 3, which Harold Craxton thought to be 'the best piano work he had ever seen from a student', was premièred by the composer at the Brighton Competitive Musical Festival in May 1959 and received a second performance at a student concert in the Duke's Hall of the RAM five months later, when it wasplayed by Thorunn Tryggvason, at her farewell recital before leaving to study with Lev Oborin in Moscow (where she met, and subsequently married Vladimir Ashkenazy.) It had to wait until 11 July 2008 to be heard for the third time, played by Nadia Gilova at the Wigmore Hall.

"I was quite amazed to hear it the other day because it's a good piece! Early '58 I wrote that. My second term. I was just starting, I'd just written this piece and I thought 'I can do it! I've actually really written something with some value to it.' Howard Ferguson, due to what was happening in music at that time actually abandoned his career as a composer, stopped teaching and said, 'I'm going to give up,' and I said 'Why?' I couldn't imagine why.

I only had a year with him and then he gave up and it did become apparent that the whole Darmstadt atonal view had completely taken over, and it had obviously come down from somewhere very high up, that this is what everybody ought to be doing -if they knew what was good for them. I found this very baffling and I was very deeply upset when Ferguson said he was giving up.

The whole climate changed and Cornelius Cardew was suddenly the greatest composer in the world and he's doing things with two wheelbarrows and making noises with vacuum cleaners and I thought, 'This isn't for me', so I actually stopped writing, I never wrote another note while I was at the Academy. I also was not happy at the Academy, I didn't really want to be a concert pianist, to this day I've never wanted to be a concert pianist, I just happen to be able to play the piano. The idea of actually spending my whole life playing Rachmaninov 2 and the Emperor did not appeal to me at all. I just thought that this sort of experimental music is going up a blind alley. However, I very much like Schoenberg's Five Orchestral Pieces, which is a marvelous piece of orchestrating, a marvelous piece of work. I went through all the modern music which was going on and I was aware of all that and I absorbed absolutely everything. And as the '60s went on I used to go to every single experimental concert.

I heard it all and then rock'n'roll took over and swamped absolutely everything. This huge effect of The Beatles and the Rolling Stones and then Soft Machine and The Pink Floyd; I went to all that and I was somewhat baffled by it. I really had a very strange Academy time. There were two things I loved at the Academy though, one was singing in the choir, because we had a terrific trainer there, Frederic Jackson. We had a 300 voice choir, and we did the Bach B minor Mass and Belshazzar's Feast and we did a concert for Vaughan Williams's birthday. He sat in the front row; that was terrific! The other thing that happened to me was that there was a very good violinist called Miles Baster, who led the Academy orchestra and we teamed up; we had a duo, and I played the whole repertoire of violin and piano music. The Bach, Mozart, Beethoven Sonatas, César Franck, Ravel. Those two things were what I got from the Academy. I couldn't understand what was going on, and I got interested in film as an art form. I got very interested in Eisenstein and Prokofiev."
Part Two

Back to Top Cumulative Index Page