Other Links
Editorial Board
Editor - Bill Kenny
London Editor-Melanie Eskenazi
Founder - Len Mullenger
Google Site Search
Howard Blake talks to Bob Briggs: The composer of Walking In The Air turns 70 this month. Bob Briggs discovers more about an extraordinary musician. (BBr)

PART TWO


"I left the Academy as a total washout. And I hung around for a bit and I was living in Brighton and I wrote off to the BBC and Sadler's Wells, and I wrote to all sorts of people to try and get a job. I never got a single answer! I got a job for two weeks as a hotel porter in Brighton, at the Adelphi Hotel. I was absolutely useless, I couldn't serve a drink, turn the television on or do anything! The Manager said, 'What's an educated person like you doing here?' and I said 'I'm trying to earn a living' and he said, 'well I don't think you can do it here!'

I then saw a job advertised in the Brighton Evening Argus – Assistant Projectionist wanted, Paris Cinema, Brighton. And can you believe it? They're showing both parts of Ivan the Terrible. I thought, 'I haven't got any money, if I got the job I could see Ivan the Terrible!' I walked round and said I wanted a job, and they said, 'yes, experience?' And I said I went to a film school, the British Film Institute last summer, so he said we'll give you a try and I got the job. I did that for a number of weeks and it was terrific. I was a terrible projectionist but I gradually got the hang of it. And then I thought I should go to London and I slept on someone's floor for several days, and during that first week I was in London there was advertised, in the Evening Standard, Assistant Projectionist wanted in the National Film Theatre [now re–named the BFI on the Southbank] which was my Mecca. So I went along, said I had some experience and I got the job.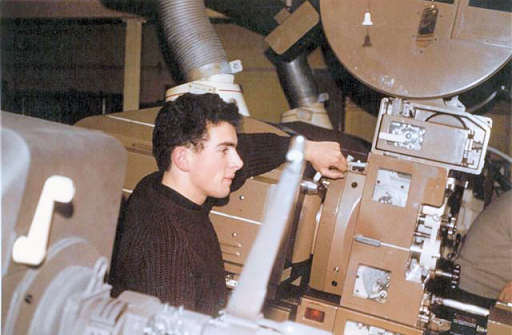 HB at NFT 1961 © The Howard Blake collection



I was there for two and a half years. And it was wonderful and I watched every film – all the great films and experimental films – and the wonderful scores by Bernard Herrmann and Prokofiev and Walton. And while I was there the Assistant–Chief Projectionist had a 16mm Bolex camera and I said 'Let's make a film'. I wrote a script and got the whole staff together, and we got all the stock for nothing and we could edit it in the Projection Room after we finished work. I made the film and I edited it and then I wrote the music for it, recording the music with some of my friends from the Academy. It was a very good film and it was shown in the National Film Theatre and I not only produced and directed it but also projected it! So I learnt a great deal from that period in my life. I learnt about film, music, recording, I learnt a lot of skills which I don't know where else I would have learned them.

This film made quite an impression and the BFI said 'we'll give you a grant to study and become a film director.' But I'd done this job and I said, 'well I've got to earn some money'. I thought that being a film director is not what I am. I'm not actually interested in the visual, I'm only interested in the music and I want someone else to do the visual. What's fantastic about film is that it uses music of every sort imaginable; jazz, pop music, what they now call world music, folk music and I found that fascinating because it was outside the world of the Third Programme [the BBC's cultural radio channel which, in 1967, became what is now known as BBC Radio 3] at that time. The films came from Japan, Argentina – from all over the world. Everything had music and I felt fascinated by that and I felt I wanted to learn more about other sorts of music but I thought that I didn't know how to do that and make a living.

I saw another advert in Stage which said 'Pianist wanted at pub, £4 a night'. I got £13 a week as a projectionist and £4 is £28 a week if you work seven nights. I didn't know anything about how to play jazz I only knew about classical music. I got the job in a pub in Edgware Road, and I was terrible. Someone poured beer over my head and said, 'you mean to say you can't play Lady is a Tramp?' I just had to learn every tune that ever was. So I created for myself a routine – I would learn ten tunes a day by listening to the radio and records. I wrote them all down, and I gradually got very good. And this pub, after a while, was absolutely packed out and people would come for the music. There were so many people outside that one Saturday night the police had to come and disperse them! Really that was also a second piece of training, I discovered what people like, and what they don't like.



What then happened was that I gradually gave up the pub, and I started working freelance and I worked in this band and that band and I also did a bit of accompanying and did some arranging for people. It was touch and go and come the time, I was broke again. One night a great thing happened. I was playing in a band at the Ad Lib Club in Leicester Square, and a guy came up to me and said; 'Why are you playing with this terrible band?' and I said, 'I'm trying to make a living!' He said, 'would you like to come up to [the EMI Recording Studios in] Abbey Road tomorrow and do an audition?' I said sure and went up to Abbey Road and met the guy who hires the musicians."

Here Blake had to use all the skills he'd learned whilst playing in the pub as he was given music and asked to play it, at sight.

"Can you improvise in jazz, can you play from chords, can you play classical? Yes, that was no problem. I became a session pianist at Abbey Road. It was fantastic. I went from £20 a week to £200 a week overnight!"

With all this activity I assumed that Blake wasn't writing his own music because he simply didn't have sufficient time for composition.

"Funnily enough, whilst I was in the pub, I never stopped writing, all that period I had written stuff, and I started writing a Symphony which I called Symphony in One Movement. I worked at that, on and off, as well as learning to play Lady is a Tramp. I was playing innumerable sessions and I was playing for film sessions, and I got to work with Bernard Herrmann. By that time I'd started scoring stuff for people, and I scored some stuff for Bernard Herrmann. I started conducting – I conducted for Quincy Jones – I worked with Henry Mancini, very good people."

Blake told Herrmann, who was desperate for recognition as a composer for the concert hall, that he had written a Symphony and Herrmann said that he would like to see it.

"I took it along and I showed him this piece. He said, 'it's terrific. Does the BBC play it?' I said 'they won't touch anything like that, it's all squeaky door or nothing'. He said, 'You should be writing.' One of the jobs I did was playing piano for the soundtrack of the TV series The Avengers [which starred Patrick MacNee and Diana Rigg]. Laurie Johnson, who wrote the music for the series, was looking for somebody to take over, writing some episodes because he was too busy and due to Bernard, Laurie gave me a job scoring and conducting some episodes. I suddenly stopped being a pianist at Abbey Road and became a composer. In that moment I was being paid as a composer, as a conductor, and as a musical director. In a very short time I'd moved from being a hotel porter in the Adelphi Hotel to musical director at Elstree [the film studios situated in Borehamwood, in Hertfordshire, north of London] – in three or four years. I have never, ever, stopped writing music from that moment on. How did I start to write classical music? That's the question."

Just as I was looking forward to an answer to this question I inadvertently mentioned music for film and Blake eagerly waxed lyrical about writing for the cinema.

"Writing music is writing music and there are ways of writing each sort of music. Why I think pejorative terms are used about film music is that a great deal of it has to happen at a very low temperature because people are whispering or walking round rooms talking to each other and traffic is going by and dialogue is going on. All Film Directors want is big fat semibreves going on, on cellos, and they don't want anything else. When you play that back as music, it can't, in all honesty, be described as proper music. It is a particular technique of sustaining the correct atmosphere. Sometimes, of course, one is called upon to write an intensely active piece of music and sometimes, rarely, one is asked to write a really good piece of music. On the whole one is not! I am actually not a good film composer. I've done 65 films. I'm not a good film composer because my scores have frequently been thrown out because they're too good! They say, 'You're trying to take over the film!'

I nearly got murdered because of this. I did a film called Agatha, I was Musical Director on it. David Puttnam was the producer and he said, 'It should be like a big Max Steiner score. It's 1923. Period film. Huge orchestra. You can do it. The actual script is a little bit iffy, a little bit weak, so we shall have to rely on the score a lot, so give it all you've got Howard.' So I wrote a big score for it but David backed out of the film and we got another producer in who hadn't the same idea. We had a preview at BAFTA in Piccadilly [in central London] and everybody was saying, 'What a wonderful score.' Everyone had questionnaires and everybody put 'fantastic music'. What do you think of the script? Lousy. What do you think of the acting? It's OK. This producer grabbed me by the throat, and he said, 'What are you trying to do? We're not asking people to buy your bloody music. We want them to buy the film. We're going to junk the whole lot'. And he did. Junked the entire score. About one hour of fully scored, symphonic music, gone, like that. That's happened on a number of things. So it's a high risk job."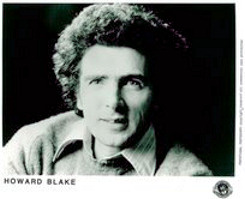 Promotional photo about 1969 ©Howard Blake collection





It's a fact that in the film business the composer has to deal with people who often know little about music, so how does the poor composer deal with that?

"I don't really know how to answer that. Sometimes you're lucky. In fact, my collaboration with Ridley Scott and David Putnam, on The Duellists (1977), was terrific because we talked about the music at every stage and they wanted a good score. In a way you're brought in like someone who paints a wall. Decorates a flat. They say, 'This is our flat and we want you to paint that wall bright pink.' And you say, 'You've got to be kidding' but if you want to keep your job you're going to paint that wall bright pink. You're the composer and you're actually a servant. Even more so than, say, Haydn was. You are at the beck and call of the Film Director and the Producer. They say, 'This should sound like Stravinsky, this bit should sound like Burt Bacharach'. They blatantly ask you to plagiarize and they're not interested. They just want it to do a job. And so it's a very odd thing to do, to write film music. Nowadays, more and more, they use records and they use "found music". They put stuff together on synthesizer and they actually take big chunks of Stravinsky and weld them together with the Beatles and stick them all on the synth and that's it.

So it's really become less of an interesting job to write film music than it used to be. One of the reasons the art of writing music for film has been lost is that the music business gradually started to click on to the fact that there's a lot of money in having music on films and the film can actually promote the music - so the whole pop business is trying to get its product of pop music stuck onto films. That's changed the way music scores happen. Whereas in the early days of film music, when people like Herrmann started, the composer was asked to write a complete score and he was given a free hand. And they'd say, 'Well we trust you to do a great job on it'. Like Psycho, for instance, which is still one of the greatest film scores ever written. I gradually retired from films because I had a number of bad experiences but also because I was too busy writing classical commissions.

"Funnily enough, I actually turned down Barry Lyndon (1975) in order to write my Piano Quartet. I was really not available. I think a great many composers in the 20th century had this problem. The only way you can make a living is writing for films or television. And yet most people want to write "serious music" but there's no money in it. So you have this dilemma about how do we get around that? The autobiography of Miklós Rósza is called A Double Life and many people have done that. I decided, in a way, not to live a double life. I decided that, for me, all music is music and if I wanted to write a film, if it's a good film I'd write it and if I wanted to write a concerto, I'd write a concerto. I think it's daft to say I've got one style that I use for films and another style when I write concert music. All these people like Miklós would write this great music for film and then they would try and write something that was considered more avant garde which still sounded exactly like the film music. So who are you kidding?"

By this time Blake had become well known through his commercial work and when he made the bold move into the concert hall, leaving the cinema behind. I wondered whether, what with the Darmstadt school and serialism at its height and with William Glock presiding over music at the BBC, Blake - complete with his belief in tonality and tunes - had had trouble getting performances.

"Yes. Totally impossible. Through the '60s I gradually built myself up through The Avengers and doing feature films and so on. The second really big defining moment in my life was about 1970 when I was just unbelievably busy writing commercial music, and unbelievably successful too. The downside was that I couldn't live with myself. And I started to shake, I started to feel I can't keep writing this stuff and I didn't know why I couldn't. Everybody said, 'Well you've done it. You've made it. You're writing for films, you're writing for television. Everybody wants you'. I went to see this Doctor one day and he said, 'Put your hand out', and it shook…"

Here Blake held out his right hand and shook it furiously.

......and he said 'put the other hand out…'"

The same demonstration is carried out with the left hand.

"And he said, 'Oh yes, you're going to be dead in five years. You're just not doing what you want to be doing. You're speeding. You've got to calm down and think about what you're doing'. So I dropped out, went down to Cornwall and sat on a beach. I did a great deal of thinking and I thought, 'Actually, I do want to be a composer. I want to write music more than anything in the world'. And I thought if I don't do it now I'll never do it. I thought, 'I'm going to give up this whole situation and I'm going to start again and I'm going to learn to write classical music. And I really don't care what the BBC or anybody else thinks because I don't care if anybody wants to listen to it or not. And if the BBC doesn't want to play it that's their hard luck'. And rather like when I decided to go and play in the pub I thought, 'I don't care what anybody thinks, I've got to play music again. If it means playing in a pub then I'll play in a pub. I'm going to write my own music'.

I left London and went down to the country and I thought of enrolling in a University. I tried several and said I want to learn form and counterpoint, absolutely strict Palestrina–type counterpoint. I want to write contrapuntal music, I want to write proper music. The essence of music is counterpoint. I could do it, I just wanted to get better at it. Finally, I decided to study on my own and I used to get up every morning and do counterpoint exercises - for about five years. And I looked at form, I really studied form, particularly in Beethoven, who is the guv'nor of all time. Absolutely no question. I also studied a lot of Stravinsky, a lot of Mozart, Schubert. All the great classical composers. That is when I wrote the Piano Quartet, the Diversions for cello, and in fact the Violin Sonata which I've just finished thirty five years later. I started writing stuff and locally I was asked would I like to do a concert. I did a concert in a barn.

My friends, some very good players, came down from London. We did a concert in a hall belonging to the local lunatic asylum and Janet Cannetty–Clarke the conductor of the Ditchling Choral Society said, 'Would you write a piece for us?' I wrote a cantata, The Song of St Francis, and it was performed in that first concert with piano accompaniment only. It was quite a success and she asked me if I would score it for orchestra, since they were shortly to perform Mozart's Requiem in the nearby Benedictine Monastery, Worth Abbey. I scored the cantata for the identical instruments used by Mozart for his Requiem and it sounded great! Richard Lewis, the greatest oratorio tenor of his time, and the Abbot of Worth, Victor Farwell, and Janet Cannetty–Clarke were all delighted with the work and asked if I would consider composing a full scale oratorio. Richard Lewis said, 'If you write it as a demanding work, featuring solo tenor, I'll sing the oratorio for you.' So, I put one foot in front of the other and started writing and people said, 'This is marvellous'. BBC Brighton recorded and broadcast it. The producer was Jim Parr and a bit later he said to me, 'We've got the Philip Jones Brass Ensemble coming down for the Brighton Festival, could you write a work for them?' so I wrote Sinfonietta for Brass and it was performed in St Peter's Church together with some Beethoven. The local paper said 'Local Composer upstages Beethoven!'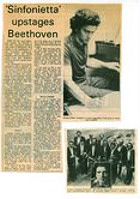 "But I never stopped doing any of the other things. I was still doing film, and then I started doing ballets for Sadler's Wells and for London Contemporary Dance. I was suddenly invited to Hollywood to write a film called SOS Titanic. I went over for three months, came back and finished scoring the oratorio. "It's just all music. It doesn't matter. If it's serious I'm writing serious music, if it's not serious I'm writing not serious music."

Bob Briggs

Part Three

Back to Top Cumulative Index Page