Other Links
Editorial Board
UK

Editor

s

- Roger Jones and John Quinn

Editors for The Americas - Bruce Hodges and Jonathan Spencer Jones

European Editors - Bettina Mara and Jens F Laurson

Consulting Editor - Bill Kenny

Assistant Webmaster -Stan Metzger

Founder - Len Mullenger
Google Site Search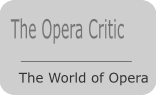 SEEN AND HEARD UK CONCERT REVIEW

Janáček, Dvořak: Wihan String Quartet. Wigmore Hall, London, 6.3.2011 (CC)
Janáček: String Quartet No. 1, "Kreutzer Sonata"
Dvořak: String Quartet No. 11 in C, Op. 66
Last June, the Wihan Quartet gave a memorable recital (see http://www.musicweb-international.com/sandh/2010/Jan-Jun10/wihan0506.htm), coupling Mendelssohn and Brahms (and encoring Paganini). This concert certainly delivered the same high standard, although - arguably - the actually compositional standard was lowered a tad by the Dvořak.
First, though, Janáček's impassioned first quartet (the so-called "Kreutzer Sonata"). The Wihan Quartet has a timbral warmth characteristic of its geographic origins (the Czech Republic). Here that warmth acted against it, robbing Janáček's opening gesture of vital angst. Indeed, the overall gentleness of the Wihan's reading was surprising. All players tackled the composer's virtuoso demands with confidence and seeming ease, though, and the ghostly effects of the second movement (Con moto) were well rendered. Yet, again, there was a softening, this time of the overtly nightmarish elements in the music. Strangely, interruptions to the musical flow were more marked in the third movement. While this was a technically accomplished and timbrally appealing reading, it failed to reflect the sheer rawness of emotion contained in the score.
The Dvořak was written in 1881 (when the composer was forty years old). It is not his greatest quartet in that it is not structurally taut. And yet it is on the way to greatness in the sheer inspiration of themes. There is no sunny C-majorness to the first movement, with its long, aching first violin lines. The Wihan Quartet captured the sense of ongoing flow excellently, and by keeping the intensity high through more relaxed portions they maintained a sense of directionality through what is actually quite a diffuse movement.
The finest movement was the Poco Adagio e molto cantabile. Here full of spontaneity. Leos Cepický's violin sang sweetly; dynamics by the whole quartet were shaded down to a whisper. If the Scherzo provided delights, the finale could possibly have been more abandoned in parts. Nevertheless, it was good to hear this piece in concert. The ten-minute  encore was more Dvořak: a rapt account of the slow movement to the Quartet, Op. 74, shot through with nostalgia.
Colin Clarke