Other Links
Editorial Board
Editor - Bill Kenny


Assistant Webmaster -Stan Metzger

Founder - Len Mullenger
Google Site Search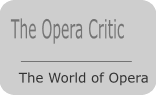 SEEN AND HEARD UK OPERA REVIEW

Buxton Festival 2010 - Verdi, Cornelius and Mozart/Page: A report by Robert J Farr (RJF)

The thirty-second Buxton Festival opened on July 7th with a performance of Verdi's fifteenth opera, Luisa Miller, with which it will also finish on Sunday July 25th . A more comprehensive preview of the Festival can be found in my earlier article but I also attended the first three performances, which included two original Festival productions, and one by a visiting company.

July7th - Verdi. Luisa Miller. A melodrama tragico in three acts (1849). Sung in Italian with surtitles in English.
July 8th - Peter Cornelius. The Barber of Baghdad. A comic opera in two acts (1858). Sung in English.
July 12th - Mozart. Zaide. An uncompleted singspiel (1779-80) - realised by Ian Page and The Classical Opera Company. Sung in English.

Luisa Miller

No opera composer has done the parent - child relationship better than Verdi. It is easy, even facile to relate this achievement the composer's early life which involved, the death of his first wife and their two children, events which must have scarred the great man's psyche forever. Although he parent-child theme played a small part in his early period operas, except perhaps in I due Foscari, the overpowering relationship between father and daughter flowered fully for the first time core of Luisa Miller. All of this can clearly heard musically as the complex emotions of the relationship are expressed. Luisa Miller is a true transition piece towards Verdi's great middle period works, Rigoletto, Il Trovatore and La Traviata, all of which have a focus on parents and their children.

Additional elements to the father/ daughter relationship in Luisa Miller are religion and the binding of a misguided oath taken in sincerity. The presence of the Holy Book has an importance that emerges strongly as the story unfolds, and the theme that its apotheosis for the atheist Verdi in his following opera, Stiffelio, while the father daughter relationship reaches an early zenith in Rigoletto, which also marked a distinct development in the composer's compositional style. Justifiably, Luisa Miller is seen by scholars as an important transitional work in Verdi's output with Act I looking back to his earlier works and perhaps even to Donizetti's later dramas. By Act II however, the audience can hardly fail to be aware of the more dramatic manner with which the music treats the drama, particularly in the duet between Luisa and her father Whilst not having exact pre-echoes of the duets between Rigoletto and Gilda, this piece is a quantum leap away from between mother and son duet in Donizetti's Lucrezia Borgia, a performance highlight of Buxton Festival 2009 (see review).

This Luisa Miller had the same production team - Andrew Greenwood as conductor, Stephen Medcalf as director and Francis O'Connor as designer - as last year's Lucrezia Borgia and the 2007 Roberto Devereux. O'Connor is now familiar with the Buxton Opera House space and uses it in a similar manner as the two earlier works mentioned - with a basic shoebox involving high wall in which doors and windows appear as necessary. This time the space of latticed wood seems to represent Miller's rather stark and simple home with a mid-stage drop of a half wall for the intimate scenes and a red curtain for the meetings in Count Walter's home.

The overture shows Miller standing with his army uniform held up across his chest before being hung on a peg on the wall together with his sword. The starkness of this representation of an old soldier at the end of his serving days is aided by David Kempster's physical height and stature as he moves to hang the items up, walking like an older man. Luisa emerges from one of the doorways, rising from her bed and is greeted by the joyous villagers on her birthday. The costumes are perhaps thirty or so years later than period but clearly represent location and style. Joy is soon forgotten as Wurm, the story's baddy, arrives to demand that Miller keep his promise of Luisa's hand in marriage. Again, the costume of bowler hat and cane together with Andrew Slater's stern demeanour of are chillingly perfect for the character as is the Luisa dressed as a Tyrolean country girl. The costume of Luisa's suitor and lover, Rodolfo, sung by the American John Bellemer is a little out of period but no more. Those of Count Walter, sung by Balint Szabo and Duchess Federica by Miroslava Yordanova are both exact and are spectacularly aided by the demeanour of the two singers. I stress these facets of the production and basic casting as they combine to give real depth to the whole work.

Whatever the singer's demeanour and their characterisation though, it is their voices that ultimately make or break a performance, particularly in Verdi. Without exception each principal realised his or her interpretation with true distinction. Yes, Susannah Glanville was a little thin at the top of the voice a couple of times in Luisa's entrance aria, but as her voice warmed and showed its innate dramatic power over the full vocal range, she gave a wholly convincing performance. I can offer no greater compliment than to compare it with that of the great Italian Renata Scotto singing alongside Domingo available on DVD (see review). I had worried about how John Bellemer's Rodolfo would step up to the greater dramatic and vocal demands of Verdi after his presentation of Donizetti's Gennaro last year which I found lacking some strength and ring at the top of the voice (see review) especially in Act II, when he confronts Luisa, then Miller and his father in dramatic confrontation after taking poison. His voice has grown however and there is definite Italianate patina and ring to it now. After a nicely sung and phrased Quando ale sere al placido in Act II, it was clear that he had husbanded his resources well and achieved an acted and vocally convincing realisation of the Verdian difficulties presented in this final act; my worries were wholly without foundation.

If the two lovers were well up to Verdi's vocal and dramatic demands so to were all the other principals. David Kempster as Miller sang strongly throughout and was particularly poignant and affecting in the Act II three duet with Luisa. If Andrew Slater lacked a little tonal depth to make his Act II duet with Walter as chilling as that between the two basses in Don Carlos, that is as much Verdi's failing as anyone's. His portrayal of the evil scheming Wurm was chilling in its conception and realisation. Like the rest of the audience I admired the physically and vocally imposing Count Walter of Romanian Balant Szabo who once again aided by his costume, was a consummate realisation of sonorous vocalisation allied to good characterisation and legato singing. Scoring just as highly was Miroslava Yordanova as a vocally alluring and sensationally beautiful Frederica. I admired her singing as Orsini last year, but her contralto-ish mezzo realised the full potential of this role's two brief contributions to the plot in a manner that could hardly be bettered. In this company, Phoenica Johnson's Laura was not overwhelmed and made a worthy vocal contribution.

If any Verdi opera is to have much impact then the orchestra and chorus have to be up to the mark and here the augmented chorus played a full part as singers, actors and scene shifters. Andrew Greenwood drew carefully modulated and ideally idiomatic Verdian playing from the Northern chamber Orchestra too. I do hope that he will still be seen on the rostrum at Buxton after he relinquishes his role of Artistic Director next year: conductors of his depth of operatic knowledge, allied to the ability to realise the feeling and meaning of works such as Luisa Miller, are thin on the ground.

This opening night of the 2010 Buxton festival was well up to the standards one has come to expect. There are further performances of Luisa Miller on July 10th, 14th, 18th, 22nd and 25th and Verdi enthusiasts should make every effort to catch one of them.

The Barber of Baghdad

As has become the usual practice at Buxton, this year's second offering was an altogether lighter work - in The Barber of Baghdad by the German composer Peter Cornelius. Described as a comic opera, I was tempted to wonder if it stood alone in the Germanic canon in the second half of the nineteenth century because while peretta abounded in Austria and Germany there was very little of what Italians called opera buffa. Cornelius himself is described as a disciple of Liszt and Wagner and it was due to the good offices and support of the former, that the work had its premiere at all. Based on The Thousand and One Nights, (Arabian Nights) stories, it harks back to the fascination of the early Mozart period with the oriental. In this production, directed by the up and coming Alessandro Talevi and with designs by Madeleine Boyd, the harem associations are not inhibited by political correctness in any way. Act I, complete with mosques and minarets in the backdrop the spectacular Act II setting, which received deserved applause, include Muezzins making the call to prayer.

The performance was sung in English and without the benefit of titles, a slightly regrettable decision since, despite some good diction from soloists, the words some nuances to the plot, often got lost. The main highlight of the whole performance was Jonathan Lemalu as the Barber himself who provided an interpretation to relish in for its singing and acting. His mellifluous tone and clear diction allied to fine vocal characterisation and legato were from the top drawer so it was a pity these qualities were mostly absent in the strained and restricted singing of Michael Bracegirdle as Nureddin over which I will draw a polite veil. As always in comic situations Frances McCafferty as Bostana sang and acted her role, particularly in Act I, as to the manner born. Rebecca Ryan's Margiana was well sung as was Andrew Mackenzie-Wick's portrayal of her father, whilst Stephen Barlow on the rostrum kept the largely undistinguished music moving nicely.

There are further performances on 11th, 15th, 19th and 24th of July, all opportunities to catch a rare German comic opera while you can. The genre is sparse and rarely reaches the stage, even in its native land.

Zaide

The scholar Richard Wigmore describes Zaide as 'having no serious rival as the eighteenth century's greatest operatic torso.' It seems that having got into singspiel mode in the 1779-1780 Salzburg winter with the revision of La finta giardiniera into Die garterin aus liebe, Mozart went further and began the composition of a further new work in this genre. Influenced perhaps by the contemporary craze in Austria and Prussia for all things Turkish, it may even be that that the ever-competitive Mozart might also have been keen to upstage Gluck's harem opera La Recontre imprévue that had been a runaway success since its 1764 Viennese premiere . After a while however, awith no prospect of a staging, the composer abandoned the opera, which was titled Zaide later by Johann André who made a completion of it in 1838. Mozart left the work without an overture or final denouement of a second act finale but even so, the work is not without typical musical felicities and is an obvious predecessor of the more famous, and much greater, Die Entführung aus dem Serail which followed two years later.

Many attempts at completing Mozart's 'torso' have been mad eover the years using music from elsewhere in the composer's oeuvre. This one by The Classical Opera Company, who specialise in Mozart on period instruments, was undertaken by musical director Ian Page and his team using musical extracts from other more or less contemporary Mozart works. He also extended the work into a third act involving a happy resolution of the story, which originally deals with slavery in an oriental context. In the translation into English, and with the addition of a third act, Ian Page and his team have altered the story to a prison in an updated staging. Sadly, at least to my mind, this also involved showing the worst of brutal practices with guns, batons and general mistreatment of the inmates by guards. Contemporary and relevant as this might be, I found the whole production inimical to the musical accompaniment and a distraction from its pleasures. Some people near me in the stalls found the whole thing so distasteful that they left before the end. This was an action with which I had some sympathy as Page's musical realisation of the work and the efforts of some of the soloists deserved so much better.

The best-known piece from Zaide, 'Ruhe sant, mein holdes Leben' from Act I is sung by the titled character herself, on this occasion by the South African soprano Pumeza Matshikaza a sometime member of the Royal Opera House Young Artist Programme. She has an appealing soprano, free and ringing but seemed to forget that Ruhe sant is more a lullaby than a formal aria and needed more softness in the phrasing. Both she and Amy Freeston, as Zaide's friend, tolerated the abuses of the production very well with the latter adding to her recent successes with Opera North. All the men sang adequately with the most notable being the Osmin, the chief prison guard, by Simon Lobelson.

In summary, only the musical new completion of this opera, with a new English text by Michael Symmons Roberts and Ben Power and staged by Melly Still can be considered a success and I suspect that the production might join many earlier efforts in the trash skip. As far as Buxton Festival is concerned, Page and his Company have provided other enjoyable contributions over the years, but I cannot rate this one that way. There is a further performance on 20th July and you have been warned.

Robert J Farr