Other Links
Editorial Board
Editor - Bill Kenny

Deputy Editor - Bob Briggs
Founder - Len Mullenger
Google Site Search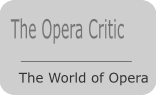 SEEN AND HEARD OPERA REVIEW

Buxton Festival - 2009 The first four productions:– 10-14 July 2009 (RJF)


10 July Gaetano DONIZETTI (1797-1868) Lucrezia Borgia - Melodramma in a prologue and two acts (1833)
11 July André MESSAGER (1853-1929) Véronique - A comic opera in three acts (1898)
12 July W. A. MOZART (1756-1791) Mitridate Re di Ponte - Opera seria in three acts (1770)
13 July George Frideric HANDEL (1685-1759) Orlando - Opera in three acts (1732)


At first sight these diverse operas which opened the 2009 Buxton Festival have little in common except, perhaps, their rarity. At least, that is, before contemporary producers appeared on the scene. As is seemingly
de rigueur
these days, updating was the order of the day for three of the offerings together with the inevitable appearance of handguns during the action. It was perhaps significant that the only applause for a set was for act three of
Véronique
, which had décor and costume in period.
Two years ago, in his first year as Artistic Director, conductor Arthur Greenwood opened the Festival with a well received production of Donizetti's
Roberto Devereux
. It was directed by Stephen Medcalf (see
review
), and had soprano Mary Plazas in a leading role. Donizetti has played a prominent part in the repertoire of the Festival since it opened in 1979 with the composer's ever-popular and melody-rich
Lucia di Lamermoor.
The Buxton Festival, more than any other British company, except for the recording company Opera Rara, have done the composer proud with productions of many of his lesser-known works. It probably seemed a good idea to return to the trio of conductor, producer and diva for this year's opening offering,
Lucrezia Borgia
. This is from the composer's productive period between his fame-inducing
Anna Bolena
(1830) and
Lucia
(1835). Musically it is an ideal opera plot and whilst a typical vehicle for Donizetti
bel canto
it has more drama within it than some others of the oeuvre. Like
Roberto Devereux
it was sung in Italian with English surtitles.
Lucrezia Borgia
was chosen to open the 1833 Carnival Season at La Scala. It was Donizetti's forty-second or so opera. The action of the story takes place in Venice and Ferrara in the early sixteenth century. Lucrezia's interest in the youth Gennaro is misunderstood by Duke Alfonso, her husband, who suspects an affaire. In reality Gennaro is Lucrezia's son, his identity known only to her. Alfonso orders the arrest of Gennaro on a charge of having insulted the Borgia family after the desecration of the facia of his home. Lucrezia arranges his escape. Later, at a banquet Lucrezia poisons a number of her enemies and is devastated to find that Gennaro is among their number. Gennaro refuses the antidote because the amount is not sufficient for all his companions as well. He is horrified when Lucrezia confesses she is his mother. Gennaro dies and the distraught Lucrezia follows suit after an appropriate aria that Donizetti added at the insistence of the soprano Meric Lalande. For a later production the composer made further amendments to the ending and this production involves a conflation of the two.
The set of pillars in the prelude opens out into the apartments and area of Duke Alfonso's home. Doors open to allow viewing of the violence being inflicted on Gennaro, more akin to act two of
Tosca
. This duffing up occurs after the desecration of the Borgia sign, in this case a neon one above the café of that name, when the B is shot off by a pistol to give the more offensive meaning. Except for Lucrezia's entrance in the prelude, the action is played in modern dress with Gennaro's mates in dinner jackets swigging liberally from bottles whilst Alfonso's henchmen boast wide-brimmed Mafioso type trilbies and plenty of handguns. Sunglasses and gratuitous violence abound.
Andrew Greenwood's ideal choice of balance, tempi and modulation was evident throughout. The dark threatening brass of the opening prelude, cutting into the musical textures, set the tone for the proceedings. This is not a nice story, and the conductor's balance of the few lighter moments was ideally contrasted with the predominant dark hue of violence that permeates the action. The opening prelude was prefixed by that dreaded announcement that the diva of the night, Mary Plazas, was suffering from a severe throat and sinus condition, but would sing. Dressed in period for the opening scene she was very tentative in her opening phrases including a
sotto voce
phrase that nearly died before it left her lips. She navigated her opening
come'e bello
with care. In act one she found her normal form in Lucrezia's confrontation with her husband, as she demands punishment for the miscreants who have defaced the front of their property, until she finds out that that her unacknowledged son, Gennaro, is involved. In this scene Mary Plazas found her feet, her vocalism matching her histrionic abilities. By the finale she was in quite magnificent estate, and whilst in this variation Lucrezia takes poison herself, we were not denied a superb acted and vocal conclusion from her that was justifiably applauded to the rafters. The prolonged presence of Alfonso, in his summer suit, watching this scene without much reaction or interest, seemed somewhat incongruous.
In the trouser role of Orsini, the Bulgarian Miroslava Yordanova's creamy mezzo and committed acting were appreciated by this listener. Her vocal strengths included an impressive ring at the top of the voice. David Soar, as Alfonso, Lucrezia's husband, used the impressive sonority of his voice to good effect although I suspect he will bring greater characterisation to his
bel canto
period interpretations in future years. As the son who finds himself in opposition to his mother, the American tenor John Bellemer sang well if without the ideal Italianate
squilla
or ring at the top of his voice. There was an impressive short cameo from Donald Maxwell as Astolfo whilst Jonathan Best's dark tones were heard to good effect as Gubetta.
Further performances of
Lucrezia Borgia
are scheduled for
the 10, 14, 18, 21, 25 and 28 July 2009 with worthwhile pre-performance talks in the Dome.
The second opera of the season, Andre Messager's
Véronique,
was, like
Lucrezia Borgia,
a Festival production. It was given under the idiomatic baton of another of Britain's too often under-appreciated opera maestros, Wyn Davies, in a production by Giles Havergal using a new English translation by Kit Hesketh-Harvey. Composed for Offenbach's old theatre, the Bouffes-Parisiens, it, like Messager, is largely forgotten nowadays, in England at least.
Véronique
has not seen a professional performance since well before the Second World War. A professional production was staged at the Théâtre du Châtelet Paris in 2008. Messager was a pupil of Fauré and Saint-Saëns and Debussy's
Pelléas et Mélisande
is dedicated to him, he having conducted the premiere. He flourished as a composer of ballet music and was a well thought of Wagner conductor. He was artistic director of Covent Garden 1901-06 after which he became artistic director of the Paris Opéra from 1907 until 1915.
Véronique
is an operetta very much in the Viennese tradition whilst having French overtones. The plot is a convoluted one of infidelity and lovers testing the truth of their commitment rather than for money; all ending happily. The costumes were very much period
fin-de-siècle
elegance. This was wholly appropriate as France had by the time of the composition recovered from the disasters of the siege of Paris and the end of the second Empire thirty years before. The set was a basic white-walled shoebox with doors and with large picture frames being flown and filled with appropriate images as the story progressed. There were plenty of flowers for act one and whilst the mock chandeliers in the picture frames in act three did not glitter their point was well made. The set in this final act was applauded as the curtain rose.
The cast was lead by consummate singing actors in the form of Donald Maxwell as the rather lecherous florist and Yvonne Howard as Emmerence. Howard accompanies her niece Hélène, sung by the notable Victoria Joyce. Although Maxwell may not boast the Verdi baritone of old he is now a consummate buffa, his India rubber jowls, complete with a resplendent Gallic moustache, working overtime. Despite one or two lighting effects I could not make out, the production unfolds with clarity as Hélène seeks to test out and then teach her intended fiancée a lesson. I could not help feeling, however, that the words and the music would have been better matched in the original French with the audience picking up the thread from surtitles without missing relevant laughs. This would have helped in the case of the sopranos in particular who did their best with the phrases but sometimes failed to convey clarity.
Further performances will be given on 11, 15, 19, 22 and 26 July 2009 at 7.15pm with pre-performance talks at 6.15pm in the Dome.
The first visiting opera company appeared on the third night when
The Classical Opera Company
presented Mozart's
Mitridate, re di Ponto
on 12 July. Based on an episode in Racine's tragedy it was composed when the young genius was a mere fourteen years of age - already with a clutch of operatic successes behind him. It was premiered on Boxing Day 1770 at Milan's Teatro Regio Ducal, the precursor to La Scala. It opened the Carnival Season in 1770. If Donizetti had problems with Madame Meric Lalande demanding a different bravura ending to
Lucrezia Borgia,
they were nothing compared to what the young Mozart had to tolerate from his divas, both male and female. He was required to jettison and re-compose a number of arias at the demand of the singers. Eight of these jettisoned numbers have survived and research by musical director Ian Page and Stanley Sadie allowed the first reinstatement of these original settings for a concert performances in 2004. These have been incorporated into this staged version which is being seen for the first time.
Given the research put into the derivation of this version, it might have been deemed appropriate to present a staged production related to the period of the premiere. Not so. It seems that modern producers are wedded to present day wars and do not give audiences the benefit of imagination. So the set is an operations room of a modern war with combat fatigues the order of the day. Laptops go along with wireless operators sat behind one of two rather tacky looking desks. Large monitors are on the wall and front of stage. These start off showing maps during the overture and carry on with surtitle translations in English along with still and moving pictures of the stage action. The trouble was that the words were constantly moved from one monitor to another without consistency or reason. The same could be said about the visual images, particularly in respect of their function or usefulness. It was gimmickry gone mad.
The singing was distinctly variable with some thin tones from Alison Bell as Aspasia and not very elegant singing and phrasing elsewhere. From that criticism I would specifically exclude Kishani Jayasinghe as Sifare whose well-tuned expressive voice was a strength as was the mezzo of Sigríour Ósk Kristjánsdóttir in the minor role of Arbate. Except for a solitary duet in act two between Sifare and Aspasia the opera as presented in this version consists of a series of solo arias preceded by recitative. Whilst there are clear signs of Mozart's emerging genius, it also has to be said that the pre-pubescent boy could hardly be expected to bring musical understanding to the more involved intrigues and carnal passions of the participants. Consequently the outbursts are highly stylised and are in no way comparable to the elegance of the composer's later works. From this distance one can only wonder at the reasons of the original soloists for demanding the composer re-write various numbers. That said, on this evidence, and without immediate like-for-like comparison, the changes were improvements. Ian Page and his period instrument band were in charge of the music with Martin Lloyd-Evans as director and Simon Corder as designer.
Further performances are scheduled for 12 and 20 July at 7.15pm and 24 July at 2.00pm.
The final opening offering at Buxton Festival 2009 that I was able to attend, Handel's
Orfeo
was also given by a visiting company,
the
Opera Theatre Company, Dublin
. It was in a production by Annilese Miskimmon who produced the Festival's own presentation of Offenbach's
Bluebeard
two years ago (see
review
). At the present stage of the expanding staged revivals of Handel's operas or oratorios updating seems to be
de rigueur
. In this case it encompasses Orfeo's madness as post-traumatic stress disorder after his war efforts and by staging it in a bare hospital ward. The magician Zoroastro, sonorously sung by Henry Waddington, is portrayed as a psychiatrist with the lovelorn Dorinda as a nurse, sung and acted excellently by Mhairi Lawson. Sinhead Campbell-Wallace was less successful vocally with the high-flying vocal demands as Angelica, Orlando's often threatened lover. The role was however acted with commitment. Orlando's mad pursuit of his perceived enemies involves pistols whilst he is brought back to sanity by a hefty injection of morphine, presumably derived from the poppies which feature prominently in the set of acts two and three. The roles of Orlando and Medoro were sung by the counter-tenors William Towers and Andrew Radley, the former having a wider range of tonal expression. At a personal level I couldn't help feeling a distinct preference for such roles being taken by female singers
en travesti
and who are capable of a wider range of tonal colour and expression. However, Handel specialists have the contrary view.
As to the production it was achieved with cohesion and imagination. Christopher Curnyn in the pit was an ideal supporter of his singers whilst moving the drama along.
There are further performances on 13, 23 and 27 July 2009 at 7.15pm.
As well as further performances of these four operas, the Festival also features Peter Maxwell Davies's chamber opera
The Lighthouse
on 17 and 25 July 2009 and Mendelssohn's rarely heard
Comacho's Wedding
on 16 and 24 July. Along with these offerings there is a wide range of recitals and literary offerings set in this delightful spa town in the Peak District and as outlined in my
preview
.
Robert J Farr