Other Links
Editorial Board
Editor - Bill Kenny


Assistant Webmaster -Stan Metzger

Founder - Len Mullenger
Google Site Search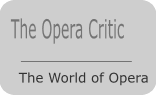 SEEN AND HEARD UK OPERA REVIEW

Wagner, Die Meistersinger von Nürnberg - 2nd Opinion: (New Production) Soloists, chorus and orchestra of Welsh National Operas, conductor, Lothar Koenigs, Wales Millennium Centre, Cardiff, 23.6.2010 (GPu)

Cast
Walther von Stolzing - Raymond Very
Eva - Amanda Roocroft
Magdalene - Anna Burford
David - Andrew Tortise
Hans Sachs - Bryn Terfel
Sixtus Beckmesser - Christopher Purves
Veit Pogner - Brindley Sherratt
Fritz Kothner - Simon Thorpe
Kunz Vogelgesang - Geraint Dodd
Konrad Nachtigall - David Stout
Ulrich Eisslinger - Andrew Rees
Hermann Ortel - Owen Webb
Balthasar Zorn - Rhys Meirion
Augustin Moser -Stephen Rooke
Hans Folz - Arwel Huw Morgan
Hans Schwarz - Paul Hodges
The Nightwatchman - David Soar

Production
Conductor Lothar Koenigs
Director Richard Jones
Designer Paul Steinberg
Costume Designer Buki Shiff
Lighting Designer Mimi Jordan Sherin
Choreographer Lucy Burge
Chorus Master Stephen Harris
Assistant Conductor Anthony Negus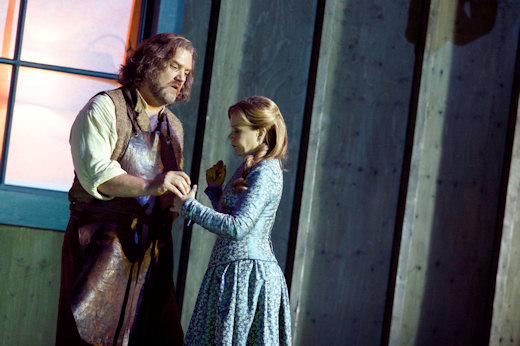 Bryn Terfel (Hans Sachs) and Amanda Roocroft (Eva)


The chance to see the second performance of WNO's first ever production of Die Meistersinger von Nürnberg just four nights after Bill Kenny had seen (and reviewed) the opening night raised in me mischievous hopes that I would be able to write a review in a thoroughly contrarian spirit, contradicting everything that Bill had said, turning his positives into negatives and vice-versa. But within a few moments it was clear that these were false (as well as falsely motivated!) hopes. Bill's conclusion was that the production constituted "a memorable and deserved success for Welsh National Opera". Hear! Hear!

This is, of course, an opera that arrives with (to put it mildly) unfortunate baggage. Adorno believed the work to be damagingly "compromised by nationalistic thought" and Thomas Mann noted that it was "not entirely coincidental that Hitler liked it so much". Certainly the work's emphasis on the necessary 'purity' of German art and its suspicion of dangerous 'foreign' influences (along with the suspicion that the portrayal of Beckmesser has anti-Semitic elements) are features which can, at the very least, get in the way of an appreciation of its very real qualities. Richard Jones's didn't strive to sidestep what Stephen McClatchie, in a very interesting essay in The Cambridge Companion to Wagner (2008), describes as Die Meistersinger von Nürnberg's 'performance' of Germany.

A striking front-cloth faced the audience on their entry to the auditorium; on it was a collage of portraits of many of the great 'German' cultural figures – from Bach to Goethe, from Mozart to Thomas Mann, Beethoven to Pina Bausch. It is both an emblem of continuity and a prompt to thought on how such continuity might exist and be created; the programme contains a fascinating interview with Richard Jones (conducted by Simon Rees, Dramaturg of WNO) in which the producer says of the figures represented on this front cloth that they...

… are all original artists. They have revised their art forms, their areas of thinking, or changed how their discipline has been perceived. They are both rule-breakers and rule-makers … What's important, though is that they are avatars – conduits, They are the future Walther von Stolzings who will work against the establishment but be absorbed into it … I'd like to think that the audience will identify and reflect on the achievements of these Germans during the show.

Looked at with this emphasis, the opera is illuminated as, amongst other things, as work about the relationships between originality and tradition, freedom and rule, inspiration and convention, organic form and mechanical form. As such the 'tutorial' between Sachs and Walther in Act III becomes a key scene – and how well it was done here. Bryn Terfel's Sachs touchingly but firmly recognising the power of Walther's inspiration, alongside an awareness of the limitations of the Masters' rules and – to a point – their necessity. Terfel's Sachs was genuinely masterly in the way he helped Walther to accommodate (to a degree) his inspiration within the prescribed structures, in such a way as to satisfy all but the merest pedantry and, simultaneously, to extend and expand the possibilities conceived of by the custodians of those rules. Raymond Very made a thoroughly plausible pupil, troubled by some of what he was told, exhilarated by other things.

Jones's production – beautifully designed by Paul Steinberg and shrewdly costumed by Buki Shiff – avoided gratuitous intervention, while being independent and perceptive in approach. The setting of most scenes is evidently in the nineteenth century, or so costume suggests (though the electric light in Sachs' house suggests something else); the Masters change into their 'archaic' costumes for their official functions. This 'dressing up' announces their status as preservers of the tradition, but also may effectively put them outside their own time, incapable of intelligent response to the new (Beckmesser being, obviously, the most glaring case).

It was good, too, to see the opera in a production which genuinely recognised – but didn't overdo – its comedy; there were many excellently judged comic details and the Act II climax might be described (without too much exaggeration) as being like something out of a Marx Brothers film (and the incipient musical anarchy was just sufficiently held in check.

All the intelligence and perception which characterised the work of the production team would, of course, have been largely wasted if this had not also been a performance which was sung and played very well indeed. Bryn Terfel's interpretation of Sachs will long stay in the memory, both strong and delicate, forceful and tender. Terfel brought out Sachs' intelligence and his internal conflicts, his profound and generous, if occasionally surly and troubled, humanity. Terfel's voice was at something like its very considerable best and his commanding presence served the production well, both vocally and theatrically. Christopher Purves was outstanding as Beckmesser. Vocally assured and expressive and displaying a well-developed sense of comic timing, Purves was able to generate laughter and a degree of sympathy alongside it. Amanda Roocroft communicated very well the fears and anxieties of Eva, as well as her sometimes cocky self-confidence and, though her vibrato was occasionally intrusive, this was both a thoroughly plausible characterisation and one of the best vocal performances I have heard from her in recent years; the lower registers of her voice were especially gorgeous. Raymond Very's rather light tenor took a little getting used to, but he made real sense of Walther's impulsive ardency and made plausible Walther's slow recognition of the need for a certain degree of compromise even with that one regards as hide-bound and out of date. Very's performance of the Prize Song showed some signs of strain, but this was generally a satisfying interpretation, showing promise of even better things to come, I suspect. Andrew Tortise was a delightful and engaging David, his impulses to mischief tempered by his seriousness about the traditions of song; Anna Burford was an attractive Magdalene, sung very pleasantly. Brindley Sherratt's Veit Pogner had more psychological depth than is always the case in interpretations of this role and he sang with authority and certainty.

The Chorus – as seems almost infallibly to be the case with WNO – were excellent; the ensemble work was near enough perfect and their emotional impact was often considerable. The musical direction of Lothar Koenigs was exemplary. A friend lucky enough to have seen first and second nights was of the opinion that the work of the orchestra was, though good on the opening night, even better at this second performance.

The prospect of an operatic production which starts at 4.00 in the afternoon and finishes some six hours later always raises doubts in the mind, for obvious reasons. It is not mere rhetoric to say that on this particular occasion I would have been quite ready – perhaps after a restorative and celebratory glass of champagne – to have returned to my seat to watch it all over again.

Glyn Pursglove

Picture © Catherine Ashmore