Other Links
Editorial Board
Editor - Bill Kenny


Assistant Webmaster -Stan Metzger

Founder - Len Mullenger
Google Site Search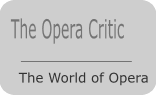 SEEN AND HEARD UK OPERA REVIEW

Wagner, Die Meistersinger von Nürnberg: (New Production Premiere) Soloists, chorus and orchestra of Welsh National Operas, conductor, Lothar Koenigs, Wales Millennium Centre, Cardiff, 19.6.2010 (BK)

Cast
Walther von Stolzing - Raymond Very
Eva - Amanda Roocroft
Magdalene - Anna Burford
David - Andrew Tortise

Hans Sachs - Bryn Terfel
Sixtus Beckmesser - Christopher Purves
Veit Pogner - Brindley Sherratt
Fritz Kothner - Simon Thorpe
Kunz Vogelgesang - Geraint Dodd
Konrad Nachtigall - David Stout
Ulrich Eisslinger - Andrew Rees
Hermann Ortel - Owen Webb
Balthasar Zorn - Rhys Meirion
Augustin Moser -Stephen Rooke
Hans Folz - Arwel Huw Morgan
Hans Schwarz - Paul Hodges
The Nightwatchman - David Soar

Production
Conductor Lothar Koenigs
Director Richard Jones
Designer Paul Steinberg
Costume Designer Buki Shiff
Lighting Designer Mimi Jordan Sherin
Choreographer Lucy Burge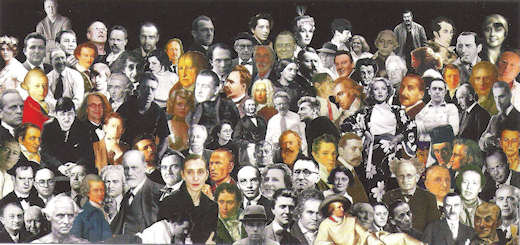 The Front Screen Curtain


WNO's new Meistersinger - its first, as it happens - comes in a fine and deceptively simple production by Richard Jones, featuring not only Bryn Terfel's debut as Sachs but a well chosen cast ably supported by Lothar Koenigs and the WNO's chorus and orchestra. While nothing from Richard Jones is ever straightforward, the thrust of the production is signalled before the performance begins: the drop curtain shows pictures of innovative thinkers in all manner of fields from German speaking countries. Sigmund Freud is one of them and, although without special reference to psychoanalysis, a focus on human psychology together with an emphasis on the real and lasting importance of German art and German artists are the keys to Richard Jones' vision.

It's the careful portrayal of the characters that makes these ideas so strong. Beckmesser is no simple buffoon here: he's an intelligent member of the Mastersingers Guild - more than qualified to be the Marker. But he's also cursed with what German psychiatry once called an 'Insecure Anankastic Personality' which means that his greatest strengths are sometimes his worst failings. Obsessionally punctilious by nature - the ideal administrator for his post as Town Clerk where observing statutes and attending to the book-keeping are paramount - a conservative man like Beckmesser might easily go to pieces in the face of new ideas, even slipping into paranoia when the pressure's really on. We may laugh at his mangled singing and his doomed aspirations as Eva's suitor, but we can also see that his pride in his work is his downfall and how he might relive his humiliation every day for the rest of his life. Beckmesser's really much the same as any of us, Jones seems to say, and anyone may bitterly regret making far smaller gaffes than his. Been there? Done that?..... Got the flashbacks? Very good questions, all of them.

Sachs and Eva too are more complex than they often seem. This cobbler poet still grieves for his late wife, gets angry at himself as well as at other people's follies, is tempted for a second or two by Eva's desperate declarations of love for him but also realises that radical changes are necessary for art and culture to develop. It clearly costs him to let his friend Beckmesser's paranoia persuade him that the Prize Song is Sachs' own composition rather than Walther's but like Wotan, he sees the consequences of the alternative very clearly. The townspeople will approve wholeheartedly of his motives this time round, but he understands precisely how quickly public whimsy may change.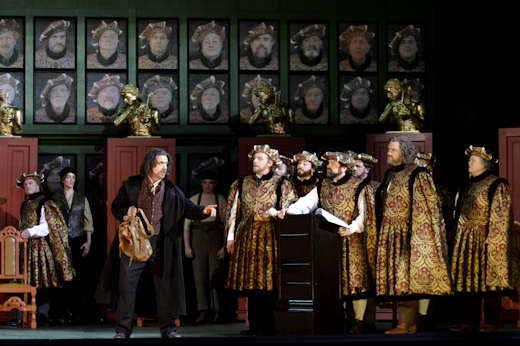 The Act I Trial Song Gathering


The production is otherwise mostly conventional. Buki Shiff's costumes and Paul Steinberg's mainly simple but skillful sets - especially the interior of Sachs's house in Act III, Scene 1- suggest a nineteenth century setting rather than the sixteenth, with the Masters dressed in Victorian frock coats except when attending their formal Trial Song meeting in Act I. The townspeople wear medieval costumes for the St. John's Day celebrations and this is a cheerful production overall, literally often full of light thanks to Mimi Jordan Sherin. There's no shortage of comedy either, although slightly noir in the case of the sepulchral Nightwatchman, sung splendidly by David Soar, but dressed curiously as a cross between Terry Pratchett's DEATH and some kind of fairy tale Child Catcher.

Bryn Terfel's thoughtful Sachs is deeply human throughout, not quite as magisterial as some perhaps but still a powerful portrayal, angry and warmly empathic by turns and never less fine vocally than we have come expect from him. Amanda Roocroft's Eva is also a good characterisation of a love-struck and slightly fractious teenager, appalled by her father's announcement that she can choose either to marry the winner of the song contest or else remain single for ever. Ms Roocroft certainly looks appealing in the part but might watch her German diction more carefully.

As Walther, the American tenor Raymond Very makes a more than a decent job of the Prize Song and sang his role mostly very competently, although with some dubious intonation in the fiendishly difficult Act III quintet. He has a rather light voice compared to the many helden singing the role but equally, he made it come to life musically and was a believably ardent suitor for Eva. Brindley Sherratt's Pogner was dignified and sonorous and both Andrew Tortise as David and Anna Burford as Magdalene were obviously vocally comfortable with their roles, each of them catching their characters with real Wagnerian style.

Christopher Purves' remarkable Beckmesser was another vocal high point of this evening. With never a note out of place and with extraordinary vocal finesse, his marvellously judged acting was a constant delight. Like Terfel's, his a truly huge talent which seems to grow stronger year by year, regardless of whether he is singing Fenton, Nick Shadow, Wozzeck or now Beckmesser, every one of them characterisations of the highest quality.

Lothar Koenigs kept a firm but flexible hand on the orchestra and large chorus, wholly faithful to Wagner's intentions at every turn as well as the spirit of the production. Both chorus and orchestra were at their very best here; first rank contributors to a memorable and deserved success for Welsh National Opera.

Bill Kenny

Pictures © Welsh National Opera / Catherine Ashmore