Other Links
Editorial Board
Editor - Bill Kenny
Assistant Webmaster - Stan Metzger

Founder - Len Mullenger
Google Site Search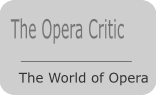 SEEN AND HEARD UK CONCERT REVIEW
A Night at the Opera with Alfie Boe : Alfie Boe (Tenor) The Hallé Orchestra conducted by Wyn Davies, Bridgewater Hall, Manchester. 23.1.2010 (RJF)
Rossini. The Italian Girl in Algiers, Overture.
Donizetti. L'Elisir d'Amore, Quanto è bella; Una Furtiva lagrima.
Mozart. Don Giovanni, Overture.
Lehar, The Land of Smiles, Dein ist mein ganzes Herz'.
Puccini. Manon Lescaut Intermezzo. Crisantemi.
Gounod. Romeo et Juliette, Ah! lève-toi soleil.
Verdi. La Forza del destino, Overture. Macbeth, Ah, La paterna mano.
Tchaikovsky. Eugene Onegin, Polonaise; Lensky's Aria.


It was a distinctly changeable night at the Hallé at Manchester's Bridgewater Hall on Saturday. There were distinct changes from the prospective programme, one given as an addendum in the programme itself and a major one, unannounced, as well as various others. Perhaps the most important, and not in all programmes it seems, was the substitution of Wyn Davies on the rostrum for fellow Welshman Gareth Jones. No problem there as Davies is one of the UK's under-appreciated treasures when it comes to conducting opera. He is a fully involved maestro whose balletic footwork must exercise his Achilles tendon as much as his arms. He has a vast experience on the operatic stage and, as I have noted elsewhere, I have never heard him give a dud performance. I do not know how much notice he had or how much rehearsal time, if any, in the hall because Alfie Boe joked, in his own inimitable manner that he had arrived on the 2.59 in Salford! With a full Hallé orchestra in front of him there were one or two occasions when he did let the dynamics off the leash a little too much but none the less, all the orchestral items were conducted and played by the orchestra as to the manner born. Just as we might expect from a band that has Sir Mark Elder as its Music Director and another conductor who, too rarely for me, gives concert performances of opera in a city starved of the genre. I particularly remember a consummate Falstaff, a dramatic Cavalleria Rusticana (see review) and a stirring act three of Wagner's Siegfried (see review) from Mark Elder although regrettably I was on holiday when he presented a complete Wagner opera last year.

I mention these other opera performances, since there was a major disappointment for me when it came to Alfie Boe's contribution. This was the use of amplification. I heard Alfie as Alfredo in La Traviata with Welsh National Opera on tour in Llandudno last year (see review). I liked his Italianate tone and confident easy stage presence, even when accommodating a very late substitution of his diva. I therefore looked forward particularly to hearing him sing from the bel canto era, which struck me as being ideal for his voice. Regrettably, it was not his voice I heard but an amplified version. I also regretted the use of amplification at the Terfel concert in November 2009 (see review) and after the performance of Messiah (see review) when I had the embarrassment of having to have my published review altered because of confusion as to what Mark Elder had said in presenting a fifty year medal to a member of the Hallé Choir in respect of the number of Messiahs she had sung; a confusion shared by those around me because the Bridgewater amplified sound is distinctly muddy.

So, whereas I could appreciate Alfie Boe's elegant phrasing, expressiveness and characterisation in the two Donizetti arias, I was not getting the true patina of his voice, that lovely Italianate squillo I heard in Llandudno was denied me. And just as Terfel's voice can fill Covent Garden, or the massive auditorium that is the Metropolitan Opera, New York, so can Boe's voice fill the barn that is the London Coliseum. I recognise that in singing opera in those venues the orchestra is in the pit and not in arrayed ranks behind the singer, but no amplification was needed in Elder's performances of Falstaff and Cavalleria Rusticana referred to earlier. Eenough said.
I was sorry too that Boe's presented programme did not preserve the one published in the Prospectus in three particular respects: Tombe degli avi miei from Donizetti's Lucia di Lammermoor, second II mio Tesoro and Dalla sua pace from Don Giovanni and Salut, demeure from Faust. I think items are tbetter suited to his young lyric voice than say the Lehar, a Richard Tauber favourite, where he needed more head voice and less edge and heft to his tone. Similarly, Macduff's aria, from Verdi's Macbeth, took him beyond his vocal comfort zone, a dangerous matter for young lyric tenors of Boe's type who are a very scarce and precious commodity in the world of opera. Similarly, he was unwise in my opinion to assay that tenor virility-symbol Nessun Dorma as an encore: there, as in the Verdi, he was manufacturing a darker tone to his voice which ultimately could not overcome the orchestra. Even Pavarotti transposed this down to save strain on his very large voice. Perhaps Alfie should wait until his collar size grows to eighteen, but not his girth to match since as one famous tenor has recently discovered too much of such strain on an essentially lyric voice can lead to surgical operations on the vocal chords.

On the positive side Boe's singing of Lensky's aria, in Russian, was impassioned and vocally expressive. Russian was only one of the four languages he sang, achieving pleasing idiomatic nuances of meaning in each. Add in his facility in English to joke and communicate with an audience, then his is certainly a talent to savour. I hope he chooses his stage repertoire carefully and does not allow managements to take him too far into the spinto fach.
To return to the orchestra and conductor's contribution, the playing of the dark tones and dramatic thrust of the Don Giovanni overture, with its echoes of the Don's descent into hell in act two, was particularly distinguished as was the brio in the polonaise from Eugene Onegin with Wyn Davies really dancing on the rostrum. Puccini's Crisantemi, a rare excursion into purely orchestral composition, was one of two orchestral surprises and one new to me. An elegy on the death of the triple titled Prince Amedo of Savoy, Duke of Aosta and King of Spain, written in 1890, three years before Puccini's first big success with Manon Lescaut, Crisantemi is unmistakably in Puccini's idiom and gave the Hallé strings an excellent showcase for the sonority and purity of their playing.

The other surprise opened the second half of the concert. The programme promised the Overture from Verdi's Sicilian Vespers, his 1855 composition for the Paris Opéra, or Grande Boutique as he called it. The programme note told us that the piece came between the fragile prelude to La Traviata and the robust overture to The Force of Destiny and it was with some astonishment, and without any announcement that we actually heard La Forza with its repeated opening brass chords. The opera itself was composed for performances at the Imperial Theatre of St Petersburg at a period when the composer was busy playing politics as a member of Italy's first National parliament, for which he had stood at Cavour's request. After a year's delay due to the illness of the soprano, and an inability to get an alternative to St Petersburg, the work was premiered in 1862. Not altogether happy with it; Verdi withdrew it from performance outside Russia, presenting a revised version at La Scala in 1869. Of the alterations he made, one was the replacement of the original prelude by this full-blown overture. It is a beautiful work in its own right, weaving Leonora's leitmotif through the strings with great poignancy, not always caught on this occasion - although perhaps that was related to preparation or rehearsal. I did ask around me if any one had noticed the substitution but only one person had done so and then he did not recognize it. Perhaps that's a hint for Sir Mark Elder and the Hallé planners, as La Forza del Destino has not had a performance in Manchester to my knowledge certainly since the Second World War.

An evening of mixed enjoyment and frustration then, at what might have been. In the meantime I will hope to hear Alfie Boe on the opera stage again in the not too distant future and hope his tenor and musicianship are standing up to the demands of his rigorous profession. As of this time, his talent is rare and precious.
Robert J Farr