Other Links
Editorial Board
Editor - Bill Kenny

Founder - Len Mullenger
Google Site Search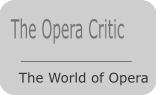 SEEN AND HEARD UK CONCERT REVIEW


Bad Boys: Bryn Terfel (bass baritone) Sinfonia Cymru. London Welsh Chorale/Gareth Jones. The Bridgewater Hall, Manchester, 22.11.2009 (RJF)
Verdi. Force of Destiny Overture
Donizetti. Udite, udite, o rustici from LEIisir d'Amore
Boito. Son lo spirito ehe nega from Mefistofele
Gounod. Ballet Music from Faust, Le veau d'or from Faust
Weber. Schweig, Schweig from Der Freischütz, Soldiers' Chorus from Faust
Puccini. Te Deum from Tosca

Interval

Verdi. Credo from Otello
Saint-Säens. Danse Macabre
Sondheim. The Ballad of Sweeney Todd from Sweeney Todd
Weill. Mack the Knife from The Threepenny Opera
Sullivan. When the night wind howls from Ruddigore
Mussorgsky. Night on a Bare Mountain
Gershwin. It ain't necessarily so from Porgy and Bess


This concert, part of a UK tour, was put on jointly by the Raymond Gubbay organisation and Universal Classics, Bryn Terfel's record company, to support and publicise the singers latest CD called Bad Boys. This is not such a strange title for opera lovers, most of whom know that it's the tenor what gets the girl whilst the baritone is the baddy, regardless of whether he's the grasping brother (Lucia di Lamermoor), thwarted lover (Il Trovatore), scheming father (Aida) or suspicious husband (Un Ballo in Maschera or Parisina). Those named - among many others - are by Verdi and Donizetti who generally wrote for the high baritone voice, particularly in the case of the former. With Bryn's particular vocal skills, in the bass baritone fach, the choices are more limited than for a Verdi baritone comfortable in the high tessitura that the composer wrote for that voice. The nearest Bryn Terfel got to it was singing Ford for Welsh National Opera in a reprise of Peter Stein's production of Falstaff way back in 1993. Since then he has taken over the title role at Covent Garden and again in 2008 for WNO to which Stein returned to refresh his production (see review). In this respect Bryn is following in the footsteps of his famous compatriot, the late Sir Geraint Evans, whose calling card Falstaff became, and who also like Bryn, was a great supporter of Welsh musical endeavours; as manifested in this concert by the presence of an orchestra, chorus and conductor all from Wales.

In much Italian opera, and Verdi in particular, roles for the bass-baritone voice tend to stray into the true bass fach and become priests or kings (Nabucco and Don Carlos) some of them not nice guys either. All in all, Bryn's choices for his new album are more constrained than might be thought however, as he has already taken on some of the other possibilities, such as Don Giovanni, who only gets short solos in any case, in his earlier albums. This may well account for the shortage of genuine operatic items both in this programme and on the CD: more lightweight vocal fillers from the world of musicals and operetta were needed as fillers.

The first so-called 'bad boy' is more con-man and loveable rogue than real villain. The quack doctor Dulcamara's Elixir of Love (1832), in reality red only wine sold to the guileless lovelorn Nemorino is a classic buffa role deriving from Donizetti's immensely creative period between Anna Bolena (1830) to Lucia di Lammermoor (1835) and beyond. Dulcamara is a dream for a singer actor, and none more so than Bryn. As he started I thought for a few seconds he was a little dry but later he shared with us his presence at Old Trafford the previous day which perhaps was the wrong vocal preparation for an indoor concert. Anyway he was quickly into the full vocal and expressive style that looks to be so easy and natural to him. Operatic singing is never easy, particularly to a full hall the size of the Bridgewater, although there was some amplification at least of the spoken introductions. But as the characterisation grew in his face and actions, so did Bryn's voice together with all the colour and intricacies of expression and nuance that are inherent in the role. I do not know if he has ever sung the part on stage, but like Evans before him, he is a natural for it.

While in amusing mood Bryn then encouraged the audience to sing 'Happy Birthday' to him, although a little late it seemed. But he enjoys being 44 apparently and the interlude made a very good break before a complete change of mood and contrast for the next item, Son lo spirito ehe nega from Boito's only completed opera Mefistofele. Boito's greatest contribution to Italian Opera of course was his encouragement of Verdi to return to composition by writing the masterly libretti of his two last works, the masterpieces Otello and Falstaff. But Boito was no mean composer himself, and Mefistofele has drawn some of the great singers of the past century, often basses with a good top end, to take on the role. I have in mind Sam Ramey and Nicolai Ghiaurov as well as, more recently, Ferruccio Furlanetto (see review). I wondered how Bryn would match them but he moved from the lighter mood of Dulcamara to the demonic seamlessly, with fuller, rounder and stronger toned singing which included, and culminated in, the famous whistles that might fit a lad brought up in Welsh sheep farming country. It was not just the voice alone that was gripping here however: vocal shading and physical portrayal via gesture and facial expressiveness made this item the definite a highlight for the programme's first half.
After an orchestral break for Gounod's Ballet Music from Faust, Bryn returned for another satanic character, Mephistopheles in the same opera. In Le veau d'Or (The Song of the Golden Calf) Mephistopheles celebrates his power over Faust with malign and frightening music. Again, this is a role often taken by full basses, in which Bryn with his easy ringing top was equally comfortable in Gounod's demands on the lower voice. This is a role he has sung at Covent Garden and he recounted having to dress in drag for it before ( and within only a few moments) he built up the totality of the role vocally and physically> Masterful.

This was followe up with Schweig, Schweig from Der Freischütz in which the making and the firing of the Magic Bullets and the Wolf's Glen Scene are also highlights. It must be thirty years since this work was seen in Manchester, brought by Glyndebourne Touring Opera with a truly magical casting of the bullets by two tall physically imposing basses, each of whom had many of the ladies in the audience on the edge of their seats. Bryn was dressed in as the hunter Caspar for this item, leading the conductor onstage with rifle at this neck and this aria in particular showed off his vocal strength in the mid and lower ranges of his voice as well as his facility in German. Like all the works sung by this evening this was done so in the original language and my only minor quibble with it was that a bit of added theatre - firing a blank perhaps - to go with Bryn's portrayal as he pointed the rifle up to the gallery to conclude the aria and fired the shot.

While Bryn got ready for the demands of the Te Deum from Tosca the chorus gave a spirited rendering of the Soldiers' Chorus from Faust, sung in English. The Tosca Te Deum is sung in Act I after Scarpia, the dreaded Chief of Police in Rome, and a real bad boy, has despatched his spies to follow Tosca from the church. Whilst the Cardinal prepares for the service, Scarpia sings of his lust for Tosca and how he might achieve his ends. With its tolling bells, the composer's dense orchestration and wide vocal demand, this was a fitting piece for the conclusion of the first part of the concert. It was also one that made the most demand on Bryn's histrionic and vocal skills. He achieved the climax with his resources at full stretch as the conductor let the orchestra off the leash a little too much. It was, perhaps, the most demanding piece in the programme, but fortunately Scarpia is a role he has sung at Covent Garden on several occasions: he brought all of the character's chilling evil marvellously to life.
If Scarpia is a baritone role that can be sung by a bass-baritone (Ruggero Raimondi also sang it though later in his career and Geraint Evans expressed regret in his autobiography that he only sang it once despite his wife telling him how he had made her flesh creep in that scene) for the concert's second half Bryn opened with a baritone role that I cannot recall ever being sung on stage by someone of his voice type, Iago in Verdi's penultimate opera Otello. Iago's Credo extols his self-analysis as the epitome of evil. This aria was a creation of Boito's and is not in Shakespeare but Bryn certainly made my flesh creep and the hairs stand up as the concluding phrases were chillingly conveyed on the breath out into the large auditorium. It was a considerable representation of a real bad boy's beliefs.
For the opera lovers present, as distinct from those glorying in Bryn's man mountain persona, it was downhill all the way after this Verdi. There was nothing like the demand for vocal intensity or characterisation in the remaining items and Bryn, only too aware of this, coasted making little of Mack the Knife. Similarly, When the night wind howls from Gilbert and Sullivan's Ruddigore made few demands on his capabilities, except to roll out the concluding phrases about things that go bump in the night. After that and maybe to fill the CD with another bad boy, the programme concluded with Sportin' Life's song It ain't necessarily so from Porgy and Bess. If Bryn is unlikely to trifle with G and S and Ruddigore on stage, he is even less likely to sing Sportin' Life, nominally a tenor role, particularly with Gershwin's casting specifying black singers. A bit of a damp squib and something of a waste of a great talent to finish the concert on this note I thought. Yes, we did get a single encore each from the orchestra and Bryn, both trite pieces.
The Sinfonia Cymru is composed mainly of students from the Royal Welsh College of Music and other young musicians from the Principality. They played well enough, although hardly reminding the Manchester audience that their beloved Hallé would have been more sonorous in the brass opening of the Force of Destiny Overture. Conductor Gareth Jones kept the components together well, always giving soloist and chorus every support as well as that due to the music itself; not always straightforward on such occasions.
The audience were rapturous at the concert's conclusion with many going afterwards to take advantage of Bryn signing CDs. In my guise as a reviewer I was not allocated the Bad Boys CD, but did get one of the young soprano star, Danielle de Niese who has made such a big impression at Glyndebourne, singing Mozart arias and religious pieces. It is from the same recording stable. Whilst I have most of Bryn's solo albums, in value for money terms, the de Niese disc looks better value and much as I enjoyed the first part of this concert and Bryn's Credo from Otello at the start of the second, I doubt that Bad Boys will be on my Christmas stocking list.
Robert J Farr