Other Links
Editorial Board
Editor - Bill Kenny
Assistant Webmaster - Stan Metzger

Founder - Len Mullenger
Google Site Search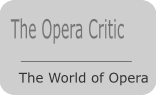 SEEN AND HEARD UK OPERA REVIEW

Opera North on Tour : The Lowry Theatre, Salford Quays. 23-27.2.2010 (RJF and RW)

Puccini. La Boheme. (Sung in Italian with titles)
Gilbert and Sullivan. Ruddigore.
Mozart. Cosi fan tutte. (Sung in English).
The Opera north Winter season at the home theatre in Leeds, at The Lowry, and other touring venues, continues the recent practice of reprising one work from the previous season with cast changes, in this case last Autumn's Cosi fan tutte,one new production and an older revival. The policy makes sound economic sense in the current climate and allows for reserves to be built for the more adventurous days scheduled ahead. These will become apparent with several new productions from the Company in 2010-2011 as well as the embarking of concert performances of the first work of Wagner's Ring in the Summer of next year. I only hope that the forecast of doom for the arts and academe foretold by Richard Morrison, critic and columnist of The Times (February 14th), which will inevitably come whichever political party is returned to power, will not restrict Opera North's imaginative programming too much. The unfolding Ring Cycle for 2011 will contrast brilliantly with the new production of Donizetti's classic bel canto Maria Stuarda due in the Spring season this year. It will feature the duo of Sarah Connolly, the formidable and admired Romeo of Bellini's I Capuleti e i Montecchi of the autumn of 2008 (see review) as Maria, and Antonia Cifrone the Lady Macbeth of the spring production of the same year singing Elisabeth. A great prospect, it will be performed at The Lowry on Saturday June 19th.

The new production for this Winter Season is Gilbert and Sullivan's Ruddigore and the revival is Puccini's evergreen La Boheme. The Ruddigore constitutes Opera North's first production of a Gilbert and Sullivan Savoy Opera for over twenty years although in the intervening period they have done more than justice to Gershwin and Kurt Weil as their contribution to the lighter genre. Their reward this time was evident in the attendances at The Lowry and which were far in excess of last year's well-staged productions at Gershwin's musically trite political offerings. Meanwhile it seems old La Bohemes never die. Covent Garden recently fielded John Copley's production, now in its thirty-fifth year while Metropolitan Opera recently staged Zefferelli's grandiose production from far back, to make it the longest runner on record at nearly four hundred outings. They have also revealed that whilst other of his stagings will be scheduled for replacement, this Boheme will run for some time yet.

By comparison with Copley and Zefferelli's efforts, Phyllida Lloyd's 1993 production is a mere adolescent. I tend to the view of if it aint broke don't fix it and although this might only have been her second opera production, now revived by Peter Relton, both her vision and the sets remain apt for this evergreen work. It is evergreen too in that while some operas defeat updating La Boheme actually can survive it. The male students or artists in the1850s that Mauger wrote about, those in the 1890s of the La Boheme's premiere, or the others in Lloyd's 1950s production, are all tarred with the same brush. They tend to be scruffy, broke and fuelled by testosterone when finances permit with alcohol consumption being preferred over judicious money management. The consequences of this lifestyle, even in the 1950s, with tuberculosis rife, were the likelihood of disease, and even death whilst waiting for treatment.

La Boheme.

The attic with Marcello's paint all over the doors of a particularly a grubby fridge, an ancient stove, and a tattered chair were all that were needed to set the story. The rather posh motorbike was somewhat gratuitous, even incongruous, and was so again in act three although it perhaps justified Colline's biker coat for his Act IV farewell to it. The male quartet all sang strongly and, without exception, acted their roles with commitmen although I didn't quite get the reason for Schaunard appearing in drag in Act IV, even though his trim ankle and blond wig would have outdone Danny La Rue. Strong voices from the male quartet were needed in the opening scene as Richard Farnes let the orchestra off the leash along with Puccini's dense orchestration. After the frolics of getting rid of the landlord, well portrayed by Steven Page who also doubled as Musetta's rich man doormat in Act II , Farnes fortunately pulled back the orchestra for the incomparable melodic ending to Act I when Rodolfo holds Mimi's cold hands, she tells him her name and concludes with the love duet that we used to call Fair [or Lovely. Ed.]maid in the moonlight. Mimi and her lover moved to front stage and gauze descended to cover the attic and to allow the moon to shine evocatively with the music. Mood and setting were perfect.

By the end of Act I, the well attended audience also knew they were in for a good night on the singing front. Both Mimi and Rodolfo were nicely matched physically and vocally as well as with mutually empathetic chemistry. Anne Sophie Duprels is well known by Opera North audiences particularly for her Butterfly and her warm expressive tone seems to grow ever stronger with a good variety of colour and expression. Always a committed actress, she excelled herself in this performance and Mimi's death in the last act was conveyed by singers and setting alike well enough to leave few dry eyes in the hall. Soon it will be Tosca for Ms Duprels, but not I hope in Opera North's whacky production which seems to appeal to London critics but few others. As her lover, the Turkish tenor Bülent Bezdüz was a major discovery for me. Opened toned lyric tenors with Italianate squilla are few on the ground and his is a talent I shall watch with interest. I am pleased to note that he will sing Leicester in the Spring production of Maria Stuarda referred to already. His phrasing and variety of expression were excellent and as long as he does not over-press his voice, his sound is one I shall look forward to hearing again. It's certainly preferable to the over beefy singing one often hears in this role.

The set for Act II was highly imaginative with the Café Momus seating revolving regularly to represent interior and exterior. Sarah Fox was not perhaps the ideal vampish Musetta coming over as rather too stately. She sang a good Waltz Song however, and her portrayal in Acts III and IV was excellent. The set and lighting for Act III allowed us to see both the interior and exterior of the inn where Mimi goes to tell Marcello about her worries over her relationship with Rodolfo. I missed the Customs Gate but the sailors at the inn door were an adequate substitute. As Marcello, the Polish baritone Marcin Bronikowski sang with strength allied to convincing acting as he tried to sympathise with Mimi and deal with Musetta's attitude and approach to free love. His singing in the Act IV duet with Rodolfo was also finely phrased whilst the American Fredéric Bourreau as Colline only needs to soften an edge to his powerful bass to secure a bright future. All the Bohemians sang well in fact and with the exception of Quirijn de Lang, all were also debutants with Opera North. On the basis of their performances in this immensely enjoyable Boheme, I hope to see may of them in future productions by the Company.

Robert J Farr

Gilbert and Sullivan's Ruddigore, ( Sung in English:24.2.2010)

Robin Oakapple/Sir Ruthven Murgatroyd, Grant Doyle;
Richard Dauntless, Hal Cazalet
Sir Despard Murgatroyd, Richard Burkhard
Rose Maybud, Amy Freston
Mad Margaret, Heather Shipp
Dame Hannah, Anne Marie Owens
Sir Roderic Murgatroyd, Steven Page
Old Adam Goodheart, Richard Angas

Conducted by John Wilson and directed by Jo Davies

For Opera North to take on a production of Ruddigore is a bold experiment and they should be congratulated for bringing a breath of fresh air to one of the less successful Savoy Operas. Ruddigore had a run of 288 performances when first presented in 1887 compared with 665 for the Mikado which it followed. It had been absent from the D'Oyly Carte repertoire for 34 years until revived by Rupert D'Oyly Carte for his Princes Theatre 1921-22 season and in an attempt to regain public interest, the opera was adjusted and some of the Act II music reworked. In 1948, Ruddigore was the first opera to be been given a new lease of life after the war, with fresh scenery and costumes provided by Peter Goffin. The score is one that shows considerable compositional skill however and one can easily understand why Opera North decided to mount this production. Sadlers' Wells came to the same conclusin when they mounted their 1987 production.

Ruddigore is a traditional melodrama and so one wonders what advantage it might have in moving the action forward to the roaring Twenties. Not much as it happens, especially when the libretto, quite rightly, follows the original text. After 30 bars into the overture we become aware that this production is going to be different; for Toye's 1924 overture (standard for D'Oyly Carte performances) is replaced by the original 1887 version. Additional interest is also provided by a silent movie synchronised to musical sections which helpfully fills in some the background to the relationship between Mad Margaret and Sir Despard (something not always clearly understood by D'Oyly Carte audiences). The provision of an opening inset scene in Rose Maybud's bedroom allows a stronger focus to Murgatroyd Legend and an opportunity for more stage movement. To have professional bridesmaids in such a setting is still unrealistic of course, just as it always has been in Gilbert's libretto.

Jo Davies' production is brave and impressive, and although prim etiquette and phrases such as 'district visitor' and 'national school' might be out of keeping with the 20s, at least the forging of tax returns and ministers' expenses are bang up-to-date references so that playing these asides to the audience seemed unusually appropriate. The four scenes for Act I on the steeply raked stage are impressive, especially the Church interior for the finale, with the madrigal cleverly aligned with the hymn singing. Dame Hannah's tearful episode in church was beautifully done. The Picture Gallery (Act II) with tiered pictures and practical windows for Despard and Margaret's unusual entry is novel and extra amusement was provided when one ghost had to climb down a drape. Stepping back into their frames was not so easy of course, but a vanishing Sir Roderick was excellent. Perhaps the well-sung 'Ghosts High Noon' by Steven Page lacking the eerie, spooky focus of a gothic setting lost much of its impact but I liked the wide use of properties in this Opera North production. D'Oyly Carte stages had been bare in comparision.

The pace is always brisk. Outstanding to the production's success are Amy Freston's charmingly forceful Rose Maybud and Grant Doyle's diffident Robin. Both are excellent singers, provide good diction, and hold the audience's attention. A sensitive and diffident Robin in Act I is contrasted by his menacing role in Act II. Hal Cazalet as a gritty sailor provides good interaction with Rose and Robin though his hornpipe is not so nimble and finishes oddly in a Spanish 'Olez' gesture. Sir Despard acted and sang well. He held a stronger presence in the Act I finale than is usually the case and interaction with the other characters was clear and meaningful.

Jo Davies clearly paid much attention to timing: dialogue delivery was suberb. Humour was teased out of Gilbert's lines (subtle in places) and this was appreciated by the 'well-tuned' audience. The singing was excellent throughout. Mad Margaret's Act I entry, pushing a pram along a seashore obscured by a jetty, lacked someatmosphere and must have been difficult for her. The pedantic pace of To a garden seemed to lose much from the glorious melody of this number.

It was reassuring that the Savoy Opera tradition of dance routines were followed and Kay Shepherd's expertise in designing them was much appreciated. Richard Hudson's settings were well considered and executed, though a Kew Gardens flycloth seemed to have detail too magnified for the stage perspective. A stylised and bland seascape (with modern bunting) tried to follow the 'sepia' theme that was successfully used for interiors, but the broad sea and sky cyclorama cried out for a blue sky rather than a drab dull orange, while an unexplained gust of stage smoke was wholly lost on me. With well-lit acting areas throughout I might have expected more of a characteristic exterior brightness and flatness in this scene. The chorus sunning themselves were doing so without strong sunlight in the comparative gloom of directional lighting and a gathering storm on the horizon. Lighting changes did not always synchronise with the music either and gimmicky bursts of blue light within a vocal number made no great sense. Costumes were excellent with substantial care given to detail to variety.

Important attention was paid to the music which was well played by an orchestra of Savoy size. Of the lost numbers reinstated were Act I The Battle's roar is over and the Act II patter song, Henceforth all the crimes in the Times. In Sir Rupert Murgatroyd the original verse links with chorus were used and everyone was pleased that the original Basingstoke finale was sung in its entirety.

Especial mention should be made of the quality of Opera North programme with good essays and use of archive pictures and modest with volume of adverts. London theatre productions should take note; perhaps more would be then be bought by their patrons.

Raymond Walker
Cosi fan tutte.

The cast changes from the Autumn season (see review) involved the male lovers and the maid Despina. The imaginative unfolding of Alfonso's camera view of life continued to appea, although its black interior, broken only by the white of the tables and chairs is unduly stark. This is like Alfonso's view of love and the fickleness of women. I was impressed by Geoffrey Dalton's playing of the role. His is not the most mellifluous voice, being a little on the dry side. This is more than compensated by the excellence of his diction and the variety of vocal nuance in his singing, particularly in the recitatives. As I noted in my review of the Autumn performance it seems that Mozart compositions, with their smaller orchestral requirement, is not going to benefit from the use of titles as Opera North move in that direction for performances sung in English. Again I regretted this, particularly during the singing by Elisabeth Atherton as Fiordiligi and Victoria Simmonds as Dorabella. After a few moments to settle down Elisabeth Atherton's sung performance was particularly fine with impressive vocal skills in Come scoglio and Pier Pieta, both with well-phrased appropriate well defined decorations and a fine trill. However, combined with Albery's somewhat hyperactive direction often placing the singer facing away from the audience, and the inherent difficulty of enunciating words clearly when singing above the stave, it did mean that the text was often lost. Perhaps I should hope for a production in the original Italian with titles. If Victoria Simmonds didn't quite match her sister in the vocal stakes hers was, none the less, a pleasing realisation vocally. Dorabella has it easier vocally than Fiordiligi and Simmonds' warm tone was at ease in Smanie implacabili and E amore un ladroncello as she reflects on the bitterness of love. The new Despina, Charlotte Elliot, was up against formidable competition when compared to Amy Freston last time round and, as my colleague notes above, was a formidable performer in Ruddigore the nigth before. Charlotte lacked a little of the flightiness of Freston's assumption whilst giving an appealing and wholly appropriate sung and acted performance. She resisted any over acting as doctor or notary and her act two aria was pleasing to my ear, her light soprano having no difficulty with diction.

As to the new male lovers I am more equivocal. Whilst Allan Clayton's Ferrando could be considered a work in progress, his successor Robert Murray, chunkier of voice and figure, did not sound a natural Mozart tenor in act one with too much edge and effort in his tone. Likewise Jaques Imbrailo, although warm and vibrant in both singing and acting, did not erase memories of Quirijn de Lang's realisation. I still miss a bit of colour in the production whilst realising the black frames Alfonso's manipulation, cynical view and bleak message about human relationships. Even Despina was disgusted at her own contribution at the end. As to what happens to the couples, I doubt that Da Ponte, let alone Mozart, knew or even cared as the work pleased the Emperor who had commissioned it. An update to he present day, heaven forbid, would involve the goings on of footballers with the consequences selling Red Tops by the million and keeping lawyers in the luxury they enjoy so much.

Unlike my colleague in his review of Ruddigore above I continue to be frustrated by the programme presentation. Too much irrelevant guff, fancy diagrams and one has to turn to page twenty five to find a list of the singing cast. Even as I write this, I only know that it was Charlotte Elliot, and not Gillene Herbert, singing Despina via deductive observation from their photographs in the programme!
The Tour continues to the Theatre Royals Newcastle, 2-6March and Nottingham, 9 – 13 March.

Robert J Farr and Raymond J Walker