Other Links
Editorial Board
Editor - Bill Kenny
Assistant Webmaster - Stan Metzger

Founder - Len Mullenger
Google Site Search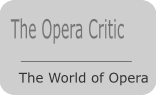 SEEN AND HEARD UK CONCERT REVIEW
Mozart and Schubert: Janine Jansen (violin), Maxim Rysanov (viola), Philharmonia Orchestra, Fabio Luisi (conductor). Royal Festival Hall, London, 9.3.2010 (MB)


Mozart – Sinfonia concertante in E-flat major for violin and viola, KV 364
Schubert – Symphony no.9 in C major, 'Great', D 944
Janine Jansen (violin)
Maxim Rysanov (viola)
Philharmonia Orchestra
Fabio Luisi (conductor)
I did not enter the Royal Festival Hall with especially high hopes, feeling disappointed that Christoph von Dohnányi had fallen ill. His last-minute replacement, Fabio Luisi, had recently been lauded in certain quarters for his Strauss and Bruckner. I had rather admired his conducting of Die Liebe der Danae a few years ago in Salzburg, also, as it happens, replacing Dohnányi, yet more recently, I had been somewhat nonplussed by an Edinburgh concert with the Staatskapelle Dresden. Luisi must have been having an off-day – or perhaps I was – since his conducting of Mozart and Schubert proved excellent, and I think it is fair to say that nowhere am I less easy to please than in Classical repertoire…
There were two other stars for the Mozart Sinfonia concertante, of course – well, three, since the brightest-shining of all is the composer of this imperishable masterpiece. It speaks extremely well of Luisi and his two soloists, Maxim Rysanov and Janine Jansen, that their musicianship ultimately returned the spotlight to Mozart himself. Everything sounded right: tempi, blend, sonority, character. That is not to say that there is one 'correct' way, but rather that the performance did its job in convincing one of its rightness for as long as it lasted – and a little while after. For the music does not play itself; it needs to be performed. The Philharmonia strings were of a decent size (10.8.6.4.3), the orchestra providing clarity, warmth, and a weight that did not preclude lightness of touch where necessary, for instance in beautiful, unanimous pizzicato and truly ravishing woodwind passages. It is grossly unfair even to mention it, but the only thing I missed was that true Viennese sweetness now so indelibly associated – and justly so – with this music: think, for instance of one of Karl Böhm's recordings. In the first movement, the tempo, as elsewhere, seemed just right: unhurried, but by the same token never dragging. The great opening tutti crescendo was flawlessly handled, in a way that would surely have impressed Mozart and the fine (considerably larger) Paris orchestra for which he wrote. In a concerto, however, one awaits of course the entry of the soloist(s), and from the outset, Janine Jansen and Maxim Rysanov impressed, not only attentive to each other, but with an obvious rapport; indeed, the frisson seemed almost sexual, by which I do not mean to imply anything beyond the performance, but performing with another musician always involved shared intimacy, at least if it is done properly. There was a clear contrast between violin and viola, but equally a fine blend. If anything, Rysanov's part impressed all the more, if only because one is less accustomed to hearing a solo violist: I certainly was led to wish that Mozart had written a viola concerto, not least since he clearly adored the instrument.
The slow movement flowed, in the proper rather than the modern 'fast' sense, yet retained its dignity. Jansen's opening violin solo sounded veiled, as if it were muted, yet it was not; Rysanov's response was rich – in every sense – in melancholy, exquisitely voiced and shaped. When the major mode came, Mozart smiled through tears as only he can. Luisi's role was crucial, in that he ensured an unbroken line from beginning to end, not in the sense of a lack of phrasing or articulation, but in the long-distance hearing (Furtwängler's Fernhören) that makes of this movement a single aria. The ineffable sadness of the cadenza proved the emotional climax, its chromatic intensity almost unbearable; nothing could have been more distant than mere solo display. A truly Mozartian quicksilver change of mood was brought about by the Puckish finale. Fun can be beautiful – and beauty can even be fun; such is Mozart's lesson, as taught to us here. Interplay between all musicians was once again exemplary. A fine performance indeed!
For Schubert's 'Great' C major symphony, Luisi opted for a full, Romantic orchestra (strings: 16.14.12.10.8). Thank goodness for that! He had no truck with the modern trend towards an absurdly fast introduction to the first movement. Instead, Schubert, quite rightly, looked forward to Bruckner, without foregoing the composer's particular grace and charm. Cellos were suave, brass full of foreboding, and the oboe solo (Gordon Hunt) simply enchanting. The transition to the exposition was thrilling and arrival was decisive, underpinned by martial rhythm. I felt a certain regret – both times, since the exposition repeat was taken – that Luisi did not yield for the second subject, but this was part of his intriguingly, and ultimately convincingly, urgent account. The lightness of the opening to the development, woodwind in particular, suggested Mendelssohn, but the Philharmonia brass soon supplied military muscle, the scene set for battle, as kettledrum clouds underscored. Before we knew it, the recapitulation was upon us, but had battle been enjoined or deferred? Schubert's goal-orientation is generally more ambivalent than that of Beethoven, and so it was here. Ambiguity continued into the coda, which sounded grand but unsettling: an apt summation of the symphony as a whole. In a sense, one might think of Furtwängler, but with very different means. The slow movement was taken relatively swiftly, but never sounded remotely trivial. Subtle rubato was employed where necessary, but onward, even martial drive won out. Cellos and double basses were especially important here in underpinning the rhythmic menace, whilst woodwind entwined gorgeously above: again, an unsettling combination. Consolation was to be heard, but would not quite endure. The climax was shattering, almost Brucknerian; I was truly shocked. After that, the sadness of cellos and oboe shone through, aided by Luisi's astute relaxation of tempo. Resumption of the initial tempo could not remove the shadow cast; the urgency pertaining to the last terrified. The scherzo continued in a similar vein: urgent and graceful; it stomped, but with charm. There were odd bars in which ensemble and control lapsed slightly, only really noticeable in the face of such excellence elsewhere. The scale and oh-so-Austrian quality of the trio registered, but I felt that such might have been emphasised a little more, the music occasionally edging towards the neutral.
What to do for a finale? Ever since the Eroica, at least, this has been a great problem for the symphonist. Luisi drew Beethovenian parallels but equally emphasised Schubert's own path. Command of line was all-important here and the conductor did not disappoint. Where Bruckner in the Seventh Symphony so signally failed, Schubert was permitted to succeed, resolving tensions without avoiding them. A motivic insistence clearly born of Beethoven sounded, but Schubert was never made to sound 'like' him. The one thing I missed here was the last ounce, and I only mean an ounce, of orchestral weight, so as truly to overwhelm prior to resolution, but the low unison blows nevertheless struck a Brucknerian terror into one's heart. A stylish and intriguing touch, which somehow avoided mannerism, was the subtle diminuendo upon the final chord. The time for easy victory, if ever it had existed, was long gone in this understanding of Schubert.
It is a pity, then, that the audience seemed lacklustre in its response. For me, this was an extraordinarily memorable concert. Dresden may have lost Luisi, but I hope that London will hear more of him.
Mark Berry