Other Links
Editorial Board
Editor - Bill Kenny
London Editor-Melanie Eskenazi
Founder - Len Mullenger
Google Site Search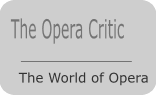 SEEN AND HEARD FESTIVAL CONCERT REVIEW

Edinburgh International Festival (3) – Weber, Beethoven, Strauss, and Bernhard Lang: Hélène Grimaud (piano), Staatskapelle Dresden, Fabio Luisi (conductor). Usher Hall, Edinburgh, 28.8.2008 (MB)
Weber – Overture: Oberon
Beethoven – Piano Concerto no.4 in G major, op.58
Strauss – Ein Heldenleben
Bernhard Lang – Monadology II (British premiere)
This was a considerably different concert from that advertised. First, the programme was changed, so that Hélène Grimaud performed Beethoven's Fourth Piano Concerto rather than Schumann's. Then disaster struck the night before, the orchestral players arriving in Edinburgh but not their instruments, with the result that the first of their two concerts was cancelled. It was therefore decided to give the British premiere of Bernhard Lang's Monadology II in addition to the new programme.
It is almost always a joy to hear the Staatskapelle Dresden, and this occasion was no exception. Faced with the proverbial gun to my head, I should finally opt for the Vienna Philharmonic Orchestra as the world's greatest, but I have no doubt that I should put Dresden second, however nonsensical such rankings ultimately may be. No one quite possesses the sweetness of the Vienna strings, yet there is something darker, more traditionally German about the Staatskapelle Dresden, a direct line to the extraordinary tradition that has had it directed by composers such as Schütz, Weber, Wagner, and Strauss, not to mention a host of great principal conductors. That is true authenticity. I was therefore especially eager to hear Weber's Oberon overture, as truly German Romantic a curtain-raiser as one could imagine, in spite of its composition for Covent Garden. The slow introduction was good, though not perfect; a number of minor slips made me wonder whether the prior uncertainties surrounding the concert were extracting their toll. But the main section began with a bang – and the real sound of a great orchestra. Silvery violins, a ravishing clarinet solo, a beautifully rounded sound on the kettledrums: these were some of the delights to savour, although there was also a distinctly sour tone from the oboes at one point. Perhaps the most splendid memory was that of the full complement of horns, at their fullest tone, without a trace of harshness or braying. The overture was well directed by Fabio Luisi, although without the last ounce – or perhaps even a few ounces – of individuality.
Doubts concerning Luisi resurfaced during the Beethoven concerto, although he was presented with a headstrong pianist, very much more the soloist than the chamber musician, when of course she should have been both. Interplay and even mutual sympathy were often lacking; it made me wonder quite why the programme had been changed in the first place. The orchestra sounded wonderful, never more so than in the truly ravishing pizzicato passage following the first movement cadenza, but it could have been more purposively directed. The second movement was something of an exception, with truly characterful strings proving implacable Furies to Grimaud's pathetic – in the best sense – Orpheus and a greater sense of partnership all round. The beautifully hushed strings at the end took on a memorable, veiled sound, vibrato withdrawn momentarily for a musical reason rather than out of authenticist dogma. A winning lilt was imparted to the finale, although Grimaud once again soon became too much the star soloist. It was rare indeed for her so much as to glance at the conductor or the orchestra. There were many good things in this performance, yet I felt that it could readily have been much better.
Ein Heldenleben benefited from a splendidly vigorous opening, although once again there were quite a few slips only a little way in. The very odd cracked note apart, the Dresden horns were once again to die for, as indeed was the orchestra as a whole, especially when Strauss called for great washes of orchestral sound. Leader Kai Vogler proved a fine soloist indeed. Split violins, here as elsewhere, paid dividends, although elsewhere the account could sometimes be found wanting in terms of clarity. Bombast won out over irony, for it sounded as though the conductor was simply taking Strauss at face value. Moreover, Luisi appeared to value volume over other, more signal virtues, mistaking it for dramatic tension. His direction was once again weaker than the orchestral performance itself and here with graver consequences. Ein Heldenleben needs a great orchestra, of course, but just as important is absolute security in structural terms, lest the score begin to sprawl, to meander even. Here this happened far too often, resulting in an unduly episodic reading. And then there was an unwelcome surprise in terms of an alternative ending. Apparently Luisi and the Staatskapelle have recorded the work with this violin-focused winding down. It is not unpleasant in itself, but is not a patch upon the familiar Also sprach Zarathustra reference. Still, I suppose it might appeal either to Zarathustra-haters, although I should have thought that they would also be Heldenleben-haters in any case, or to those approaching Strauss's symphonic poem without a sense of irony.
Then, as a bonus, came the Lang premiere. At least, I had thought it would have been a bonus. The piece sounded very interesting from the composer's own programme note, which explained its concept of 'musical-cellular processing', as derived from Leibniz's monadology. (Festival director Jonathan Mills's stumbling over the title during his concert introduction suggested a certain unfamiliarity with Leibniz's philosophy.) Yet the sole impression I gained from the performance was one of tedium. An opening woodwind reference to Strauss's Don Quixote – the piece is subtitled 'A new Don Quixote' – never really led anywhere, and much of the music merely sounded like a textured accompaniment to something that never materialised. The introduction of a wind machine merely sounded incongruous, for there was on the whole little sense of orchestral colour. Rhythmically the piece was monotonous too. Perhaps I missed the point, but I could not help but notice an apparent lack of enthusiasm on the orchestra's part. Whilst I cannot but applaud attempts to build upon the orchestra's great tradition – it is hardly celebrated as a champion of the contemporary – I am not sure that this was an ideal opportunity to do so. I was, however, greatly relieved to read that this was a shorter version – of about twenty minutes, I should guess – of an original, fifty-minute-long score.
Mark Berry