Other Links
Editorial Board
Editor - Bill Kenny
Assistant Webmaster - Stan Metzger

Founder - Len Mullenger
Google Site Search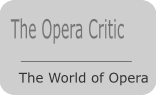 SEEN AND HEARD INTERNATIONAL CONCERT REVIEW
Haydn and Shostakovich: American String Project, Illsley Ball Nordstrom Recital Hall, Benaroya Hall, Seattle, 20.5.2010 (BJ)

For its ninth season, dedicated to Gerard Schwarz in honor of his 25-year tenure as music director of the Seattle Symphony, the American String Project tried out a new format. Instead of featuring three string-orchestra arrangements in each concert, artistic directors Barry Lieberman and Maria Larionoff put together three programs prefacing complete performances of two works with excerpts from the string quartets (and in one case quintet) they are based on.
This idea offered the audience some valuable illuminations on the contrasting nature of the respective media and on the process of arrangement. All of the arrangements this year were made by Lieberman himself, and he is a highly skilled hand at the task. His decisions about what to score for multiple instruments and what to leave as untouched chamber-music writing were, almost without exception, well judged. In Shostakovich's String Quartet No. 9, for instance (a welcome change from No. 8, which is a fine piece but perhaps unduly favored by performers), the alternations between solo and tutti passages created an effect akin to that of the interplay between concertino and ripieno in the baroque concerto grosso–an effect alien to Shostakovich's period, but one that he might well have found stimulating as a way of throwing fresh light on his inspiration.
The only decision that, to my ears, didn't succeed came in the finale of Haydn's G-major Quartet, Op. 64 No. 4. Lieberman is an accomplished double-bass player. But the addition of his instrument to the rapid unison scales that interrupt the theme at the start of the development section turned a moment of characteristically Haydnesque light-hearted fun into something inappropriately portentous.
Aside from that momentary misjudgement, the opening evening of the series yielded unmixed pleasure. Once again, the fifteen players participating in this mini-festival were representative of the highest standards in North American orchestral string playing. Led in the Haydn by Joan Blackman, the acting concertmaster of the Vancouver Symphony, and in the Shostakovich by Milwaukee Symphony concertmaster Frank Almond, they offered an ideal combination of chamber-musical sensitivity with ensemble precision, and even passages that present a technical challenge as single-instrument lines were carried off with brilliant aplomb by these larger forces.
Bernard Jacobson