Other Links
Editorial Board
Editor - Bill Kenny

Deputy Editor - Bob Briggs

Founder - Len Mullenger
Google Site Search
SEEN AND HEARD INTERNATIONAL OPERA REVIEW

Puccini, Turandot: Soloists, Orquesta y Coro de la Sinfónica de Galicia. Conductor: Miguel Gómez Martínez. Palacio de la Ópera de La Corunna. 18.9.2009 (JMI)

Production Palau de les Arts de Valencia.

Direction: Chen Kaige (original)
Állex Aguilera (revival)
Sets: Liu King.
Costumes: Chen Tong Xun.
Lighting: Albert Faura.

Cast:

Turandot: Lise Lindstrom.
Calaf: Marcello Giordani.
Liú: Cristina Gallardo-Domas.
Timur: Luiz-Ottavio Faria.
Ping: Giovanni Guagliardo.
Pang: Francisco José Pardo.
Pong: Mikeldi Atxalandabaso.
Altoum: Pablo Carballido.
Mandarin: Albert Feria.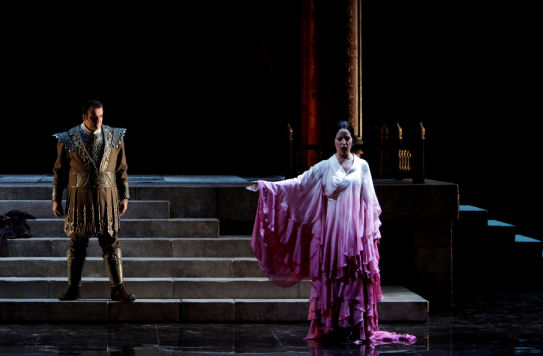 Calaf - Marcello Giordani and Turandot - Lise Lindstrom


Corunna's Opera Festival, organized by the Asociación de Amigos de la Ópera, this year reaches its 57th anniversary, making it one of the oldest in Spain. The Corunna Festival is usually short in duration, but always offers an attractive programme for opera lovers. This year it seems that popular and artistic success accompanied the Festival, since I Puritani with Celso Albelo as Arturo was a triumph, while the Leo Nucci recital a few days later (commemorating the 40th anniversary of his debut in Corunna) was a truly successful tour de force and he brought the house down. Puccini's Turandot closed the festival and it was a popular success, although not everything was at the high level I might have hoped for from them.

One of the ingredients for this opera is a spectacular production and this was not easy to achieve, taking into account the stage limitations of Corunna's Opera Palace. The production came from Valencia's Palau de les Arts and it was reviewed in January 2008 here.

Of its staging at Corunna I can only say that they had to find some ingenious solutions to accommodate the big staircase and the scene with the Three Masks was poorer than in Valencia. It was great to see the Orquesta Sinfónica de Galicia in the pit and I hope they appear here again in the future. In charge of the musical direction we had Miguel Gómez Martínez, a prominent conductor unjustly forgotten by the major opera theatres in Spain. Gómez Martinez drew excellent results from this top - flight orchestra, which is one of the very best in Spain. Although his reading was too slow during Act I and in the Masks scene, nothing could be faulted afterwards. It is unfortunate that the chorus was not as good as the orchestra, which was made clear by their problems following the baton in the Invocation to the Moon.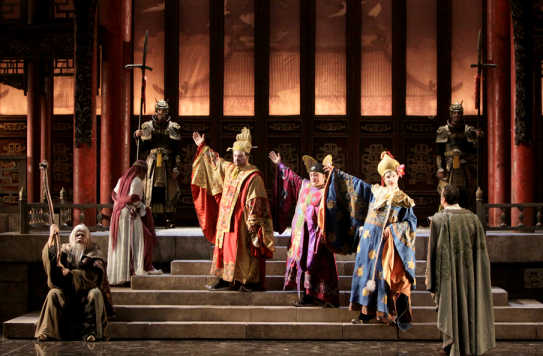 Production Shot

The vocal cast was quite attractive on paper and the final result could have disappointed only a few. To begin with the protagonist, the Ice Princess, was sung by the very convincing Lise Lindstrom. This American soprano has a simply beautiful appearance, something much demanded by opera houses these days and not always easy to find for a role such as Turandot and it is not difficult to understand why she will play Turandot at the New York Metropolitan this season. Her voice is neither particularly powerful nor outstandingly beautiful, but she coped splendidly from beginning to end with the impossible score, with very bright high notes and excellent voice projection. She is not the equal of the the great dramatic soprano Turandots of the past necessarily, but she is a very respectable and convincing singer. At times in this production, particularly in the love duet with Calaf, she looked more like a typical brunette model for the Spanish painter Julio Romero de Torres (1874 -1930) than a Chinese princess.

The Sicilian Marcello Giordani is one of the most important tenors around at the moment, and he shone as Calaf. Giordani's top notes are among the brightest and most powerful today though his middle voice has not the same quality, being rather matt, and the lower range is somewhat weak by comparison. After a not too brilliant "Non piangere Liú", he was at his very best in the riddle scene, offering a long, bright and endless high C – which should be as obligatory as it is in Trovatore's La Pira, although both are optional. Finally, his Nessun Dorma ended more brilliantly than the aria as a whole, finishing with an endless high B this time which brought the house down, exactly what you expect from a top-rank tenor.

Liú should have been Ainhoa Arteta, but her advanced pregnancy meant she had to cancel. She was replaced by the Chilean star Cristina Gallardo-Domas, who has been absent from opera stages since last February due to arthritis which happily seems to have been resolved. Her true vocal quality could be noticed here and there and particularly in some beautiful piani, but in general her voice was below her best standard. The top was rather metallic and there was some instability in the sound. Let's hope that this is just temporary.

The Brazilian bass Luiz-Ottavio Faria was a reliable Timur, better than he was as Monterone in Rigoletto at the Teatro Real last June. The weakest point in the casting lay in the choice of the secondary roles, almost all of them below par. More attention should be paid to this important aspect in the future for this production.

Among the trio of masks the best by far was the tenor Mikeldi Atxalandabaso as Pong. This tenor has become an excellent comprimario, one of the best in Spain. His colleagues were very poor howver and it is not easy to understand why anyone would go to Sicily to find such a poor Ping as Giovanni Guagliardo. The other two tenors in the cast, Altoum and Pang were also below par. The worst singing came from the Mandarin, who offered little more than noise.

The theatre was sold out and the audience showed keen enthusiasm for the performance with cheers for the singers and for Maestro Gómez Martínez.

José M Irurzun

Pictures© Alfonso Rego Lopez


Back to Top Cumulative Index Page