Other Links
Editorial Board
Editor - Bill Kenny
London Editor-Melanie Eskenazi
Founder - Len Mullenger
Google Site Search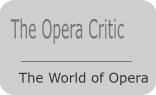 Price Comparison Web Site
SEEN AND HEARD INTERNATIONAL OPERA REVIEW
Puccini, Turandot: Soloists, Orchestra Comunitat Valenciana. Choir Generalitat Valenciana, Conductor: Zubin Mehta, Palau de les Arts de Valencia. 30. 5.2008 (JMI)
New Production.
Director: Chen Kaige
Sets: Liu King
Costumes: Chen Tong Xun
Lighting: Albert Faura

Cast:

Turandot: Maria Guleghina
Calaf: Marco Berti
Liú: Alexia Voulgaridou
Timur: Alexander Tsimbaliuk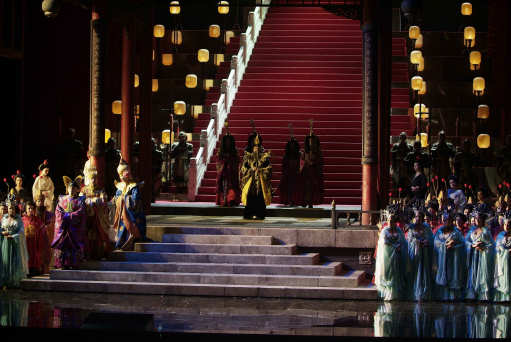 After the regular opera season ended, Valencia begins the first part of the 'Festival of the Mediterranean,' which includes opera, zarzuela, ballet and concerts. As at of the Festival's the first outing and commemorating the 150 anniversary of Puccini's birth, we were offered his last opera Turandot. Valencia always has been particularly fond of the composer from Lucca and in fact for the 75th anniversary of his death, Valencia staged all his operas, although many were given as concert versions.

This time, the Palau de les Arts ordered a new production from the Chinese film director Chen Kaige, who was making his debut directing opera. It seems that Valencia has a special predilection for cinema directors, since we also had Carlos Saura's Carmen this season. I am not sure that a Chinese director represents any great plus for Turandot, any more than I believe that a Spaniard is better at Carmen, a Catalan for Tiefland or an Andulusian for Rossini's Barber. What matters most is the quality of the production.

Chen Kaige's production achieves one fundamental requirement for this opera however, which is that it has to be spectacular, and it truly is. There were some beautiful and rich sets with a palace pagoda, with huge and impressive stairs rising from the bottom of the stage. It was interesting to see the scene of the Masks in a full and rich settinh and not taking place simply at the its front, so often happens. The last act is very similar to Nuria Espert's in Bilbao, but here there is a very quick scene change back to the palace in all its splendour, following the love duet. There were equally rich costumes with no less than four different dresses for Turandot, two of them truly magnificent, while the red dress she wore to sing "In questa Reggia" seemed more suited for a Holy Week Procession in Spain. The direction had some slightly unconvincing ideas, like presenting Emperor Altoum as a drunkard rather like Herod in Salomé. On the other hand, Turandot's appearnce among the crowd, entering the going up the huge stairs to the palace was every interesting. The mass movements were not particularly attractive, with the chorus waving little flags at the solution of the riddles. In summary, this is a spectacular production, but with less convincing pure stage direction.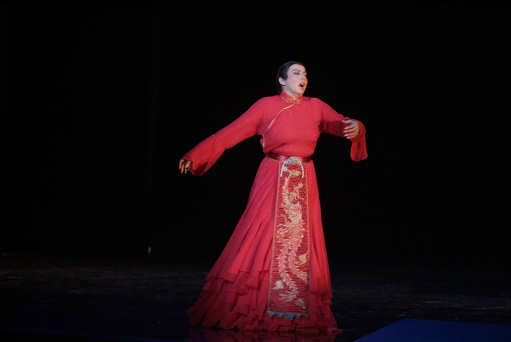 Maria Guleghina as Turandot:

Zubin Mehta gave a glittering reading of the score. The years do not seem to affect to the energy that he transmits and he is still able to excite brilliant orchestral playing and to modulate the volume of the orchestra perfectly, to support the singers. The magnificent Valencia orchestra seems to have special devotion for Mehta, and always rise to the occasion for him: the score used here was the traditional one with the Alfano's ending. The chorus was always, powerful and musical and here we had a bright yet nuanced reading of Turandot and not simply a show of decibels as in Bilbao recently. Mehta had the courtesy to stop the orchestra after Nessun Dorma but I am convinced that there are must be more intelligent ways to imitate to Toscanini.

Turandot was soprano Maria Guleghina, who made her debut in the role. She brought some interesting aspects to the role, like her appearance, far better than many others singing it, her acting ability and her beautiful voice. Somewhat less interesting was the fact that very often she does not sing full voice. She is certainly suited to the character, although there was some shouting and excess decibels when she did open up.

Marco Berti was Calaf, replacing Marcello Giordani, who cancelled for health reasons. As he did two weeks ago in Bilbao, Berti proved once more that he is one the very few tenors able to sing the role and this was very successful substitution. I contrast with his performance in Bilbao, here he did not dodge the high C, which sounded easy and bright. The rumour here is that Zubin Mehta forced him to do this, which is more than reasonable and Bilbao might care to take note of this. Berti was again rather short on the last note at the end of Nessum Dorma, just like in Bilbao, which is a pity, as I don't believe this is due to a problem with tessitura.

Greek soprano Alexia Voulgaridou returned to Valencia, after the poor impression she left me with as Micaela. She was better as Liú but a long way behind Latonia Moore in Bilbao.

Ukranian bass Alexander Tsimbaliuk was a Timur short on vocal nobility. His is a big voice, but that is not quite enough. He also missed out the high notes in the last act , perhaps because he did not feel well, although there was no announcement of indisposition.

The trio of masks did not offer anything particularly interesting in vocal terms. It was formed by Fabio Previati (Ping), Vicenç Esteve (Pang) and Roger Padullés (Pong). In Bilbao both tenors Atxalandabaso and Plazaola were better than their colleagues in Valencia. Ventseslav Anastasov was a good Mandarin, whereas Javier Agulló showed serious deficiencies at with low notes and a too small voice as the drunkard Altoum.

Another full house with ovations during the performance for Liú and Calaf. At the final bows, triumphal applause was dedicated to Zubin Mehta and the orchestra. Among the singers the most applause went to Calaf and Liú, although that is always in the script.

José M Irurzun

Pictures ©
Palau de les Arts de Valencia
Ba
ck to Top
Cumulative Index Page