Other Links
Editorial Board
Editor - Bill Kenny
Founder - Len Mullenger
Google Site Search
SEEN AND HEARD INTERNATIONAL OPERA REVIEW
Wagner, Siegfried:
(New production)
Soloists, Hamburg Philharmonic Orchestra. Conductor: Simone Young. Staatsoper Hamburg. 22.10.2009 (JPr)
Production

Director,
Claus Guth
Lighting
,
Michael Bauer
Sets and Costumes
,
Christian Schmidt.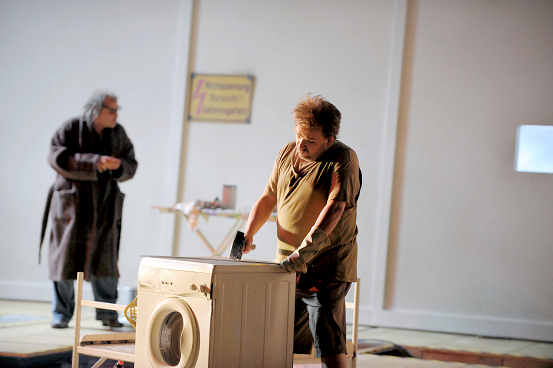 Peter Galliard as Mime (L) and Christian Franz and Siegfried


At the height of the great furore over Richard Jones's Ring Cycle at Covent Garden in the 1990s, at a public event the director responded to a question of what it was supposed to 'mean' with 'Well, what does it mean to you?' Since then – but I guess also from the first time I ever watched opera – I have wanted what I am seeing to resonate with me on some level or other; particularly with a developing Ring where there is also the hope that in the journey through the operas there will be something of 'the great idea' to be discovered.

The new Hamburg Ring has now reached Siegfried and I have yet no real idea what Claus Guth is trying to tell us. Bbut I have no intention of making that an issue because this was one of the finest Siegfrieds I have ever heard. I, intentionally, place the emphasis of my tribute on 'heard' rather than seen; Christian Schmidt's visual element rarely distracted from the performance – and in many ways enhanced it – but always without having anything much to do with Wagner's original ideas.

In March 2008 there was Das Rheingold (see review) with the action set in a doll's house showing Wotan as the tyrannical director from the Golden years of German expressionist cinema. Then about this time last year, the curtain rose for Die Walküre (review) in a setting which had only a passing reference to the Rheingold. My only thoughts then were about a reference in the programme to the Jim Carrey 1998 film 'The Truman Show' where Carrey's character's life is a fake one. What Truman Burbank assumes is his reality, turns out to be a big studio and with television cameras everywhere. The focus of the Walküre production was revealed in Act III which was set in the ruins of a bombed orphanage where the Valkyries were being brought up. Washbasins were seen and mirrors that might be two-way ones allowed others to spy on the Valkyries in a way that is similar to both 'The Truman Show' ad the TV-series 'Lost'. This was the only connection with this new Siegfried because Brünnhilde was awoken in the remains of these ruins with now only one sink to be seen. Both she and Siegfried peered into the washbasin's mirror from time to time and he would eventually plant her spear into its glass.

Regardless of where this Ring is heading, Claus Guth does achieve something remarkable in the production: he turns Siegfried – one of the most vilified characters in all opera – into a remarkably sympathetic person. Siegfried is something of a 'rite of passage' work and it is too easy to use historical hindsight and see the hero as Aryan, Germanic and blood-thirsty without any other redeeming features. Here at least, Guth makes his remorse at the murder of Fafner and his foster-father, Mime, palpable and very affecting. Christian Franz responds to Guth's ideas for Siegfried with the best acting performance I have seen him give; this 'hero' appears of uncertain age, is clumsy and petulant, but surprisingly caring and is clearly emotionally scarred by his experiences.

For Act I we are in a strange place that seems like the maintenance room of a larger building, or perhaps even a hospital of some sort. There are two metal beds, an ironing board, a washing machine, some cooking utensils, some books and the odd cuddly toy. A bespectacled Mime is in blue pyjamas and is twitchily neurotic. Siegfried is already on stage in the other bed and is dressed in grubby green vests and shorts that help to give him something of the required adolescent appearance. At one point Mime strings some washing across the stage and then attempts to use the line to threaten the Wanderer if he should get a question wrong. Siegfried returns to the stage in a knight's helmet and armour - perhaps suggesting something of Siegfried as Parsifal-to-be here. Perhaps however, I am in danger of reading more into this 'symbolism' than there really is.

The Forging Scene tests the audience's credulity more than a little. Siegfried dismantles the washing machine, grinds the bits of Nothung on the cylinder, hammers it on the casing creating very appropriate sparks and even employs an acetylene torch at one point. To stoke the fire, Siegfried burns a lot of the books that are lying around. Another symbolic action maybe, having relevance to Nazi activity in 1933?

Act II is ingeniously set in some Eastern European tiled hothouse from the first half of the twentieth century. Towards the back is a huge terrarium containing lots of tropical greenery, but with its glass broken. No Dragon is to be seen; only some dry ice, shimmering lighting and rustling of leaves but the effect is quite atmospheric and puts the emphasis clearly on Fafner's pitiful death. In the interplay between an alcoholic Alberich and Mime there is more than a hint of Waiting for Godot and for some reason the Woodbird (a shrill Ha Young Lee) is costumed similarly to Siegfried: she mirrors his movements before manipulating a large origami bird. After Mime is despatched, he ends up with a crown on his head opposite Fafner's body, each of haveing been given additional regalia from the horde.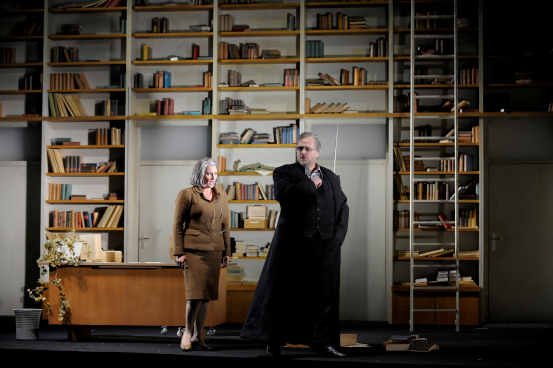 For the Erda scene at the start of Act III we are in large library with a vast number of stacked shelves. Erda appears complete with woollen suit and glasses and is very much the chief librarian in charge of all this knowledge. Quite who the Wanderer is supposed to be, with his grey hair and long dark overcoat, remains unanswered. His confrontation with a disrespectful Siegfried takes place in this library and when the spear is broken the back wall splits and books tumble to the floor. The Wanderer dismissively deposits the broken halves of his spear in a waste bin. The curtain then falls to rise again with Brünnhilde on the floor of the washroom which has three large broken windows - sliding or otherwise - towards the rear of the stage. She is shown sleeping more naturally than usual and as her breastplate is removed she rolls over onto her back so that Siegfried's 'Das is kein Mann' also seems more natural than usual. They both seem scared of each other with much to-ing and fro-ing: Siegfried stares at Brünnhilde's breasts at one point and makes as if to grope her. For most of their duet they are perversely on opposite sides of the stage but seem about to consummate their passion as the curtain falls.

It seems to me that Wagner traditionalists would be won over by Claus Guth's staging because although there is nothing obviously mythological here, it is not too 'existential' either. Instead it is intensely psychological and deeply human. The production is supported by Simone Young's incandescent conducting and the the Hamburg Philharmonic's extraordinarily strong playing. I wish audiences at Covent Garden could hear this quality of Wagner performance: it was musically an even more satisfying Siegfried than at Bayreuth under Thielemann. His account was more overtly reverential than Young's vibrant, urgent and fleet-footed sweep, all of which had exactly the right measure of freedom and dramatic purpose to match the production.

The cast has strength in some depth; I have referred to Christian Franz's Siegfried who although suffering from flu' threw himself into the role with typical physical abandon, singing with unflagging energy and attention to rhythm and style. I was impressed by the considered tenderness and nuanced expressiveness that he brought to phrases like 'So starb meine Mutter an mir?' and his quiet reflection on why he needed to forge Nothung after using it to kill Mime. Peter Galliard and Wolfgang Koch respectively, triumphed as Mime and as Wotan's nemesis Alberich. In particular, Galliard's singing perfectly captured the sneering wily nervous befuddlement of a character who is both foolish and dangerous. Diogenes Randle was an impressive Fafner and Deborah Humble was an effective Erda even thoughher mezzo voice lacked the contralto portentousness that the role ideally requires.

Falk Struckmann sang as well as I have ever heard him and brought nobility, gravitas and a sense of potent authority to the role of the Wanderer/Wotan. There was more than a hint of John Tomlinson about this portrayal, even vocally; most notably when he rolled out the word 'Wurm' when confronting Fafner.

This leaves us with Catherine Foster who sang Brünnhilde, someone who should be better known in the UK because she is a British Wagner singer of considerable potential,. She has already made a success of this role in a Ring Cycle in Weimar and repeats the success here with the impassioned intensity of her singing, her gleaming tone and her ease in surmounting music that swells with ever-increasing power. I was never convinced that she was ever a warrior maid however, since she simply showed us an uneasy, vulnerable woman experiencing human love for the first time. I assume that is what Claus Guth asked her to act and so she certainly did it well.

This Ring Cycle will conclude toward the end of next year with Götterdämmerung. What that will that be like I have no idea, but I do know I that look forward to being there to see how it all ends and whether there is indeed any 'great idea'.


Jim Pritchard

Pictures © Monika Rittershaus