Other Links
Editorial Board
Editor - Bill Kenny
London Editor-Melanie Eskenazi
Founder - Len Mullenger
Google Site Search
SEEN AND HEARD INTERNATIONAL OPERA REVIEW

Wagner, Das Rheingold: (New production) Soloists, Hamburg Philharmonic Orchestra. Conductor: Simone Young. Staatsoper Hamburg. 16.3.2008 (JPr)

Production by Claus Guth, Sets and Costumes by Christian Schmidt.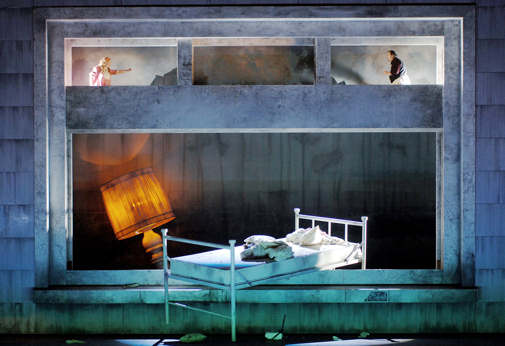 My heart sinks as soon as I see, as I did here, an essay by Udo Bermbach in a German Ring programme. Mark Berry writes in his book 'Treacherous Bonds and Laughing Fire: Politics and Religion in Wagner's Ring' how the political scientist Bermbach's approach 'seriously misrepresents not only Wagner's compositional method but also his intellectual method. It also sidelines inconvenient aspects of the drama that fails to "fit" whichever interpretation is selected … Interpretation will always court controversy, but Bermbach – and many others – simply ignore large chunks of the drama which do not suit their case, or alternatively declare irrelevant without deigning to explain why.'

At Bayreuth, the German director Claus Guth's Der fliegende Holländer was set entirely in Senta's house and there were strong hints that Senta was abused by her father, Daland: emotionally scarred, she dreamed up a fantasy lover. The Dutchman was portrayed as a version of Senta's father and she longed to be swept away from her stifling home surroundings. There was not a drop of water to be seen anywhere. Based on my experience of that production, I was not surprised to find that Guth's Das Rheingold (in sets and costumes by Christian Schmidt, as at Bayreuth) played even faster and looser with Wagner's intentions.

On this first night of a developing Ring project which will not be completed until October 2010, there were many positives that helped dispense with too many reflections as to what it all was about - assuming that it had little to do with Wagner's text. As Simone Young, music director and general manager of Hamburg State Opera has said 'For any opera house, the Ring is a "mission statement", a declaration in the power of art. It is a great challenge and a privilege to present this musical monument with my team.' The last new staging of Das Rheingold there was 16 years ago and it had 24 outings but the opera (or Vorabend) has not been seen in Hamburg for nearly ten years.

Perhaps the only heavily underscored symbolism of the whole evening was right at the beginning when the curtains opened to reveal a large (river?) bed on which the three Rhine daughters cavorted in their nightclothes. The bed seemed to be hanging out of a window and there is a large lamp standard stage-right and with a walkway above. This part of the staging seemed to suggest a doll's house or similar but then when we first see the 'gods' they seem to be in attic with Wotan, a German film director, and his special effects set, lighting and camera. Costumes are vaguely early twentieth century. When we descend to Nibelheim we are in a boiler room. So nothing is very clear yet. The 'giants' seem beer-swigging, smoking mafia-types in shiny-suits and gold chains and have probably financed Wotan's film-project and now want their payment. Erda on her appearance seems to the star of the film in dark glasses and scarf. A second moment of directorial heavy handedness has her run some 'earth' (Erde) through her fingers and then she waters a small tree that undoubtedly will grow (or not?) and feature in Die Walküre.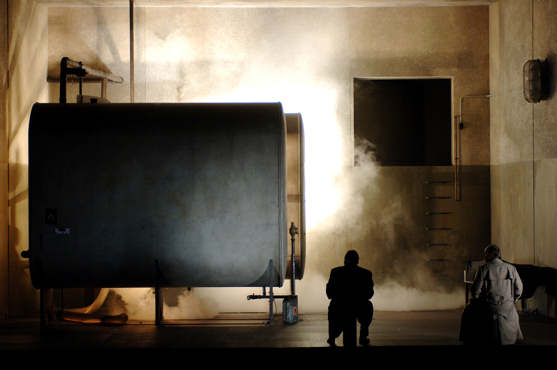 I will not give a 'blow by blow' account of what I have seen in other productions before but there was quite a lot including Loge, with slick black-hair and pencil moustache, as a magician. Here (yet again) he is complete with top hat, cane and bag of tricks including hypnotism, cards, producing scarves, roses, flames and lightning flashes. I have been told there is an intellectual argument for these borrowings from previous productions but it has never actually been explained to me what this is. As the 'story' unfolds, Alberich is in a chemical suit dealing with the weeds outside the 'window' and as he pursues the Rhine Maidens, we enter a dubious world of forbidden love which includes some over-familiar fetishism towards Wellgunde's single red sparkly shoe. Alberich curses love perversely with a sheet of twinkling silver, rather than gold, lights. In Nibelheim he is first seen in his lab-coat, the change to the 'Reisen-Wurm' is botched and relies on some clanking and steam. Later his 'Hort' and 'helles Gold' are suitcases of paper money and Freia is given a wedding veil to which money is pinned to conceal her, a tradition of the wedding ceremony for many cultures throughout the world. It all ends in a champagne reception before the 'gods' clamber up a ladder to enter Valhalla. Loge is left literally with (Fasolt's) blood on his hands and his magic seems to be deserting him as he struggles to bring the curtains to a close.

In the twenty-first century there are so many great stories to be told which current stage directors are simply avoiding. The abuse of science and religious fundamentalism are just two of them that Wagner's Ring can be suited for but it seems there is a lack of courage. Anyway it is too early to damn Guth completely although many of the booers in the audience seem already to have made up their minds. I would however, like to see much closer attention given to what the music is trying to say, particularly at big moments such as when Alberich's hands are untied or when Wotan imposes himself between the 'giants' and Donner singing about his spear: here it was standing impotently at the back of the stage. Also, towards the end, as we hear the Sword motif from Die Walküre Wotan clutches the tiny knife that Fafner used to kill Fasolt, an idea which also did the music, and Wagner, no justice. But there is still a long way to go.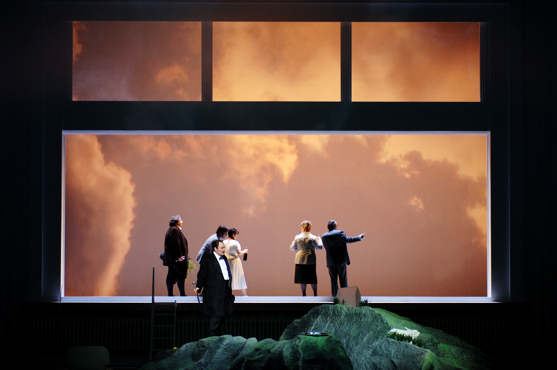 There was much deserved praise for the Australian Simone Young, her near-faultless orchestra and singers. She has conducted Ring cycles previously in Berlin and Vienna and her experience showed.

The first of 136 E flat organ pedal bar stirs in the pianissimo basses stirs, then the bassoons add a B flat, and with that immovable two-note chord, Wagner has us, regardless of what we will later see, firmly in the depths of the Rhine. Then, one after another, eight horns add his magical Rhine motif into the music. This was a wonderful moment with a darkened pit and was only spoilt by too much coughing in the audience. Throughout Simone Young gave a perfectly balanced and singer-sensitive account of the score, and she held taughtly throughout to the long line of the piece yet never flinched from outbursts of astounding intensity - regardless of what we saw happening on stage. There are German surtitles for the largely, I guess, German audience but these were superfluous as every word came over clearly and no singer was ever swamped.

Apart from one, everyone in the cast was singing their roles for the first time. For someone who worries about the future of Wagner singing, the fact that this Rheingold could be cast mostly from 'home-grown' talent at the Hamburg State Opera was a tremendous achievement. We have a wonderfully potent new Alberich in Wolfgang Koch, a fine (but almost too lyrical) Mime from Jürgen Sacher, a sparky Woglinde in Ha Young Lee. There were also secure and strongly characterized 'giants' from Tigran Matirossian (Fasolt) and Alexander Tsymbalyuk (Fafner), Katja Pieweck as a stern, nagging, Fricka and finally there was Deborah Humble's imposing Erda.

Hellen Kwon's rather more matronly Freia was a bit of disappointment and Peter Galliard's Loge will benefit from more performances as at the moment he lacks the natural insouciance of Graham Clark or Kim Begley - who had the ability to sing well and perform magic at the same time, a difficult feat at the best of times. Jan Buchwald's Donner was (as often these days) effete and unheroic and although he sang well, his bulk did not help him when he was made to clamber up onto the set within a set for his 'Heda! Heda! Hedo!'. Nevertheless, I would be happy to hear these and all the rest of the cast again and my many pronouncements about the dearth of Wagner singers were made to seem rather foolish in this context.

I leave part of my final comments to Falk Struckmann's Wotan, a role he has performed before. His character was asked to go from weary befuddlement to greater authority and a desire for power and he portrayed the transitions excellently. There were many interesting psychological nuances revealed in his voice at the start, but he achieved his full imposing stature as the evening went on. After his recent and excellent Amfortas at Covent Garden. his Wotan was splendidly acted and penetratingly sung. I look forward to seeing more of this singer and his character's journey in what appears to be an important new Ring cycle. More familiar names are coming will appear in the later operas which will ensure, I hope, that it this cycle will l continue to be memorably sung as well as conducted superbly.

Jim Pritchard

Pictures © Monika Rittershaus

Back to Top Cumulative Index Page