Other Links
Editorial Board
Editor - Bill Kenny
Founder - Len Mullenger
Google Site Search
SEEN AND HEARD UK OPERA REVIEW
Ravel, L'Heure espagnole and Puccini, Gianni Schicchi: Soloists, Chorus and Orchestra of the Royal Opera House. Conductor: Antonio Pappano. Royal Opera House, Covent Garden, London. 17.10.2009 (JPr)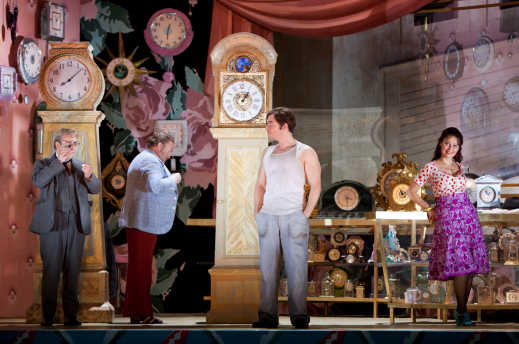 L'Heure Espagnol


Recent weeks have brought difficult times to London opera houses: English National Opera presented its misconceived new production of Turandot and at Covent Garden the audience rebelled about yet another disappointing Wagner production, as well as poor sightlines from one side of the theatre for the Wagner performances. So Covent Garden is clearly in need of some good news and here it comes in the form of a revival of Richard Jones's Ravel/Puccini double bill which I saw when it was first staged in 2007 (see review.)

Ravel's sex farce L'Heure espagnole shows the clockmaker's wife Concepcion's increasing desperation to take somebody to her bed while her husband is out dealing with the town clocks. A slightly dim-witted muleteer is on hand to ferry her prospective lovers up to her bedroom (and back down again) in large clock cases. By contrast, Puccini's one act opera is an Orton-esque satire about Italian family life in which the crafty peasant Gianni Schicchi helps a Florentine family change the will of their recently deceased wealthy relative while contriving to keep the richest pickings for himself.

Everything seems more relaxed under revival director, Elaine Kidd than it did in 2007. By not trying too hard, the direction ups the laughter quotient at the bawdy wit in the Ravel or for the all-too-familiar depiction of human avarice from Puccini and his librettist, Giovacchino Forzano. John Macfarlane and Nicky Gillibrand's designs for L'Heure espagnole take us to the more innocent age of the 1950s and the time of flowery chintz wallpaper. The predominant colour is mainly a gaudy pink and there are clocks, naturally, everywhere – a too potent reminder to Concepcion of how little time she has before her husband comes back. For Gianni Schicchi we have moved on a little from the 50s but the setting gives us a shabby sitting room setting familiar from British post-war 'kitchen sink' dramas.

On entering the Covent Garden auditorium we are confronted (or affronted?) by a curtain with a pair of breasts bulging out of a red polka dot dress which in 2007 made me think of Eric Gill's naughty seaside postcards. This was matched by a wonderfully blowsy performance by Christine Rice as Concepcion but one more Barbara Windsor than Latin, at least for me. Oh, the irony of it: Ms Rice's own 'conception' has prevented her reprising her role in this revival whilst most of the original the cast return. The enforced change actually makes the production work better because Romanian mezzo Ruxandra Donose is convincing as a sexually voracious Mediterranean vamp clearly 'on heat'. As she despairs about how her time has been wasted, her silent running back and forth with hands raised in the air is tour de force acting as are her predatory glances out into the audience, searching for any man who might accommodate her.

Back again are Bonaventura Bottone as the convincingly mousey, grey, little clockmaker Torquemada, and Yann Beuron is the scarlet-clad geeky poet suitor, Gonzalve; though his voice lacks some of the potency that his character also lacks. At one point Concepcion sings about what the futility of taking a clock to the bedroom if it is 'not straight' and tells the poet 'You have the wit but not the wherewithal' (nudge, nudge, wink, wink!). Andrew Shore is once again the solidly built randy banker Don Inigo Gomez; he sings richly and stylishly and acts with an impeccable sense of comic timing. Christopher Maltman repeats his excellent portrayal of Ramiro, the muleteer with biceps, who is fully capable of nonchalantly swinging loaded grandfather clocks onto his broad shoulder while acting with comic brio and singing with a seductively rich and supple voice.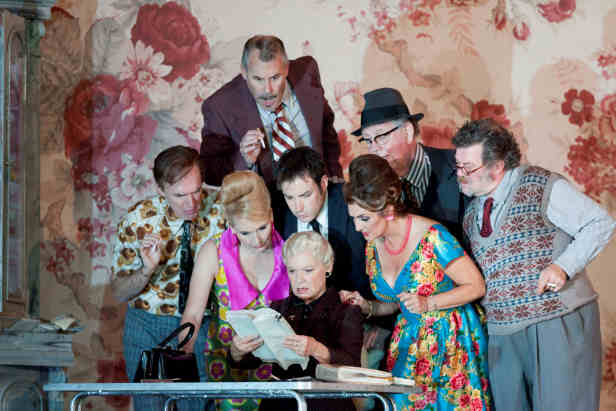 Gianni Schicci


For Gianni Schicchi the front cloth decorated with spaghetti rises to give us a real operatic slice of Italian life. Richard Jones (who was in the audience to see his revival) never wastes a note or a pause wherever the ensemble cast can react to Puccini's slyly humorous score and rarely can human greed and folly have been better observed.
Many of the original cast had returned again including Jeremy White (Betto di Signa), Marie McLaughin (La Ciesca), Elena Zilio (Zita) and Gwynne Howell, marking the fourtieth anniversary of his first appearance for Royal Opera, as Simone. New to the cast were Janis Kelly (Nella), Robert Poulton (Marco) and Alan Oke (Gherardo). All of these small roles were well sung and vividly characterised. Making her Covent Garden debut was Swedish soprano, Maria Bengtsson, as Lauretta although I thought her 'O mio babbino caro' - though dramatically effective - was slightly too under-stated and sounded a little fragile. Stephen Costello's Rinuccio is in love with Lauretta, and though acting well as an ardent youth, he seemed to find his aria 'Firenze è come un albero fiorito' a bit of a trial. Together however, the young lovers sang a mellifluous final duet.

In 2007 the ensemble had been unbalanced by the large figure – and even bigger personality - of Bryn Terfel as Gianni Schicchi. Here it was Thomas Allen singing the role for the first time at Covent Garden and making it very much his own with great attention to detail and comic energy. He also looks a better 'White van man' than Bryn Terfel. The veteran's voice now reveals a little insecurity and roughness at times but he was more than equal to his task and this was a peerless performance. It will take me a long time to forget his hilarious whistling sibilants as the deceased Buoso!

In the pit Antonio Pappano and his impeccable orchestra proved sensitive accompanists to the action on stage, although Pappano seems to linger rather too much over these scores: perhaps because of the evident affection he has for the music. The Ravel, at least to my mind, felt glossed over to sound more influenced by Debussy than the composer might have intended. Much is known about the wide variety of instruments the composer used to add a variety of colours to the music, but not enough was made of them and as a result there was little heard that sounded 'Spanish'.

Nevertheless this is a wonderfully entertaining double bill and a very welcome diversion from the myriad miseries of 21st century life.

Jim Pritchard

For information about further performances of L'Heure espagnole and Gianni Schicchi please see http://www.roh.org.uk/

Pictures © Johan Persson