Other Links
Editorial Board
Editor - Bill Kenny

Deputy Editor - Bob Briggs

Founder - Len Mullenger
Google Site Search
SEEN AND HEARD UK OPERA REVIEW
Verdi : Don Carlo (1886 Modena version):
Soloists, Chorus and Orchestra of the Royal Opera House, London. Royal Opera House, Covent Garden 15.9. 2009 (CC)
Conductor: Semyon Bychkov
Director: Nicholas Hytner
Designer: Bob Crowley
Lighting Design: Mark Henderson
Chorus Master: Renato Balsadonna
Don Carlos: Jonas Kaufmann
Elisabeth de Valois: Marina Paplovskaya
Rodrigo: Simon Keenlyside
Philip II: Ferruccio Furlanetto
Princess Eboli: Marianne Cornetti
Grand Inquisitor: John Tomlinson
Tebaldo: Pumeza Matshikiza
Carlos V: Robert Lloyd
Count of Lerma: Robert Anthony Gardiner
Countess of Aremberg: Elizabeth Woods
Vioce from Heaven: Eri Nakamura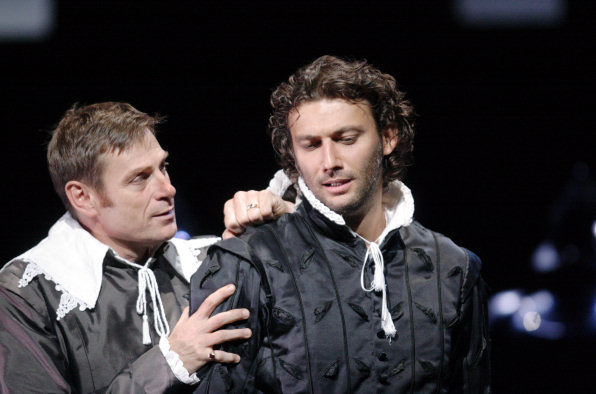 Caption Simon Keenlyside as Posa and Jonas Kauffman as Don Carlo
This is the first revival of the 2008 staging reviewed by Jim Pritchard for Seen and Heard. Cardboard cut-out trees and "health-and-safety" flames for the burning of the heretics hardly draw the audience into Verdi's fiery masterpiece (the dark scenes at the tomb or in the prison were by far the most effective, thanks especially to Mark Henderson's lighting). The job of drawing the audience into much of the piece, then, goes to the performers themselves. It is a testament to their dedication, if not uniform success, that Don Carlo emerged as one of the jewels in Verdi's crown. There was the occasional staging faux pas, too: the trees of which the ladies sing in Act I Scene 2 (a garden outside the monastery gates) were nowhere to be seen: instead we had a black wall with back-lit red squares.


Of all Verdi's well-known operas, it is Don Carlo(s) that suffers from a largest multitude of versions. The Royal Opera laudably decided to give us Verdi's last thoughts, from 1886 (the score given in Modena that year). Christopher Wintle, in an essay in the booklet entitled, "Don Carlos to Don Carlo (and back)" traces the story of the score's various transformations. The Modena version is in five acts and so includes the so-called "Fontainebleau" act.

The 2008 performances of this opera had the advantage of Antonio Pappano at the helm. This time, it was Semyon Bychkov, currently Principal Conductor of the WDR Sinfonieorchester in charge and perhaps better known in mainland Europe. The ROH orchestra played well for him and he certainly has a sure hand in the pit, interacting well with his singers. There was only one real tempo miscalculation, that for King Philip's great aria, "Ella giammai m'amò" : Bychkov seemed intent on forcing his way through, not leaving the excellent Furlanetto enough space to express his anguish, neither in the opening lines nor in the section beginning "Dormirò sol nal mento regal". The resulting superficiality seemed entirely Bychkov's fault although he seemed better in the grander moments, shepherding the choruses superbly in the auto-da-fé. His way with the drama of the preceding scene (Act III Scene 1, the meeting of Carlos and Eboli in the Queen's Gardens in Madrid) was likewise masterly, as was the co-ordination of on-stage and off-stage instrumentalists in Act 1. There were beautiful moments too – the darkening of the orchestra at the announcement that Elisabetta is to be married to the King himself rather than Carlos (therefore becoming Queen) in Act I being just one of them.

The male voices were almost uniformly excellent. This is a fairly male-dominated opera, and particular care seemed to have been invested in this aspect of the casting. Jonas Kaufmann's voice is justifiably lauded, fairly well universally, and right from his first entrance his expertise was in evidence. He acts well, his legato is magnificent and the slight edge to his burnished voice enables him to convey the ardent aspect of Carlo's character perfectly. As far as chemistry between Kaufmann and the other singers is concerned, it is perhaps telling that there was significantly more of it between him and his Rodrigo than between Carlos and Elisabetta. Marina Poplavskaya sang this and despite some lovely moments failed to portray much of its greatness. She came closest to truly living the part in the final act, where it seemed as if Kaufmann was inspiring her to give her best. Even there, though, "Tu che la vanità" lacked the stamp of authority that it so urgently needs. There was more of a spark between Kaufman and Poplavskaya in Act II Scene 2, but even there one's ear - and eye - were continually pulled to Kaufmann.

Simon Keenlyside, one of the UK's finest and most intelligent singers, took the role of Rodrigo with true confidence, bolstering up his friend in the freedom duet ("Dio, che nell'alma infondere") and truly superb in his scene with Philip (Keenlyside's pitching was preternaturally accurate here). The concentration in this latter scene was palpable. Keenlyside's aria, "Per me giunto", was a model of excellence and carefully considered projection. Ferrucio Furlanetto (who returns in June 2010 to sing Fiesco in Boccanegra) was possessed of a huge voice that he deployed with real authority although it is probably true to state that his singing carried more conviction than his stage presence.

What a privilege it was to experience Robert Lloyd in action again, here as Carlos V, his voice carrying the full weight of a world of experience. As did John Tomlinson, a magnificently physically shaky Grand Inquisitor. The duet between Tomlinson and and Furlanetto was another highlight of the evening.

As Eboli, Marianne Cornetti seemed miscast in physical terms (she looked awkward) yet delivered her "Song of the Veil" very well, with laudable vocal agility. South African soprano Pumeza Matshikiza was a splendid Tebaldo, full of energy throughout. The Voice from Heaven was beautifully sung by Eri Nakamura, a Cardiff Singer of the World finalist in 2009 and member of the Jette Parker Young Artists Programme since September 2008

The chorus operated on an axis that began at excellent and moved up to awe-inspiring. If the whole performance was not quite the sum of its parts, that is mostly down to Bychkov and some reservations about staging do not help. Even so , one must acknowledge fully that the darker side of this opera was more than honoured. It is always a privilege to experience this great work, and it would he a hard heart indeed that left the Royal Opera House unaffected.

Colin Clarke
Picture © Catherine Ashmore