Other Links
Editorial Board
Editor - Bill Kenny
London Editor-Melanie Eskenazi
Founder - Len Mullenger
Google Site Search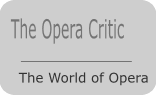 Price Comparison Web Site
SEEN AND HEARD OPERA REVIEW
Verdi, Don Carlo: New Production (Nicholas Hytner, director; Bob Crowley, designs and Mark Henderson, lighting), Soloists, chorus and orchestra of the Royal Opera House, Covent Garden. Conductor: Antonio Pappano. Royal Opera House, Covent Garden, 6.6.2008. (JPr)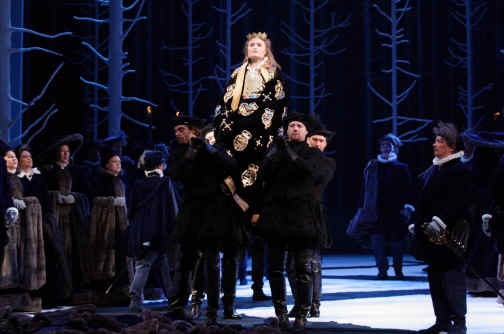 Act I


As the more than usually interesting Covent Garden programme noted at length, Verdi's 1867 Don Carlos (subsequently Don Carlo) had a chequered history involving a certain amount of neglect until the middle of the twentieth century. Using a libretto by Joseph Méry and Camille du Locle based on Schiller's 1787 dramatic poem, Verdi produced a long five-act work in French à la Meyerbeer, set in mid-sixteenth century Spain. The plot issues were basically religion and love and involved a first act preface in the forest at Fontainebleau, the San Yuste monastery cloister of Carlos V's tomb, the monastery garden, the city square in Valladolid outside the cathedral complete with a site for burning heretics, and the Queen's gardens in Madrid where women could be entertained. But there was more: the plot's tragedy was built up with other scenes in the King's gloomy study, a dark dungeon where Don Carlos is imprisoned and a return to the cloister for the denouément.

The opera was exactly as long as it sounds – and still is – and during its original 270 rehearsals it needed substantial cuts: the opening of Act I was dropped and some duets were either cut completely or were shortened. Further changes were made after the Paris première on 11th March 1867 after which the libretto was translated into Italian as Don Carlo, for further performances in Naples (1872), Milan (1884) and Modena (1886) with Verdi working on them every step of the way. Initially, he continued to concentrate on the duets but by the time the work reached Milan, the whole of Act I had been excised. There were yet further changes in Modena to produce the version now presented at Covent Garden where the shortened Act I given in Paris in 1867 and the original start of Act II are both restored. These are believed to be Verdi's last thoughts on the opera. It was only after the famous Luchino Visconti production in 1958 at Covent Garden that Don Carlo became more regularly performed and recorded, after decades of indifference.




Marina Poplavskaya as Elizabeth


Since we are dealing with a presumed masterpiece however, I am always surprised how it took seventy years to be recognised as such but then such was the fate that befell Mahler, whose works also deserve that epithet. But the tale that Don Carlo tells is still extended beyond its natural length and strangely enough in a production like this one, it is the auto-da-fé 'celebration' at the end of Act I which becomes superfluous - although perversely the crowd scenes and the humiliation of the heretics provided most of the dramatic fireworks in the whole long evening, because elsewhere the chorus is just asked to sing where it stands.

The crux of my complaint about this work however, is that the managements of our two major London opera houses are beginning to play safe with crowd-pleasing productions. Nicholas Hytner has done that with his long-running Xerxes and Magic Flute productions at ENO and has come up with a staging here that could run and run. Although Verdi and his librettists play fast and loose with historical truths there are undoubtedly some important issues in Don Carlo, relevant to the twenty-first century; King Philip II says at one point that he can bring peace to the world 'with blood' and there is the conflict with church and state - and more precisely the issue of religious fundamentalism - which indeed makes the auto-da-fé the 'heart of the opera' as Andrew Porter puts it. However, as Nicholas Hytner seemed to be concentrating on the doomed love story in this production, that scene seemed – as I hint at above – almost irrelevant. Here, Don Carlo is an unrealistic and love-sick freedom fighter and Posa the idealist, while other aspects of the story become almost over-familiar: like the 'living death' of Elizabeth, a young woman packed off to the bed of an unloved old man – anyone here think of Diana and Charles? There are also the timeless tales of a father versus son and wife versus the mistress to deal with; a lot for a director to work on before also coping with the ludicrous apparitions visiting Carlos V – what are they all about?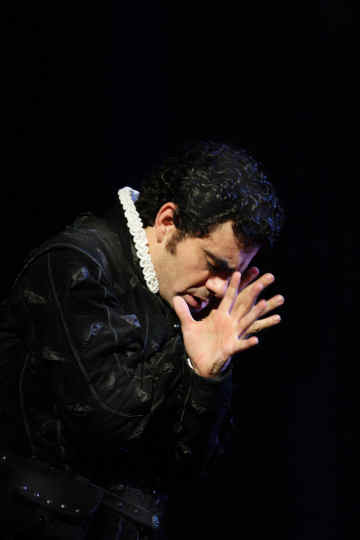 Rolando Villazón as Don Carlo


Nicholas Hytner does little else with these complex issues but recreate a standard traditional production of 'thud and blunder' Verdi, but he makes the absolute best job he can with the little money he seems to have been given to work with. Bob Crowley's sets seem to have been influenced by those for Klaus Michael Grüber's Covent Garden Parsifal with their very similar toy theatre appearance. There are cut-outs of conifer trees for Act I with a snowy carpet and zigzag path, the cloister has only impressions of columns plus a massive monument to Carlos V and nothing more, the monastery garden is represented by a long red table, the hint of a slanting wall, a large cross and bell with more 'fake' conifers and some red poppies behind.

The Queen's garden has a large cylinder of hedge stage right, with yet more conifers and the city square has the cathedral in gold at the back with the cylinder now covered by a large face of Christ, later 'illuminated' to reveal just four heretics burning on stakes with tiny 'Health and Safety' flames. Act IV has a basically a bare stage, the King's study furnished with only a table and chairs and a large gold reliquary, and Carlos's prison is completely empty. The cloister columns and the Carlos V tomb return for Act V and that's about it really. Yet saying all this ignores the important part played by Mark Henderson's atmospheric lighting slanting in through several small squares in the three walls of the set, shadows and fog often establishing a suitably claustrophobic atmosphere. The costumes, mostly blacks and reds, seem authentic for mid-sixteenth century Spain and are sumptuous: this is where most of the budget seems to have been spent, apart from the cast of course.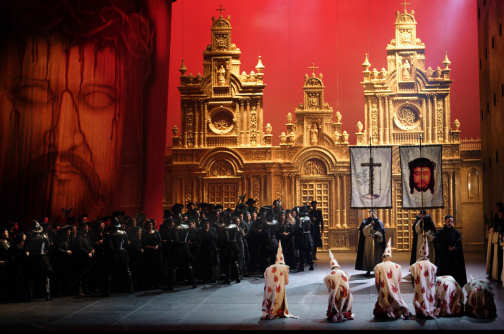 ACT III - Part II


Ferruccio Furlanetto's Philip must be one of the great operatic interpretations of the modern age. He seamlessly integrates words, music and gestures to create a believable character. He began 'Ella giammai m'amo' hand on head in reverie, moulding a fine legato and followed this up with a potent confrontation with Eric Halvarson's Grand Inquisitor whose firm, stentorian voice belied his hateful characterisation of a stooping Parkinson Disease-riddled prelate, possibly based on John Paul II. Philip's last line with the Inquisitor was exciting, both voice and words redolent with despair and bitterness as he concedes that the throne must defer to the Altar.

Simon Keenlyside was a rare British singer in a multi-national cast and was an eager, earnest and musically intelligent Posa with true Verdian style, sadly something not the case with all of his colleagues. Notably, his ardent lyricism easily eclipsed Don Carlo in their fist clenching, chest thumping duet 'Dio che nell'alma infondere' at the end of Act II.

Sonia Ganassi's Princess Eboli displayed tremendous vocal agility, secure high notes and warm chest tones. Hers was typically a larger than life Verdian mezzo villainess not far removed from Amneris. Her 'O don fatale' was one of the highlights of the evening and the equal of Agnes Baltsa, who I saw at Covent Garden in 1989.

'Senior Artist' Robert Lloyd, a former Philip for Royal Opera when I was there in 1983, had a suitably sepulchral voice as Carlos V and a number of smaller roles were well cast from Jette Parker Young Artists, although none of these were British either. Where do young British opera singers get their experience? The enhanced chorus sang powerfully throughout the evening given the limited opportunities that Verdi provides them in this opera. In Acts IV and V particularly, the piece becomes a succession of lengthy 'numbers' for the principals.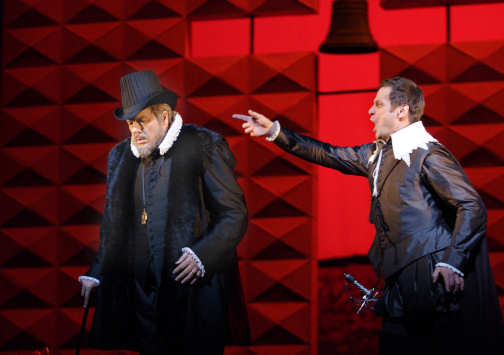 Ferruccio Furlanetto (Philip) and Simon Keenlyside (Posa)


I will be probably in a minority when I write that I was disappointed by both Rolando Villazón as Don Carlo and former Jette Parker Young Artist, Marina Poplavskaya as Elizabeth; I was not convinced by their singing much or by their acting. Poplavskaya alternated occasional moments of vocal beauty - as in her response to her compatriots who are tired of war in Act I - with unpleasant hootings from a chest voice elsewhere, which clearly suggests that she may be a more natural Eboli than Elizabeth. Her best singing though came in the Act III and IV ensembles. Throughout she was adequately regal, defiant and passionate and perhaps there is no more to do with her character, but her 'Tu che le vanità' was not the showstopper it should be for a Verdian Diva because she lacks a radiant top to her voice. Perhaps this was a case of too much too soon and something that will come together with more experience.

Rolando Villazón had a few good moments but he oversings and with such a heavy role as Don Carlo this fact must have long-term implications for his career. While I am certain that many who have not heard better will be thrilled by his singing - louder than loud throughout the evening at maximum intensity - I found it grating on the ears. From time to time he did reveal that he can sing softly however, and then he was very much better. Worst of all though, was that for me at least, his Don Carlo was never a 3D characterisation. In an overeager, almost adolescent-like fashion, he appeared to be craving love from his Elizabeth and then with his full-frontal singing, he demanded it from his audience.

Antonio Pappano is undoubtedly completely at home in this music and mostly it all flowed well. He highlighted with conspicuous detail the contrasts between the braggadocio of Don Carlo's public music and the opera's troubled undercurrents. He was supported by his exemplary orchestra with some highlights being those weird wind figures (redolent of Tristan Act III) that seem to be a motif associated with Carlo's guilty love for Elizabeth rippling through the score, and there was the wonderful cello solo for the Act IV prelude leading to Philip's monologue. Still for me, like Mr Villazón's singing, it was all a bit too loud, too insistent and in Act I particularly, there was some rhythmic flabbiness such that Pappano could have been accused of being a little over indulgent to his principal singers.

Jim Pritchard



Pictures © Catherine Ashmore

Back to Top Cumulative Index Page