Other Links
Editorial Board
Editor - Bill Kenny

Deputy Editor - Bob Briggs

Founder - Len Mullenger
Google Site Search
SEEN AND HEARD UK OPERA REVIEW

Bizet, Carmen: Soloists, Chorus and Orchestra of the Royal Opera House. Conductor: Bertrand de Billy. Royal Opera House, Covent Garden, London. 6.10.2009 (JPr)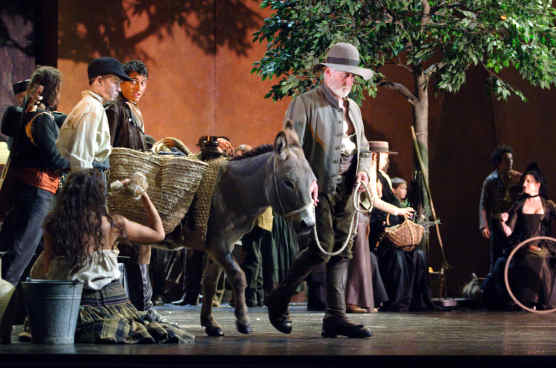 The Act I Set.
I was seeing this second revival of Francesca Zambello's 2006
Carmen
between the existential minimalism of Christof Loy's new Covent Garden
Tristan und Isolde
and the new English National Opera's
Turandot
which I understand
is
set in a Chinese Restaurant. In light of these approaches I rescind my suggestion in 2006 (
review
) that perhaps the
Carmen
audience should have been challenged more. Current opera-goers are being challenged enough and it is very good once in a while, not to have to think too much about what a production 'means'. Enjoying an evening of good tunes and good singing is actually very pleasant.
Francesca Zambello uses virtually a single ochre-coloured set (designed by Tanya McCallin) which is reassembled throughout the four Acts. Coincidentally, exactly a week before this performance I was in Ronda in Spain which was the former haunt of bull-fighting aficionados Hemingway and Orson Welles. This is where the first bullring was built in 1785 and along with most of Andalucía, the buildings are actually painted white to reflect the sun. In the light of this, it seems that Zambello and her designer are giving us a version of Spain distilled through the eyes of painters over the years and her sets serve very nicely for the square in Seville and Lilas Pastia's tavern. After the interval though, it becomes over-familiar and you begin to wonder why the mountain pass has huge doors in it: these, of course, will become the entrance to the bull-ring in Act IV. There is also a donkey and Louis the magnificent black horse returns, and I gather that there should be poultry too. But in the three performances I've seen so far, where
were
these chickens exactly? I have been looking very hard! Adding to the spectacle, there are also some abseiling smugglers and some flamenco-inspired choreography from Arthur Pita which is full of boisterous, and often bawdy, energy.
I did comment on the cluttered stage both in 2006 and when I saw it again in 2008 (
see

review
)
but perhaps my physical view from a seat slightly higher up in the theatre was the cause
then
and none of this seemed to matter now. Paule Constable's lighting seemed brighter and while some of the sun-drenched, dusty or smoky 'realism' was lost, the production seemed to be infused with more telling detail than I had recognised in it before, right from the beginning. The cigarette girls were washing or playing with the water from the trough and, of course, the children gambolled about, playing games or mimicking the soldiers. Carmen herself gives a rival cigarette girl a hard stare after her Act I entry clearly setting the mood up for their later fight and what she does to put scent on a flower before throwing it at Don José can't be described in print without making it seem indecent : the idea behind the action of course!
There's more. Still in Act I, Don José surreptitiously returns the money Micaëla brings him from his mother to her bag and there were many illuminating moments like this throughout the evening. At the end of Act II even
in
all the melée we can see Don José put the ring that she will eventually throw back at him in Act IV on Carmen's finger. This vivid story-telling was matched by a commendably energised performances – dramatically and vocally - by everyone involved, the principals, the chorus and the children.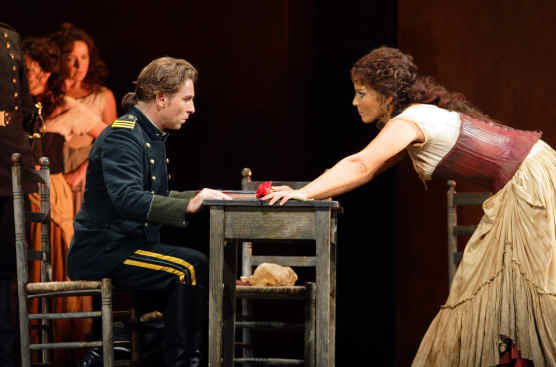 Roberto Alagna as Don José and Elīna Garanča as Carmen
Although the smaller roles were not cast as strongly perhaps as they might have been, Henry Waddington was a suitably bluff Zuniga and Eri Nakamura proved a vivacious Frasquita. Ildebrando D'Archangelo returned to the role of Escamillo that he sang in 2006. He still looks and sounds as if he is scared-stiff about being on the back of his horse for his Act II entry but once he has dismounted he throws himself spiritedly through the swaggering bull-fighting demonstration in his 'Toreador song'. Sadly, after the fight in Act III his voice sounds a bit tired. Escamillo doesn't seem to be a role that up-and-coming bass-baritones aspire to these days and, despite some good efforts in the past, Covent Garden has not seen an outstanding toreador for some time. Liping Zhang's initial rather gawky, innocent, fragile appeal as Micaëla was diluted by a certain emotional blandness in putting across her Act III aria ('Je dis que rien ne m'épouvante') despite her voice's basic elegant tonal beauty.
Roberto Alagna and Elīna Garanča are a great pairing as Carmen and Don José and they both portray their characters' flaws very well. Don José is a 'do it by the book' Corporal who begins as a straight-backed, mother-fixated, virgin who despite his infatuation for the gypsy girl, intends to do his duty and return to the army until fate – in the form of Zuniga – arrives at the tavern and he deserts. Then there is a very effective descent into the madness of jealousy for the opera's fatal denouement. Alagna - who has sung throughout the evening with a forthright steely sound and volume rarely heard these days at Covent Garden - banishes all thoughts that he is just another 'can belto' lyric tenor and reinvents himself to bring the opera to its conclusion with all the pathos and vocal authority of an Otello mourning over his Desdemona when cradeling the murdered Carmen in his arms. Strangely, the less successful part of the evening for him was his great aria ('La fleur que tu m'avais jetée') which, though quite plangent, revealed a slight beat in his voice.
Alagna's Don José is well known but Elīna Garanča has not sung Carmen very much. She is a revelation in the role. Tall, long-limbed, lithe and beautiful, she lifts her skirts and splays her legs at every opportunity; a real man-eater, full of sexual magnetism. She also fights realistically, dances very well and plays a mean tambourine, as well as a soldier's behind when she sits astride him at one point. Garanča has a full, rich mezzo sound and the one word 'L'amour' in Act II encapsulates her whole performance: it was redolent with so much hidden sexual promise that any man (or woman) could not fail to comprehend it. This feisty Carmen embraces her fickleness, confirms her love for Escamillo at the end and faces death proudly.
There wasn't too much subtlety from Bertrand de Billy and his orchestra: they did not have the time for it because the overture set off at a significantly quick tempo and he never let the pace slacken throughout the opera. This
Carmen
was full of life and colour although it had a distinctly Gallic-flavour and was about as Spanish as
The Tales of Hoffmann
sounds German.
Despite some slight evidence of a drop in quality in this revival's staging (no chickens yet again!) the production remains one of which Covent Garden should be proud. It's the perfect antidote for anyone still suffering from a bout of the recent
Tristanitis
.
Jim Pritchard
Pictures © Catherine Ashmore