Other Links
Editorial Board
Editor - Bill Kenny
London Editor-Melanie Eskenazi
Founder - Len Mullenger
Google Site Search
SEEN AND HEARD OPERA REVIEW

Bizet, Carmen: various soloists, The Royal Opera Chorus and Orchestra. Conductor: Daniel Oren. Royal Opera House, Covent Garden. 25.3.2008 (JPr)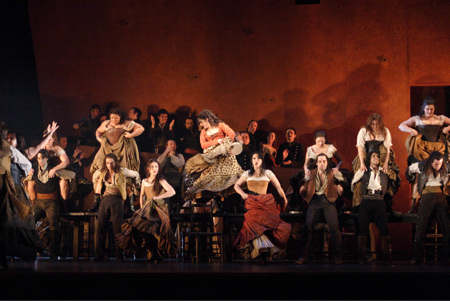 Act II Ensemble

Continuity is a wonderful thing. When I looked back at what I wrote in December 2006 when Francesca Zambello's production was first staged, I began: A chicken, a donkey and a beautiful black stallion … what no bull? Well quite a lot actually. Raymond Gubbay's 'in-the-round' crowd-pleasing extravaganzas at the Royal Albert Hall have had quite an affect on Covent Garden, its three most recent new productions of repertory fare, Faust, Tosca, and now, Carmen have tried to bring some of that 'spectacle' to the Royal Opera House stage. No expense spared, never have one extra chorus member or actor when you can have two; allow the eye and ear (plus possibly baser instincts) to be engaged but never the brain which might as well have been checked in at the cloakroom along with the bags of Christmas shopping.

I still stand by that for the most part yet I found the use of Tanya McCallin's single ochre-coloured set even more ingenious this second time. It presents the Act I town square (wasn't that orange tree in the centre a little greener last time?), the Act III smugglers' encampment and the Act IV scene outside the bullring in Seville. It is less successful at showing us Lillas Pastia's tavern, although it does allow Escamillo his entry on Louis the horse.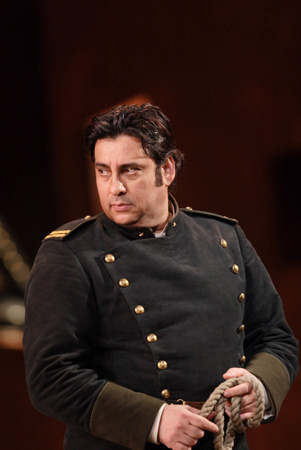 Marcelo Álvarez - Don José

At times the set becomes all too over-populated. The Act I Choeur des gamins could do with a few of the over-eager urchins being sent off to the BBC TV show to audition for Oliver and everyone loitering in the Square could hardlyhave failed to overhear Carmen's seduction of Don José and their 'secret' plan for her escape. The foot-stamping, whooping and seemingly authentic Flamenco dancers lent much authenticity to the 'tavern' scene - everyone else did to the claustrophobic one in the mountain pass - yet why at moments of dramatic confrontation must the eye be distracted by a couple of extras abseiling down the side walls? The Act IV procession to the bullfight is still spoilt by a Billy Elliot-wannabe being thrown about and then somersaulting across the front of the stage trying to illicit 'oohs' and 'aahs' from the audience - and failing - because most watching knew something more serious was about to happen. What about the animals? Well to make it worthwhile for them, after the donkey's appearance in the opening scen, it turned up again in Act III and Carmen rode in to her fate on Escamillo's horse in the last act. As for the chicken - I seem not to have seen it this time.




Nacy Fabiola Herrera - Carmen


What was illuminating in a recent broadcast from The Met of Manon Lescaut

(even in the umpteenth revival of an old production) was how much each individual chorus member and extra was given their own individual part to play in the ensemble drama. Here at Covent Garden, unless they had nothing better to do, they stood stock-still and many of the crowd scenes lacked performance 'energy' - or was it just lack of rehearsal time? This inertia also extended to the chorus singing by the chorus who I have heard on more emphatic form in the past. It was clear that when all the supernumeraries left the proceedings to two or maybe three principals (Don José and Micaëla, Carmen and Don José, Carmen and Escamillo etc) the drama was much better and more concentrated - perhaps Ms Zambello does not trust in the length of her audience's concentration span?

Thankfully the PC-brigade hasn't had time to catch up with for this opera yet for such lines (in translation) as 'We watch the fragrant smoke rise in the air' when the women come out of the factory for a ciggie break. Also what about Escamillo's 'Tell me your name so next time I kill a bull I shall speak it'. Alright, I do know bullfighting is an EU-protected activity, but even so?

We had a Carmen and Don José who had recently sung these same roles together at The Met. Since both were latins, the former Spanish and the later Argentinian, then I am sure the passion and jealously required was indeed in their blood and did not have to be taught to them, as hinted at by Marcelo Álvarez in his recent interview with me . But, though the costumes were undoubtedly Goyaesque when Álvarez and others had their Cordobés hats on, they seemed closer to the Gauchos of the tenor's homeland than to Seville.

One of the world's new Carmens, Nancy Fabiola Herrera, is a genuine mezzo-soprano and has vocally exactly the range of voice required for the role, very reminiscent of Agnes Baltsa, whom I saw a couple of times in the 1980s as Carmen at Covent Garden. Perhaps on this first night she was just a little reticent; flirty and flighty rather than a feral sensual animal. There certainly was little bare flesh to be seen and when she concealed Don José's head under her skirt in Act II it seemed all in good fun and only mildly sexual. To her credit though, she played the castanets very well, danced alluringly and made the audience care about her demise in the end. When she cried out 'Jamais Carmen ne cédera! Libre elle est née et libre elle mourra!' ('No, no! Carmen will not give way! Free she is born and free she dies!') it had exactly the right climactic emotional impact.

Her Don José, Marcelo Álvarez, is a very popular singer at Covent Garden and there is every reason to hear why, once he starts to sing. He had an announcement made for him before the performance because he was a little under the weather, but it did not seem to affect his voice unduly: he appeared to be taking sips of water and wiping his nose from time to time and that was it really. Initially, did worry that he would be singing everything at forte but he revealed well-controlled pianissimos in duet with Micaëla and excellent breath control in his heart-felt Act II aria. He was a bit of a doe-eyed booby in Act I with none of the angst of the innocent Corporal still trying to shake off former life of a priest, but when he got angry, wanting to slap Carmen, it seemed very natural, as it did in Act III when he kissed her, before wiping the taste away and sneeringly dismissing her. If ever Covent Garden gets to see his Otello, that seems likely to be the role he was born to sing.

I am in danger of getting boring about this, I know but the casting of the smaller roles was more troublesome: there was only one Jette Parker Young Artist singer or graduate among them all. Surely in an ensemble work like this , more use could be made of 'home grown' talent. I do not mean only British singers here but, yes, a fair mix of those plus some of the 'Young Artists'. Going to the opera is nowadays like going to a Premier League football match and trying to pronounce the players' names.

Even so, Jacques Imbrailo from the Jette Parker scheme was a notable Moralès, Elena Xanthoudakis repeated her perky Frasquita, Jana Sýkorová has sung Carmen herself and that could be heard in her appealing Mercédès. The smugglers Roderick Earle and Harry Nicoll were rather insignificant and since they are both Royal Opera veterans, saying this might go slightly against my request for a 'home' team. My argument remains however, that I want these roles to give experience to younger talent.

Susan Gritton did not seem vocally entirely at ease as Micaëla with one mishap during her Act III aria but she had the gamine quality and naiveté important for her character. Kyle Ketelsen's Escamillo had all the good looks and swaggering braggadocio necessary and he sat well on his horse too. But where was the voice necessary for 'Toreador, en garde!' : perhaps no one has the élan to make magic with this any more.

Overall, what we were given here was a straight-forward old-fashioned night at the opera of the sort I believed long-relegated to fond memory, at least in this country. Basically this was straight-forward story-telling, against a nothing-held-back highly-charged verismo account of the score from the extremely competent Israeli conductor Daniel Oren and his orchestra who were on top form (even better than with Pappano in this work) matched with broad acting and loud singing. This was actually the 512th performance of Carmen at Covent Garden and that large total is the record-holder here so it must be doing something right. I realised I had barely breathed during Álvarez's exquisite rendition of Don José's 'La fleur que tu m'avais jetée' and when he confronted, hesitated and finally despatched Carmen this too suggested I would be coming back for more sometime. By which I mean more grand opera.

Jim Pritchard


Photographs © Catherine Ashmore



Back to Top Cumulative Index Page