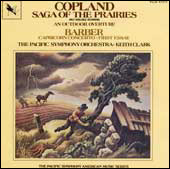 Keith Clark / Pacific Symphony Orchestra (Varese Sarabande VCD 47211, coupled with works by Barber and Copland. Out of print. This recording was also available on LP as Andante digital AD72402, coupled with Harris, Symphony No. 6, "Gettysburg.")
I tracked down this extremely rare CD containing David Porter's reconstruction/realization of the Overture from the Third Orchestral set. To be honest, it's not very good. The music meanders and then stops. It's pretty much an anti-climax. Incidentally, since the recording has been made, Porter has asked that the work be withdrawn.
On a brighter note, Porter's reconstruction/realization of Ives' Emerson Concerto is quite a piece of work. And it recently received its premiere recording by James Sinclair and the National Symphony Orchestra of Ireland. Check it out.