Other Links
Editorial Board
UK

Editor

s

- Roger Jones and John Quinn

Editors for The Americas - Bruce Hodges and Jonathan Spencer Jones

European Editors - Bettina Mara and Jens F Laurson

Consulting Editor - Bill Kenny

Assistant Webmaster -Stan Metzger

Founder - Len Mullenger
Google Site Search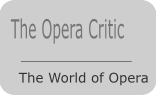 SEEN AND HEARD UK CONCERT REVIEW

Bernard Herrmann, Elena Firsova and Mozart: Anatole Liebermann (cello), St Paul's Sinfonia, Andrew Morley, St Alfege, Greenwich, London, 18.2.2011 (BBr)

Bernard Herrmann: Aubade (1933/1975) (reconstructed by Andrew Morley)
Elena Firsova: Cello Concerto No.4, Concerto–Elegy (2008) (world première)
Mozart - Symphony No.41 in C, Jupiter, K551 (1788)

Much as I admire and respect Bernard Herrmann's film music, I have trouble with his concert music. It seems to me that he really needed visual stimulus to bring out the best in his music. Here is a case in point. Aubade was written in 1933 then, slightly revised, it was heard again in 1938. Thereafter it languished until 1975 when Herrmann looked at it again and revised and re–orchestrated it, changing the name to Silent Noon. This performance was credited as being reconstructed by tonight's conductor but we were neither told what Morley had done nor if we were hearing an early or late version of the piece. Herrmann was an Anglophile – he lived the last 14 years of his life in England and wrote an opera based on Emily Bronte's novel Wuthering Heights – and this work could easily be mistaken for a piece from the English Musical Renaissance. There was also a strong flavour of Honegger's Pastorale d'été and the muted string writing could, at times, have been Delius. There was an amount of Herrmann in there but his personality wasn't as strong as those of his "helpers". A beautiful piece nonetheless, but one which, I doubt, would stand up to repeated hearings.

Elena Firsova is one of the most understated composers I know. She has a lot to say but never takes longer than is necessary to say it. Tonight's new work was just such a piece. Taking as its starting point a solo cello piece written on the day of Rostropovich's funeral Firsova has created a work of controlled emotion, based round delicate musings for the soloist and passionate outbursts from the small orchestra. The music seems to express revulsion over death, but its tone, at times, is of the "Do not go gentle" type, as the music rails for the loss of a great man. The coda displayed a masterstroke, a funeral march utilising col legno strings; a sound from another world. The writing for cello was very grateful and the orchestra was used with restraint, especially the small percussion section. Anatole Liebermann gave the première of Firsova's First Cello Concerto in 1975 and the composer has said that this new work is, "a kind of a recapitulation of our creative collaboration"; it was a fine meeting of old friends.

Morley's performance of Mozart's last Symphony was fabulous. This work has always seemed to me to be a tragedy of gigantic proportions, despite being in the bright key of C major. Morley understood this. The first movement set off with a strong sense of purpose and Morley stuck to his tempo without variation. Here was drama and tension, but still there was room for contrast between the various sections. The slow movement was steady and marvellously unsentimental, the only blemish of the whole performance being the too romantic rallentando at the end of this movement. The minuet was slightly charmless, which gave it a wretched aspect and the great finale crowned the work perfectly, the high jinks magnificently realised but never losing sight of the stresses and strains which fill this great work. Morley's insight into this work was miraculous, especially for one so young; but we mustn't forget that, in the grand scheme of things, Mozart was still a young man when he wrote the piece, and, to make the performance perfect, Morley took every repeat, including the second one in the finale. Marvellous stuff and a truly memorable evening.

Bob Briggs