Other Links
Editorial Board
UK

Editor

s

- Roger Jones and John Quinn

Editors for The Americas - Bruce Hodges and Jonathan Spencer Jones

European Editors - Bettina Mara and Jens F Laurson

Consulting Editor - Bill Kenny

Assistant Webmaster -Stan Metzger

Founder - Len Mullenger
Google Site Search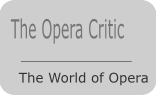 SEEN AND HEARD INTERNATIONAL CONCERT REVIEW


Telemann, Brahms, Beaser, and Berlioz: Pinchas Zukerman (leader and viola), Gerard Schwarz (conductor), Seattle Symphony, Benaroya Hall, Seattle, 17.2.2011 (BJ)
Most of the participants in the series of commissions currently saluting music director Gerard Schwarz's farewell season have been content to make a joyful noise and leave it at that. Robert Beaser, Boston born and now 56, had a very different idea.
As its title would presage, Ground 0, premiered to begin the second half of this concert, is an uncompromisingly serious piece. Confronting inhumanity with a poignantly human response in six short minutes, it ranks near the top among the tributes the Gund/Simonyi commissioning project has brought us in its ratio of genuine musical content to time occupied. From the mysterious opening tintinnabulations, through a spine-tingling climax and a return to the near-silence in which it began, I found it enthralling, and I hope its origin as an occasional piece will not prevent its being heard again many times in many places.
The evening began and ended with the spotlight on Pinchas Zukerman, first as violist and leader, and then just as solo violist. He is a wonderful musician, and his account of the solo part in Berlioz's Harold in Italy was a triumph and a redemption.
I say "redemption" because there is little good to be said about the foggily romanticized approximation of Telemann's Viola Concerto he led. His tone was heavily overladen with vibrato, and some of the playing he drew from the orchestral strings was slovenly. Taking over as conductor for the performance of Brahms's Second Serenade, Gerard Schwarz didn't at first quite manage to extricate his orchestra from a slough of muddy sonorities, but from the delightful scherzo onward, matters improved, and by the end of the concluding rondo—its skirling piccolo excursions dispatched with relish by Zartouhi Dombourian-Eby—the Seattle Symphony had reestablished its customary level of skill and artistry.
With Harold in Italy Zukerman, too, was back at his best. He phrased the succulent theme of the slow introduction with due eloquence yet no trace of exaggeration. From this opening, through the serpentine melodic twists of the "Pilgrims' March" and the picturesque meanderings of the "Abruzzi Mountaineer's Serenade to his Beloved," to the rip-roaring high jinks of the final "Orgy of the Brigands," soloist and orchestra alike played with tireless zest and whiplash precision. In its melodic, rhythmic, and sonic demands, Berlioz's brilliantly inventive if eccentrically designed symphony-with-viola offers a gifted soloist perhaps the finest opportunity the instrument has ever been accorded for sumptuous, expressive, and delicately shaded playing, and Zukerman seized it to memorable effect.
Bernard Jacobson
This review appeared also in the Seattle Times.