Other Links
Editorial Board
UK

Editor

s

- Roger Jones and John Quinn

Editors for The Americas - Bruce Hodges and Jonathan Spencer Jones

European Editors - Bettina Mara and Jens F Laurson

Consulting Editor - Bill Kenny

Assistant Webmaster -Stan Metzger

Founder - Len Mullenger
Google Site Search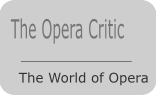 SEEN AND HEARD UK CONCERT REVIEW


Beethoven, Shostakovich: Zehetmair Quartet, Wigmore Hall. 13.2.2011 (GD)

Beethoven: String Quartet in C sharp minor Op. 131
Shostakovich: String Quartet in E flat minor Op. 144
The Zehetmair Quartet was founded in 1994 by Thomas Zehetmair, the eminent Austrian violinist. It has been noted in previous reviews that Zehetmair's contributions are very much to the fore, but tonight the quartety played as an integrated ensemble of equals. They are very much a modern ensemble inasmuch as their overall tone is very clean and precise with an absolute minimum of vibrato and older discarded performing habits. All this was very much in evidence tonight. The opening C sharp minor meditative fugue of Beethoven's Op. 131 was a model of contrapuntal clarity. This opening fugue is of great importance as it provides a tonal summation of the work as a whole. The work's tonal scheme of contrasts, mostly between C sharp minor and D major, were well voiced and well coordinated with the other tonal registers, as remote from the home tonic as B minor and E major. The opening arco figure on violin was replete with a very strong accent on the descending phrase. I have consulted at least three editions of the score and they all produced Beethoven' marking of a simple descending phrase with no particular accented emphasis. I have also listened to fine modern recordings from the likes of the Takacs and Emerson Quartets and they observe the composer's instructions faithfully, as is also the case with the vintage Busch Quartet recording from 1936. I go into some detail here as this mannerism, despite some fine playing, disrupted the haunted minor key flow and integrity of this unique statement. The seven following movements, without a break, cohered quite well, although I missed that sense of protean diversity and contrast found in the versions mentioned above. And the adagio, ma non troppo e semplice of the final movement in this sequence lacked the sense of discovery and mystery so magically conveyed by the Busch Quartet.
The following presto, really a kind of fantastic scherzo, was adequately conveyed but lacked that almost bizarre mercurial quality based on a range of daring rhythmic contrasts, and heard splendidly in the Emerson's version. This was surprising as I would have thought that this most extrovert movement would have suited the Zehetmair's virtuoso reputation to their best advantage. The brief but trenchant G sharp minor Adagio was shaped with great tonal finesse, and the rhythmic thrust of the bi-thematic finale ( back in C sharp minor) was well managed, even if I did miss that sense of sustained power and energy - a terse peroration of the dialectics of sonata form - just before the coda, and in the abrubtly powerful coda itself.
Shostakovich's last string quartet, like his last symphony (also numbered as his Fiftteenth) is among his most enigmatic compositions. The quartet is full of cryptic references:/allusions to Russian folk themes; Bach; Schubert; and an actual quote from Beethoven's Funeral March movement from his A flat Piano Sonata Op. 26. But unlike the symphony, which abounds in parodied humour, this work is predominantly bleak and brooding.Tonight's programme note writer, David Fanning, aptly descrbes it as 'an awesomely depressed and depressing work, whose only consolation, perhaps, is in showing that it is possible to stare into the void without being engulfed by it'. And, in contrast to that rather Nietzschean image, the work has also been compared to the bleak, desolate imagery of Samuel Beckett.
It was apt that this work was played after Beethoven's Opus 131, as in form at least there there are plenty of analogies and cross-overs. Both works open with a minor key, haunting, fugal slow movement, and both continue with a set of related movements; Shostakovich's work is replete with titles, which are more allusions to a particular mood; 'Serenade', 'Intermezzo', 'Nocturne', 'Funeral March', 'Epilogue'. In the 'Epilogue' we hear ghostly reverberations of themes from the preceding movements, especially the long opening 'Elegy'. Tonight the Zehetmair excelled themselves, traversing this huge tonal narrative as single arch -like structure, as it were, but also revealing the works many subtle contrasts - contrasts not so much in mood, as in form and structure, as in the sudden overlapping crescendos and pizzicato intrusions, 'guitars plucked by skeleton fingers', of the Serenade. All this staggeringly brooding, intense music was wonderfully sustained tonight with a beautiful and despairing note of harmonic fragmentation in the lament which intones the concluding Epilogue with its two-note oscillating figure, and ghostly traces of Russian folk themes, fading into silence.
Geoff Diggines