Other Links
Editorial Board
UK

Editor

s

- Roger Jones and John Quinn

Editors for The Americas - Bruce Hodges and Jonathan Spencer Jones

European Editors - Bettina Mara and Jens F Laurson

Consulting Editor - Bill Kenny

Assistant Webmaster -Stan Metzger

Founder - Len Mullenger
Google Site Search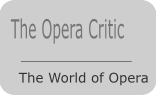 SEEN AND HEARD UK CONCERT REVIEW

Wiren, Finzi, Lilburn, Tchaikovsky, Piazzolla: Sophie Mather (violin), Vale Royal String Orchestra, Louise Latham (conductor), Frodsham Community Centre, Frodsham, Cheshire. 18.2.2011. (RB)

Dag Wiren Serenade for strings
Gerald Finzi Romance
Douglas Lilburn Diversions for strings
Pyotr Ilyich Tchaikovsky Andante Cantabile;
Astor Piazzolla The Four Seasons of Buenos Aires
This was the first of two identical concerts by the Vale Royal String Orchestra. Each piece was introduced by the orchestra's engagingly enthusiastic conductor, Louise Latham, who made few assumptions about the audience's prior knowledge of these composers. Just as well in my case. I had no idea, for example, that the bandoneon was a German manufacturing speciality.
The orchestra of experienced amateurs took a while to warm up and there was some queasy intonation, especially in the Wirén and Finzi. That allowance being made, they made hay with the intricate witchery, rustic skirls and upbeat buoyancy of the Wirén. It was glorious to hear this piece played live. I cannot recall ever seeing it programmed in a concert. Then came the Finzi which, with its slowly unfolding and understated pastoral ecstasy, made a telling impact. Whatever flaws there may have been in the performance we need to remember that this work, along with many of his others, was first performed by Finzi's Newbury String Players – another amateur ensemble.
I have known the Lilburn piece for many years from the LP recording by Schola Musica conducted by Ashley Heenan (reissued on Kiwi SCD 8004.) Its five episodes are varied and Lilburn's debt to Sibelius is much to the fore – symphonies 4 and 6 – as well as to the lighter Prokofiev. The Tchaikovsky Andante Cantabile played out the first part of the concert in honeyed calm and Slavonic soulfulness. All the instruments were muted for the Tchaikovsky.
We will hear more of the truly brilliant violinist Sophie Mather who is a pupil of Clio Gould at the Royal Academy of Music. She performed the quartet of Piazzolla movements entitled The Four Seasons of Buenos Aires in the vivid arrangement by Leonid Desyatnikov. His 1999 arrangement expanded the original scoring for five instruments (violin, piano, electric guitar, double-bass and bandoneon). The music is transformed into a dynamic and sexy phantasmagoria lit with high gain neon and splashes of Vivaldian seasonal spice. It's the equivalent of what Rodion Shchedrin did to Bizet's Carmen. Mather put not a foot wrong and her dazzling volatility also spread to the orchestra. They were now sportingly decked out in bandanas and scarves to add just a suggestion of Argentinean authenticity. The video recording being made of the whole concert might well be a collectors artefact in years to come when Mather meets her destiny as a internationally high profile player. Her spot-on attention to rhythm, full-lipped Korngold-like tone, seductive tonal allure and guttural attack left us under no illusion about her bright future. If it doesn't happen it will be down to reasons that have nothing to do with music.
I am not sure why the programme referred to Piazzolla as 'Anton' rather than Astor but that's a small quibble against such enterprise.
I hope that Louise Latham and her orchestra will keep up the good work and continue to ensure her programmes kick over convention and freshen the repertoire. This is the way to enthuse audiences and also to stir CD listeners like yours truly out of their home-listening torpor.
The concert was well attended - some 200 - though there were some empty seats. The repeat performance takes place on 27 February 2011 at Vale Royal Abbey, Whitegate, Northwich, Cheshire.
Rob Barnett