Other Links
Editorial Board
UK

Editor

s

- Roger Jones and John Quinn

Editors for The Americas - Bruce Hodges and Jonathan Spencer Jones

European Editors - Bettina Mara and Jens F Laurson

Consulting Editor - Bill Kenny

Assistant Webmaster -Stan Metzger

Founder - Len Mullenger
Google Site Search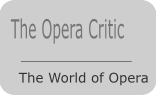 SEEN AND HEARD INTERNATIONAL CONCERT REVIEW


Mozart: Mitsuko Uchida (piano and conductor), Chicago Symphony Orchestra, Symphony Center, Chicago 28.1.2011 (JLZ)

Wolfgang Amadeus Mozart: Piano Concerto No. 11, K. 413
Wolfgang Amadeus Mozart: Divertimento in B-flat Major, K. 137
Wolfgang Amadeus Mozart: Piano Concerto No. 21, K. 467
Mitsuko Uchida's return engagement with the Chicago Symphony Orchestra brought this consummate soloist to the podium as well, leading two Mozart piano concertos (Nos. 11 and 21) from the keyboard. While Uchida has done this in previous seasons, the present concerts reflect a more mature rapport with the Chicago Symphony, along with an intensive reconsideration of both works.
Not one to beat time prosaically, Uchida's movements suggested something of the pianist's approach to the keyboard. Her sometimes figurative gestures created a fine result: the phrasing and tone color had the delicacy of period-instrument ideals, but within the context of a modern symphony orchestra. And when Uchida's hands returned to the keyboard, the result was similar, as the solo lines flowed and intersected—effortlessly and seamlessly—with the orchestra.
In No. 11, Uchida's interpretation highlighted the first movement's conventional formal structure to good effect. In contrast, the second movement had an improvisatory quality, with Uchida using an effective, lingering approach, and in the final movement, the more extroverted music brought a satisfying conclusion. With her sensitivity and careful phrasing, Uchida evoked some aspects of Bach's models, while eloquently allowing Mozart's distinctive voice to emerge.
Uchida was similarly effective in her interpretation of No. 21, a popular work with modern audiences, some of whom may recall the work's middle movement from the film Elvira Madigan. As familiar as this Concerto is, Uchida made it seem fresh and exciting, tossing some of the more florid lines with ease and style. The first movement conveyed the appropriate crispness, with clean entrances and balanced tone. Yet the familiar second movement had an elegant lyricism from both the soloist and her colleagues. The result gave the sense of a single composite instrument, rather than a keyboard juxtaposed with orchestra. At the end of the movement, the audience silence was testimony to Uchida's command, helping her move easily into the Finale. Here Uchida brought out details that set this performance apart, as in the central dialogue between the keyboard and woodwinds. It was a virtuosic performance.
The concert also included a fine reading of Mozart's Divertimento, K. 137, a three-movement work that—perhaps surprisingly—had its CSO premiere this weekend. Performed without a nominal conductor, the ensemble was led by concertmaster Robert Chen, whose leadership brought a chamber music sensibility. Like the integrated sound brought to the concertos, the strings were sensitive to phrasing and voicing here as well, creating a consistent sound for the evening—one of the more satisfying ones this season.
James L. Zychowicz