Other Links
Editorial Board
UK

Editor

s

- Roger Jones and John Quinn

Editors for The Americas - Bruce Hodges and Jonathan Spencer Jones

European Editors - Bettina Mara and Jens F Laurson

Consulting Editor - Bill Kenny

Assistant Webmaster -Stan Metzger

Founder - Len Mullenger
Google Site Search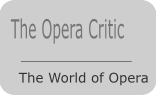 SEEN AND HEARD UK CONCERT REVIEW


'Sounds, Words, Music' – Benjamin and Boulez: Louise Collett (mezzo-soprano), Theseus Ensemble, Geoffrey Paterson (conductor). Linbury Studio Theatre, Royal Opera House, Covent Garden, London, 14.2.2011 (MB)
Benjamin – Upon Silence
Boulez – Le marteau sans maître
Whilst posters around town regaled us with the uninviting promise of 'Valentine's Day Romantic Classics' and the like – who actually goes to these concerts? – the Theseus Ensemble and its founder Geoffrey Paterson presented something far more interesting. If that sounds like faint praise, it was certainly not meant as such, for any ensemble, let alone one that has been in existence for less than a year, which performs Le marteau sans maître deserves praise most fulsome, especially when presented as well as it was here.
First on the menu, however, was George Benjamin's Upon Silence. Written for the viol consort, Fretwork, in 1990, Benjamin arranged it for seven strings (two violas, three cellos, and two double basses) the following year. As Paterson pointed out in his programme note, 'with astonishing imagination and skill, Benjamin managed to retain the distinctive qualities of the original'. Vibrato is forbidden, save for certain instances, when it really tells; moreover, the players perform throughout with wooden mutes. The febrile, glassy string tone with which the performance opened contrasted with and yet complemented the more muted – in more than one sense – general timbre. Mezzo-soprano, Louise Collett delivered Yeats's words (from Long-legged fly) with great clarity of line and diction. One might characterise the vocal writing as restrainedly melismatic, recognisably that of the composer of Into the Little Hill. The refrain, 'Like a long-legged fly upon the stream / His/Her mind moves upon silence', seemed both to impart and to transform the work's form. The second stanza, dealing with Helen of Troy, ends in 'silence' accompanied and succeeded by a plaintive cello line, which one could well have imagined actually was a viol. By contrast, the end of the third and final stanza, that of Michelangelo, presented rich cello vibrato, truly striking and liberating, likewise the ensuing string harmonics, building to an ecstatic climax, subsiding, then preparing the way for the final, questing and questioning vocal crescendo upon the final 'silence'.
As in November's Theseus Ensemble concert, Paterson also provided an illustrated introduction, on this occasion only to Le marteau sans maître. It was succinct but telling, providing an excellent 'way in' for audience members who might have been daunted by Boulez's 1953-5 masterpiece and, even for those of us who fancy we know the work a little better, providing an important key not only to the work but also to the performance. The ensemble's stated mission is, 'with thoughtful programming and approachable presentation, … to illuminate the sometimes forbiddingly labyrinthine complexities' of 'challenging works of the later 20th and 21st centuries'. It certainly scored upon programming and presentation here. Paterson described, and the players performed, three types of music, corresponding to the three poems, L'artisanat furieux, Bourreaux de solitude, and Bel édifice et les pressentiments. The first was characterised as 'making', the craftsmanship of the poem's title, not 'furious' until the performance, since we heard it slowed down; the second had a ticking, clock-like pulse; finally, the third, corresponding to the more human imagery of the verse, was more temperamental, rhetorical, gestural, and passionate. (Far more passionate, one might say, than the greetings card culture awaiting us outside.) The tale of the piece was to be how the three types of material interacted, preparing the way for final disintegration.
That, I think, was very much what we heard, amongst other things of course. What also struck me was the dialectic between similarity and dissimilarity concerning a work that equally defined so much of the first half of the twentieth century, Schoenberg's Pierrot lunaire. The ensemble is not identical, of course, though a number of works would take as their cue that fabled Pierrot ensemble, but there are points of reference – flute, albeit alto flute, and viola – as well as the percussion instruments very much of Boulez's own time and presaging what was to come. The singer: well, she sings rather than speaks, but recall Boulez's notorious, beautifully 'sung' recording with Yvonne Minton. There were times when, not unreasonably, Collett seemed a little uncomfortable, but she was clearly suffering from a cough; if her pronunciation was not always perfect, once again, one could hear every word, and her intonation was generally excellent too. Paterson ensured early contrast between the different types of material; the contrast between the first two movements was admirably clear, that of the first commentary on Bourreaux de solitude sounding almost like an exoticised, Webernised, Ravel (Stravinsky's 'Swiss watchmaker'), or to put it another way, sounding precisely like what it was, namely Boulez. If tension flagged slightly part way through this movement, it was a minor blemish, for all players evidently gave their best throughout, and it showed. Invidious though it may be to single out any one member of the ensemble, I feel I must mention Matthew Kettle's valiant and successful struggle with Boulez's well-nigh impossible viola part. (Click here for an interview in which the conductor and I discussed the work beforehand).
The second commentary showed how even when one might fancy the music to be pointillistic, it is connections that count: this is not Stockhausen. I especially liked the way the closing triangle note was left to resonate: a nice touch of detail and expression. When it came to Bourreaux de solitude itself – two of the three commentaries precede the verse itself – one could still hear the ticking, albeit slower and perhaps more luxuriant, if one can conceive of luxuriant ticking. (The phrase almost sounds as though it might have come from René Char!) Its interaction with the other varieties of material became increasingly marked, so that, during the third commentary, we could readily hear, well primed as we were, its subversion of craftsmanship and rhetoric, and the other way(s) around too. Breakdown under the strain of such intricate interrelationship thus came as an expressive and intellectual necessity during the ninth and final movement, the double of Bel édifice et les pressentiments. Was Pierrot perhaps our uninvited guest to the disintegrating feast? Gongs and alto flute opened up a void at the end, both ominous and inviting.
Mark Berry