Other Links
Editorial Board
UK

Editor

s

- Roger Jones and John Quinn

Editors for The Americas - Bruce Hodges and Jonathan Spencer Jones

European Editors - Bettina Mara and Jens F Laurson

Consulting Editor - Bill Kenny

Assistant Webmaster -Stan Metzger

Founder - Len Mullenger
Google Site Search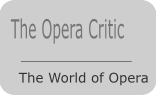 SEEN AND HEARD UK CONCERT REVIEW



Adam Johnson, Paul Patterson, Edgard Varese, Stephen Hough, Villa Lobos, Prokofiev, Daniel Bimbi:
Symbiosis (Alison Lambert, Dan Watts, Adam Johnson), St Andrew's Church, Cheltenham

14.1.2011

(RJ)
'Symbiosis' is defined as a close association between interdependent people or groups, and the name has found a resonance with a number a number of instrumental ensembles including the well established Lambert - Johnson flute/piano duo and flautist Dan Watts. Their recital for this relatively unusual combination of instruments featured an impressive array of rarely heard compositions from the past 100 years.
Indeed, the first – Adam Johnson's
One Final Bow
– was composed only last year. Inspired by an unattributed poem it centres on the plight of a girl fleeing through dark streets into the clutches of the devil. Needless to say the work was strong on atmosphere and drama getting off to a gloomy start with the bass clarinet and the lower notes of the piano. The addition of a flute playing at the back of the auditorium intensified the sense of atmosphere before the music erupted into a frenzy of fear and foreboding. At the end the quiet returned but it had an eerie, disturbing quality.
Paul Patterson's
Conversations
from 1974 offered a welcome contrast. This three movement piece offers plenty of rhythmic interplay between clarinet and piano and ended in a brilliant syncopated finale. The cool intensity of Edgard Varèse's
Density 21.5,
composed for the debut of the first ever platinum flute, made considerable demands on Dan Watts' technical expertise. This was haunting, somewhat uncomfortable music, quite unlike the soothing, placid feel of many pieces composed
for this instrument.
Then it was back to the 21
st
century and Stephen Hough's
Was mit den Tränen geschieht
(2008) originally composed for piano, piccolo and bassoon. In this version the bassoon part had been rearranged for bass clarinet. It was remarkable how this very unusual combination of instruments blended together, especially in the lyrical opening section. The piece then built up to a dramatic, almost angry, climax and a passage of some intensity before subsiding to a slow reflective ending.
Villa-Lobos'
Choros No 2
is one of a set of works which are regarded as the most distinctive and original of the composer's output.
No 2
takes the form of a conversation between the clarinet and flute and is full of bonhomie. Prokofiev's
Flute Sonata Op. 94
had a much darker hue with a first movement redolent with martial themes with an underlying feeling of sorrow. The Scherzo had a very rhythmic Prokofievian quality to it but the romantic slow movement whisked one away from the trials and tribulations of war. The finale was like the grand ending to one of his ballets, orchestral in scope and calling on tremendous vigour from both Dan Watts and Adam Johnson alike.

Lluna
by the French clarinettist Daniel Bimbi was in a more lighthearted vein and offered a touch of romanticism, a jazzy blues passage and a zany galop at the end reminiscent of the chases in silent films. This was a jolly ending to a fascinating and varied concert by three instrumentalists who are at the top of their game and enjoy the challenges and delights that contemporary music can offer.

Roger Jones