Other Links
Editorial Board
UK

Editor

s

- Roger Jones and John Quinn

Editors for The Americas - Bruce Hodges and Jonathan Spencer Jones

European Editors - Bettina Mara and Jens F Laurson

Consulting Editor - Bill Kenny

Assistant Webmaster -Stan Metzger

Founder - Len Mullenger
Google Site Search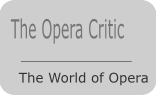 SEEN AND HEARD INTERNATIONAL CONCERT REVIEW

Beethoven: San Francisco Symphony, Marek Janowski (conductor), Chee-Yun (violin), Alisa Weilserstein (cello), Jeremy Denk (piano), Davies Symphony Hall, San Francisco. 4.2.2011 (HS)
The San Francisco Symphony's sound is not as distinctive as that of certain famous orchestras, but its strength is in its malleability. Different conductors can make wondrous music with the clarity and virtuosity of this finely tuned band, and when one as tuned-in to Beethoven as Marek Janowski is comes to town, the results are something to savor. This was especially so in Beethoven's Triple Concerto in C major, heard Friday on a program that also included the composer's first two symphonies.
Often derided as second-rate Beethoven, the concerto got a startlingly arresting performance from Janowski, thanks in no small part to the varied trio of soloists. The soul of the bunch, cellist Alisa Weilerstein, established a magical line early in a haunting first appearance of the first movement's main theme. Violinist Chee-Yun had a hard edge to her sound that balanced Weilerstein's effusive emotionality, and pianist Jeremy Denk split the difference, applying an intelligent, refreshingly unmannered approach.
Weilerstein was simply amazing, caressing the opening phrases with gentleness, melding seamlessly with Chee-Yun in the violin-cello duet phrases, doing her part to propel the more rhythmic passages. In the slow movement, she made the theme seem downright impassioned, and the bridge to the finale created a seamless transition. Her sound at every dynamic level was pure and focused, the articulation impressively clear. Chee-Yun emphasized clarity in her work, too, and although her sound tended to veer toward the steely she managed to inject a level of grandeur to the phrasing. Denk seemed to be having a great time, especially in the rapid-fire rondo finale, when he even flipped the pages on his score with gusto, eschewing a page-turner.
For his part, Janowski kept the rhythm springing effortlessly, pushing it ahead without any indulgent ritards. He applied the same sense of freshness and vitality to the Symphony No. 1, which opened the concert, once past the darkness of the slow opening page. The quick menuetto was especially beguiling, and the finale whizzed by like a brisk breeze.
Something happened to make the Symphony No. 2, which came after intermission, less beguiling. One of Beethoven's wittiest scores, it came off as weighty, like a junior version of the Eroica. The rhythmic springiness that characterized the performance of No. 1 was missing, especially in the quickfire scherzo. The smirky finale never cracked a smile. No, literally. As much fun as the soloists seem to be having in the concerto, the faces were stony and serious throughout the Symphony No. 2. And so was the music, which was played accurately and without indulgence. It just lacked that last bit of brio.
Harvey Steiman