Other Links
Editorial Board
UK

Editor

s

- Roger Jones and John Quinn

Editors for The Americas - Bruce Hodges and Jonathan Spencer Jones

European Editors - Bettina Mara and Jens F Laurson

Consulting Editor - Bill Kenny

Assistant Webmaster -Stan Metzger

Founder - Len Mullenger
Google Site Search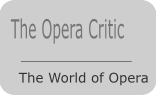 SEEN AND HEARD INTERNATIONAL CONCERT REVIEW


Ravel, Messiaen, Mozart, and Brahms: Peter Serkin, piano, Douglas Boyd, cond., Seattle Symphony, Benaroya Hall, Seattle, 13.2.2011 (BJ)
It has been a little over three years since Douglas Boyd made his Seattle Symphony debut, and my impression is that in that time he has grown appreciably in artistic stature. Certainly the main work on this program, Brahms's Fourth Symphony, is music calculated to draw the utmost in technical and expressive resources from a conductor, and Boyd led a performance not only technically excellent but expressively rich.
The young Scottish oboist-turned-conductor has an ear very much his own for orchestral texture. Through much of the symphony, and especially in the first movement, his balancing of the horns in relation to the other orchestral sections produced a sound-picture warmer and more complex than we are accustomed to hearing. This was an effect, mostly positive, that nevertheless had its disadvantage in the middle section of the finale, where some too loud horns distracted attention from Scott Goff's eloquent flute solo. There were also passages, in the scherzo and in the coda of the finale (as well as in the Rigaudon of Ravel's Le Tombeau de Couperin at the start of the evening) that fell short of total rhythmic stability, but these were minor blemishes in readings of powerful individuality and often considerable grandeur.
The slow movement of the Brahms, in particular, was deeply satisfying. On the first LP recording of the work I bought more than 50 years ago, I recall that Toscanini led his strings, even in the most sumptuous passages, with a cold avoidance of any hint of sensuousness. Boyd was far from cold. Yet what was most impressive in his interpretation here was that the warmth he brought to the singing subordinate theme was, paradoxical though this may sound, distinctly chaste, and the result was that the big climax, when it came, was all the more rewarding.
In between Ravel and Brahms, Peter Serkin was the soloist in Messiaen's Oiseaux exotiques and Mozart's D-major Rondo, K. 382. The performance of the Messiaen, crystal clear, and comprehensive in dynamic range, was more compelling than the work itself, which comes over as more of a random anthology of avian verse than a purposeful and self-sustaining poem in its own right. Mozart's deceptively innocent Rondo, proposing far fewer notes to far more musical effect, drew equally crystalline playing from Serkin. Having come to admire him long ago, initially for his readings of Bach and Mozart, I have sometimes in recent years found his stage deportment – if not his actual playing – a touch mannered. But this performance recaptured all the directness and stylistic elegance of the Peter Serkin of old, and the Seattle Symphony partnered him impeccably under Boyd's sympathetic leadership.
Bernard Jacobson