Other Links
Editorial Board
UK

Editor

s

- Roger Jones and John Quinn

Editors for The Americas - Bruce Hodges and Jonathan Spencer Jones

European Editors - Bettina Mara and Jens F Laurson

Consulting Editor - Bill Kenny

Assistant Webmaster -Stan Metzger

Founder - Len Mullenger
Google Site Search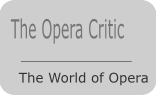 SEEN AND HEARD INTERNATIONAL CONCERT REVIEW
Mozart and Brewbaker: Gerard Schwarz (conductor), John Cerminaro (horn), Hanan Alattar (soprano), Allyson McHardy (mezzo-soprano), Ross Hauck (tenor), Weston Hurt (baritone), Seattle Symphony Chorale, Seattle Symphony, Benaroya Hall, Seattle, 22.1.2011 (BJ)
Three composers featured, curiously enough, on this all-Mozart program. There was unadulterated Mozart in the shape of the Symphony No. 28, the Horn Concerto No. 2, and the choral Ave verum corpus; unfinished Mozart, in the Requiem as completed posthumously by his pupil Franz Xaver Süssmayr; and Mozart refracted through the prism of a present-day sensibility in Daniel Brewbaker's Be Thou the Voice, the latest contribution to the Gund/Simonyi Farewell Commission series honoring Gerard Schwarz in his last season as music director of the Seattle Symphony.
Born in Elgin, Illinois, in 1951, Brewbaker counts Roger Sessions and Elliott Carter among his teachers, but he nevertheless manages to write music of genuine charm and accessibility. In the 7-minute jeu d'esprit premiered on this occasion, he crafted a setting of the Wallace Stevens poem Mozart, 1935 for soprano and orchestra, using in the process a number of Mozart themes, including some from the three Mozart works on the program. Quite aside from the pleasure of trying to "spot the quotation," the piece offered some luxuriant sonorities for the orchestra and a vocal line of considerable grace.
It was compellingly sung by Hanan Alattar, who was joined in the Requiem by Allyson McHardy, Ross Hauck, and Weston Hurt in a solo quartet with good musical instincts and voices to match. Schwarz led a performance in which grandeur occasionally trumped textural clarity—no bad thing in a work of the Requiem's intense dramatic seriousness and occasional disparities of style. If Mozart had finished the work, it might well have ranked as one of his supreme masterpieces. Among recent attempts to re-finish it, I think Robert Levin's comes closer to what Mozart himself might have done if he had lived, but Schwarz remains faithful to the Süssmayr version, which perhaps achieves a somewhat more equivocal masterpiece stature. Still, this performance, enhanced by the uniquely touching tone of a pair of basset horns in the orchestra, and sung by Joseph Crnko's chorus with customarily strong tone and excellent diction, made an unmistakable impact on the audience; and Schwarz's idea of moving directly from its closing measures into a heartfelt reading of the Ave verum corpus, another late Mozart work of much smaller dimensions but also of more immaculate style, made for a suitably exalted end to the evening.
Before intermission, the other two "pure" Mozart works had received performances of attractive élan. Schwarz omitted a few of the repeats in the Symphony No. 28, but captured the zest of this beguiling early-ish work, whose finale in particular boasts intriguingly flexible rhythms and an especially tuneful subordinate theme. John Cerminaro's style of horn-playing is closer to the almost chamber-musical polish and delicacy of a Dennis Brain than to the brassier, more extrovert approach of players like Barry Tuckwell. His performance of the Second Horn Concerto came as close to technical perfection as one is entitled to expect in this world. More to the point, his solo encompassed some wonderful moments of rhythmic relaxation that brought out all the poetry inherent in the piece. I don't know whether Cerminaro is an admirer of Claudio Arrau, but his expansive phrasing recalled to my mind the late, great Chilean pianist's way of allowing plenty of time for every turn of expression to be realized at its full musical value. Such experiences are particularly valuable in a musical world where, too often, precipitate speed and brute strength seem to take precedence over subtlety of nuance.
Bernard Jacobson