Other Links
Editorial Board
UK

Editor

s

- Roger Jones and John Quinn

Editors for The Americas - Bruce Hodges and Jonathan Spencer Jones

European Editors - Bettina Mara and Jens F Laurson

Consulting Editor - Bill Kenny

Assistant Webmaster -Stan Metzger

Founder - Len Mullenger
Google Site Search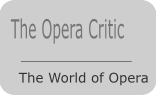 SEEN AND HEARD INTERNATIONAL CONCERT

Borodin, Khachaturian, and Shostakovich
: Teodor Currentzis (conductor), Maria Larionoff (violin), Seattle Symphony, Benaroya Hall, Seattle, 17.3.2011 (BJ)
There were some good things to be enjoyed in this evening of music from Russia. In addition to a gallop through the "Polovtsian Dances" from Borodin's
Prince Igor
that responded vividly to the music's barbaric aspects, they included neatly turned solos from Seattle Symphony principal clarinet and flute Christopher Sereque and Scott Goff, and from associate concertmaster Emma McGrath, taking over on the first chair while Maria Larionoff enjoyed the soloist billing in the Khachaturian Violin Concerto.
Virtues, however, were handily outdistanced by vices, thanks - or rather no thanks - to the technical and artistic shortcomings of Greek-born conductor Teodor Currentzis's local debut. I say Ms. Larionoff "enjoyed" her solo spot, but that can hardly be the right word, as applied to a violinist struggling to make her evidently beautiful playing heard over an orchestral accompaniment that was hardly ever quiet enough.
Currentzis's approach had plenty of panache. But it was clear that subtlety of nuance, expressive delicacy, and even clarity and balance have no part in his concerns. With a beat (baton-less, by the way) that is often hugely expansive just when it needs to be small and concentrated, everything in his way of conducting is subordinated to the Big Effect. The trouble is that, deprived of anything more restrained to contrast with, Big Effects end by having no effect at all.
A typical example came early on in the main work on the program, the Shostakovich Fifth Symphony. A little two-measure crescendo in the first violins, up to no more than a modest single "forte," was shaped not only excessively but much too quickly, so that the second half of the phrase left the players with nowhere further to go. Later on in the symphony, the slow movement, which should surely sound bleak and cold for much of its length, took on an inappropriate soft-edged quality - inevitably, because it must be impossible for string players to achieve cold bleakness with the conductor prancing around balletically and histrionically in front of them.
It's relatively easy, with an orchestra as good as this, to make a hit with the audience in a work as dramatically extrovert as Shostakovich's Fifth. The performance was indeed greeted with a vociferous ovation. But with a textural balance often short on bass to the detriment of the harmonic structure, and with countless other deficiencies in conception and detail, this was a reading that left anything subtle in the work unrealized.

Bernard Jacobson
This review appeared also in the Seattle Times.