Other Links
Editorial Board
UK

Editor

s

- Roger Jones and John Quinn

Editors for The Americas - Bruce Hodges and Jonathan Spencer Jones

European Editors - Bettina Mara and Jens F Laurson

Consulting Editor - Bill Kenny

Assistant Webmaster -Stan Metzger

Founder - Len Mullenger
Google Site Search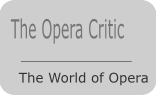 SEEN AND HEARD INTERNATIONAL CONCERT REVIEW
Sheng, Bartók, Schuller, and Borodin: Gerard Schwarz (conductor), Gil Shaham (violin), Seattle Symphony, Benaroya Hall, Seattle, 6.1.2011 (BJ)
This Seattle Symphony concert treated a vociferously appreciative audience to some pretty dazzling violin-playing. The concerto was Bartók's second for the instrument, and the soloist was Gil Shaham.

Still a few weeks short of his fortieth birthday, the Israeli-American violinist is always a pleasure to listen to and also, in view of his charming stage manner, to watch. Strongly supported by the orchestra under Gerard Schwarz's baton, he dispatched Bartók's often taxing passage-work with aplomb—the intonation immaculate, the tone sparklingly clean, the bowing incisive—and responded with equal mastery and much warmth to the work's lyrical moments.

By way of encore, Shaham offered a lively but rather oddly accented account of a Bach gavotte. If his Bartók concerto did not quite displace one that I heard around the time of Shaham's birth—the greatest realization of the work in my experience—it have been precisely because of the sheer vividness with which every passing episode was illuminated. Perhaps the years have added enchantment, but I seem to remember that the perennially under-appreciated György Pauk—who gave that performance in Chicago with Georg Solti around four decades ago—managed to integrate all the aspects of the concerto's rather episodic character into something more like the unity that the work doesn't really possess. Bartók was an authentic master, but this work, attractive though it is on the surface, is not one of his strongest. I should be happy if some of its frequent reappearances could be traded for one of the other great but neglected 20th-century masterpieces of the genre—Frank Martin's Violin Concerto, for example, which is effulgently lovely and also cogently structured music.

The evening's symphony, on the other hand, No. 1 by Borodin, ranks among that composer's finest achievements, and deserves to be heard more often. Unlike his second essay in the genre, where Borodin, having hit on a truly memorable first-movement theme, proceeds to repeat it in scarcely varied ways ad infinitum, this one is distinguished by genuine symphonic development, treating its materials to all manner of ingenious yet natural-sounding expansions and contractions. If the slow movement falls short of No. 2's Andante in sheer melodic gorgeousness, all four movements are strongly profiled and skillfully shaped. There is much intricate rhythmic invention, finely executed on this occasion, and also a good deal of effective orchestration, including some pithy contributions from the trombones that Ko-ichiro Yamamoto and his section seized on with relish.

The program's two halves opened with new or new-ish pieces by two living composers, both of whom were on hand to acknowledge friendly ovations. If Bright Sheng's intention was to create the most overwhelming din an orchestra is capable of, his "Shanghai Overture" must be accounted a complete success, for it is masterfully scored to that end. I found it "full of sound and fury"—and in courtesy to the composer, I refrain from adding what Shakespeare said next. Gunther Schuller has written some excellent works, but "Bagatelle With Swing," his contribution to the Gund/Simonyi Farewell Commissions, is not, I think, one of them. In this performance, at least, the promised swing was somewhat lacking, and so were any really striking thematic ideas.

Bernard Jacobson

A shorter version of this review appeared in the Seattle Times.