Other Links
Editorial Board
UK

Editor

s

- Roger Jones and John Quinn

Editors for The Americas - Bruce Hodges and Jonathan Spencer Jones

European Editors - Bettina Mara and Jens F Laurson

Consulting Editor - Bill Kenny

Assistant Webmaster -Stan Metzger

Founder - Len Mullenger
Google Site Search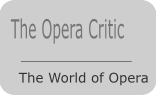 SEEN AND HEARD UK CONCERT REVIEW


Haydn and Brahms: Lisa Milne (soprano), Markus Brück (baritone), BBC Scottish Symphony Orchestra, Donald Runnicles (conductor), Usher Hall, Edinburgh, 13.2.2011 (SRT)

Haydn: Symphony No. 44 "Trauer"
Brahms: Ein Deutsches Requiem

The second concert in the BBC SSO's Edinburgh season coalesced around the theme of mourning, placing Brahms' great requiem alongside Haydn's smaller scale Mourning symphony. The performance of the symphony was anything but small scale, however: Runnicles' Haydn is big-boned and muscular, unafraid to use vibrato to enrich the sound. The first two movements were vigorous and forceful in both argument and sound, and the finale was so hard-edged as to be almost severe in places. The Adagio third movement, however, was a different world entirely, the veiled string tone evoking a mood of consolation and solace that provided a still centre at the work's heart.
Runnicles was much closer to his home territory with the rich Romanticism of Brahms. The rich orchestral textures and excellent singing of the Edinburgh Festival Chorus, only occasionally muddy in diction, delivered a performance of distinction and power without losing its profoundly spiritual tone. This conductor is famous for the way he can control the unfolding of huge structures the length of a Wagnerian act, and that sense of control was evident throughout his Brahms, most notably the spine-tingling crescendo that opened the second movement, chilling and evocative, stunningly powerful when the storm finally broke. His secret, however, is in knowing when to hold back. The third movement seemed to build to a climax towards the phrase Ich hoffe auf dich, but when the great fugue began on Der Gerechten Seelen Runnicles found an extra stop to pull out, raising the emotional level and controlling the counterpoint with laser-like precision, as with the fugue in the sixth movement.
Other moments, such as the gentle inflection on getröstet werden in the first movement, showed his ability to colour a phrase like a master and the orchestral playing was first rate throughout. Lisa Milne floated with ease above the sorrow in her fifth movement solo, pouring down balm from on high while the chorus murmured gently beneath her. Less satisfying was Markus Brück, insecure and nervous on his first entry and lacking the power to deliver the spiritual weight of the sixth movement. An excellent job from everyone else, though, and yet more confirmation that the BBC Scottish have a world leader at their helm.

Simon Thompson