Other Links
Editorial Board
UK

Editor

s

- Roger Jones and John Quinn

Editors for The Americas - Bruce Hodges and Jonathan Spencer Jones

European Editors - Bettina Mara and Jens F Laurson

Consulting Editor - Bill Kenny

Assistant Webmaster -Stan Metzger

Founder - Len Mullenger
Google Site Search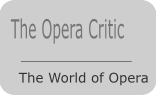 SEEN AND HEARD UK CONCERT REVIEW


In memory of Vernon Handley - Bax and Robert Simpson: Royal College of Music Sinfonietta, Peter Stark, Amaryllis Fleming Concert Hall, Royal College of Music, London, 10.2.2011 (BBr)
Bax: Tintagel (1917)
Robert Simpson: Symphony no 5 (1973)
I was having a drink with a composer friend of mine after this show and he made the point that now that Tod had gone who was going to champion home grown music? Of course, this has been asked before after the passing of certain conductors – Sir Henry Wood in 1944, Sir John Barbirolli in 1970, Sir Adrian Boult in 1983; all good friends to British music – but it survived. This time, however, it's difficult to see who could possibly be Tod's successor.
It was his father who said that the young Vernon toddled, and thus a lifelong nickname was born. Tod studied with Boult at the RCM and was subsequently Head of Conducting there from 1966 to 1972. He had a long and very varied career and, although known for his championship of British composers, he was an all round interpreter – I have a recording I took off the air of him conducting stunning performances of Nielsen's Clarinet Concerto and Sibelius's En Saga and I once heard him give a superb Nielsen Second Symphony. But it was with British music that he will be forever associated. Bax was a major passion for Tod and Tintagel was the perfect choice with which to start this show. And what a performance it was! With the assurance and passion of youth this was a truly brazenly romantic performance with no holds barred and tons of emotion. It was fabulous.
Following Tintagel was never going to be an easy thing and Simpson's Fifth Symphony suffered, in part, from its placing in the programme. It also suffered because, in truth, it isn't a particularly good work; it's too long, is constructed from poor material and is far too reminiscent of Carl Nielsen, Sibelius, Havergal Brian and Vagn Holmboe. Peter Stark and his young players gave a thrilling performance but there was nothing they could do to lift the work onto a higher plain than that which it inhabits – Tod was one of those few conductors who could raise the mediocre to a status of masterpiece, and his recording of this work gives the impression of a work of stature. If only that were the case.
Despite my reservations concerning the quality of Simpson's work this was a most satisfying show, which did Tod proud. There was one problem: in a show celebrating the work of one of this country's leading conductors why didn't Stark divide his violins left and right as Tod did?

Bob Briggs