Other Links
Editorial Board
UK

Editor

s

- Roger Jones and John Quinn

Editors for The Americas - Bruce Hodges and Jonathan Spencer Jones

European Editors - Bettina Mara and Jens F Laurson

Consulting Editor - Bill Kenny

Assistant Webmaster -Stan Metzger

Founder - Len Mullenger
Google Site Search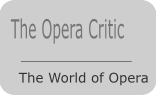 SEEN AND HEARD UK CONCERT REVIEW


Ginastera, Piazzolla and Falla: Pablo Mainetti (bandoneon), Javier Perianes (piano), BBC Symphony Orchestra, Josep Pons, Barbican Hall, Silk Street, London, 14.1.2011 (BBr)
Ginastera: Dances from Estancia, op.8a (1941)
Piazzolla: Aconcagua: Concerto for Bandoneon (1979)
Falla: Nights in the Gardens of Spain (1916)
The Three–Cornered Hat – Suite No.2 (1915/1917)

An unashamedly popular show, full of colour with vibrant dance rhythms, a virtuoso Concerto and three impressionistic nocturnal scenes, which made a worthy successor to Sunday's film music extravaganza.
The four dances which make up the Suite from Ginastera's ballet Estancia is real cowboy music at its very best. Starting with a raucous Farm Labourer's Dance – these men are real gauchos, who live hard and play hard – and ending with a fierce Malambo this was most entertaining and the piece was brought vividly to life by Pons and his players.

The orchestra was reduced to strings, percussion, harp and piano for Piazzolla's Aconcagua: Concerto for Bandoneon, but the temperature remained very hot. Astor Piazzolla invented Nuevo Tango (New Tango) and re–vitalised the dance form. It wasn't popular at first but has now achieved worldwide celebrity and is accepted everywhere, with the composer leading his own ensembles in performances. His untimely death in 1992 robbed music of one of its most exciting composers. Piazzolla studied with Ginastera, as well as with Nadia Boulanger, and the influence of his countryman can be felt in this work, but the Concerto is no copy of the older composer; this is an original work, full of Astor himself. The first movement is wild and fantastic and the sheer exuberance of the music was well captured by Mainetti and Pons, who never allowed it to rest, and it effervesced from beginning to end. The introspective slow movement allowed Mainetti some time for quiet, perhaps personal, reflection, over a very restrained accompaniment, and the finale was all high spirits, the coda being especially exciting as it slowly built from pianissimo to fortissimo on a simple ostinato. This was a marvellous performance from all concerned.
Falla's Nights in the Gardens of Spain is a different matter entirely; three nocturnal musings, if you like, written in an impressionistic style, and shying away from Concerto display, with tension in every bar. Unfortunately it got off to a bad start, the music lacking mystery and allure, being far too loud and heavy. The first movement never recovered from this and the performance was somewhat bland and devoid of the expected warmth and tenderness. The middle movement fared better, with nicely sprung rhythms, and a sense of lightness and delight. The finale, which contains some untamed music, stayed firmly rooted to the spot and the magical coda, as the music gradually fades into the distance, was, like the beginning, lacking in sensuality. Neither Perianes nor Pons seemed happy here, the performance being dull and without a clear sense of where it was going.
Things improved immediately with the three dances from The Three–Cornered Hat, which were full of life. After a marvellous "fade in" at the outset, there were crisp, sharp, rhythms, and an abundance of really good feeling. The orchestra played with such gusto and enjoyment that the work came alive before our ears making one wish that we'd had the whole ballet, for Pons and his players were certainly at one with the work. This concert will be broadcast on BBC Radio 3 on Tuesday 18 January.
Bob Briggs