Other Links
Editorial Board
UK

Editor

s

- Roger Jones and John Quinn

Editors for The Americas - Bruce Hodges and Jonathan Spencer Jones

European Editors - Bettina Mara and Jens F Laurson

Consulting Editor - Bill Kenny

Assistant Webmaster -Stan Metzger

Founder - Len Mullenger
Google Site Search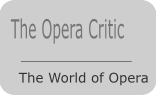 SEEN AND HEARD UK CONCERT REVIEW
Prokofiev, Berg, Liszt, and Janáček: Tai Murray (violin), Stewart Goodyear (piano), National Youth Orchestra of Great Britain, Kristjan Järvi (conductor). Barbican Hall, London, 7.1.2011 (MB)
Prokofiev – Scythian Suite, op.20
Berg – Violin Concerto
Liszt – Totentanz, S.126
Janáček – Sinfonietta
By and large, this was a programme designed to play to the strengths of 'Britain's Biggest Orchestra'. From the opening bars of Prokofiev's Scythian Suite, one could not but be impressed by the sheer volume produced by the National Youth Orchestra, but also by the range of orchestral colour on offer, closely allied to the busy nature of Prokofiev's writing. For all the 'barbarism', there was plenty of Prokofiev's trademark bitter-sweet lyricism to be heard too, as well as the many (too many?) echoes of The Rite of Spring. Kristjan Järvi seemed in his element; I especially enjoyed, if that is the right word, the slightly nauseating sway he brought to later sections of the first movement. The second packed quite a punch, the NYO's unanimity of ensemble impressive indeed, whilst the third movement's impressions of night drew us into a fantastical sound-world that looks forward to The Love for Three Oranges, always underpinned by a properly inexorable tread. Once again, sheer volume characterised the finale's peroration: a thrilling conclusion.
Tai Murray joined the orchestra for Berg's Violin Concerto. For the most part, she impressed, her intonation generally well centred, though there were occasions when focus was lost. This proved in general a Romantic account: nothing wrong with that, except that I missed some of the bite through the warmly luxuriant glow in which Järvi bathed the score. Dance rhythms, however, were often well conveyed by soloist and orchestra, especially during the first movement. Where the performance disappointed, however, was in the chorale, for the most part beautifully played by the NYO's woodwind, yet in an unduly laboured fashion, presumably at Järvi's instigation. The entire second part was somewhat lacking in direction. Perhaps, in a rather long programme, one could have done without this concerto.
The second concertante work fared much better, Liszt's striking Totentanz, with Stewart Goodyear as soloist. Järvi reduced the number of strings; I am not entirely sure why, but whether this was related or not, there did seem to be a greater sense of focus in a well-disciplined account. Throughout there was a keen sense of rhythm, dispelling any suspicions of the rhapsodic in what is actually a tightly structured set of transformative variations. Goodyear's technique was clearly up to the task, Liszt's outrageous glissandi wonderfully impressive. In the third variation so vivid was the performance that one could almost see a horseman of the apocalypse, whilst the delicate passages of the fourth and the pyrotechnics of the fifth proved equally well turned. The orchestra had its moments to shine too, not least the splendid horn calls and Luke O'Toole's flute solo during the sixth variation – and last but not least, Liszt's beloved triangle.
Finally came Janáček's Sinfonietta. The opening brass and percussion proved a match for those in any professional orchestra, with a splendid sense of the outdoors to boot. As time went on, however, Järvi's approach began to sound a little bandmaster-like, similarly in the hard-driven second movement, where one missed the charm of a conductor such as Rafael Kubelík. That said, the string heft and beautiful woodwind playing provided considerable compensation, likewise the warmly Romantic tone lavished on much of the third movement. Its successor was taken very fast, losing its defiant grandeur. However, in the finale, there was again sheer joy to be had in the NYO's fullness of sound, which was quite magnificent. It was just that, in this piece at least, the orchestra proved superior to its conductor.

Mark Berry