Other Links
Editorial Board
UK

Editor

s

- Roger Jones and John Quinn

Editors for The Americas - Bruce Hodges and Jonathan Spencer Jones

European Editors - Bettina Mara and Jens F Laurson

Consulting Editor - Bill Kenny

Assistant Webmaster -Stan Metzger

Founder - Len Mullenger
Google Site Search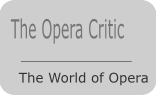 SEEN AND HEARD UK CONCERT REVIEW


Mozart, Fauré, Elgar, Vaughan Williams, Debussy, Respighi: Catrin Finch (harp), Juliette Bausor (flute), Northern Sinfonia, Bradley Creswick ( Director), The Sage, Gateshead/Newcastle upon Tyne, 21.1.2011 (JL)

Fauré Masques et bergamasques
Elgar Salut d'amour
Mozart Concerto for Flute and Harp
Vaughan Williams Fantasia on Greensleeves
Debussy Danse sacrée et Danse profane
Respighi Gli Uccelli (The Birds)
Two main factors determined the programming of this concert. First, it was being recorded by the populist Classic FM radio station, and was largely in the "easy listening" class, second, the pieces were cleverly chosen as vehicles for the dual talents of Juliette Bausor, the Northern Sinfonia's principal flute, and the harpist star, Catrin Finch.
The core work was Mozart's Flute and Harp Concerto and the trio of key performers constituted a dream team. Bradley Creswick, the Sinfonia's leader, directed from the violin, as he frequently does in the absence of Music Director Thomas Zehetmair, and he has made several highly successful Mozart recordings with the orchestra. Having heard him direct Mozart before, I can vouch that he generates a rhythm, bounce and energy in the music that signals a true Mozartian. Juliette Bausor played the concerto with immaculate technique and stunning intonation while Catrin Finch's harp playing was so consummate that I cannot think I have heard better in the work. Catrin is something of a global star and gained further fame outside classical music circles by her acceptance of the post of Royal Harpist to the Prince of Wales. Prince Charles, having heard her playing, accommodated her by reviving a post that had been dormant for well over a hundred years.
Sensitive, lyrical playing was offset by two substantial cadenzas for the soloists that showed off their virtuoso capabilities. For the rest of the concert they sat within the orchestra, lending a heartening sense of democratic team work to the proceedings.
Popular pieces by Fauré and Elgar preceded the Mozart, Elgar's Salut d'amour being the only one not involving harp. Here, Bradley Creswick came into his own with the well-known violin solo, refreshingly and mercifully played without the sentimentality that hamstrings so many renderings.
In the second half there was a link between the Vaughan Williams and Debussy pieces in that both composers employ renaissance modal practices as a means of alluding to the past. Debussy's work may be dance music in name, but it is, in practice, a form of harp concerto that was designed to show off a new instrument developed by manufacturers, Pleyel, who commissioned the work in 1904. Catrin Finch absorbed the technicalities with elegant ease.
The last item, Respighi's suite, The Birds, was, in keeping with all the evening's music, played by the orchestra with superb grace, articulation and intonation. But more than that. I have never heard the bird noises played with such onomatopoeic colour and energy, and Juliette Bausor posed beautifully as a nightingale.
Finally, Bradley Creswick announced an encore, Fauré's Sicilienne from his incidental music for Pelléas et Mélisande, predictably another vehicle for flute and harp.
Bradley had introduced some of the pieces, using a microphone parked under his chair, that helped mark time during furniture moving ( harp, music stands etc.). This was splendidly informal and off the cuff, so much so that just before the soloists came on for the Mozart, he said, "I expect they'll say something about the piece" - which they didn't! The approach, though, helped contribute to a delightful musical evening.

John Leeman